Dallas artists honor Big Tex through collaborative gallery
28 Dallas area photographers, artists and designers show their work in the Brookhaven College Atrium Gallery
By Scott Mitchell
A&E Editor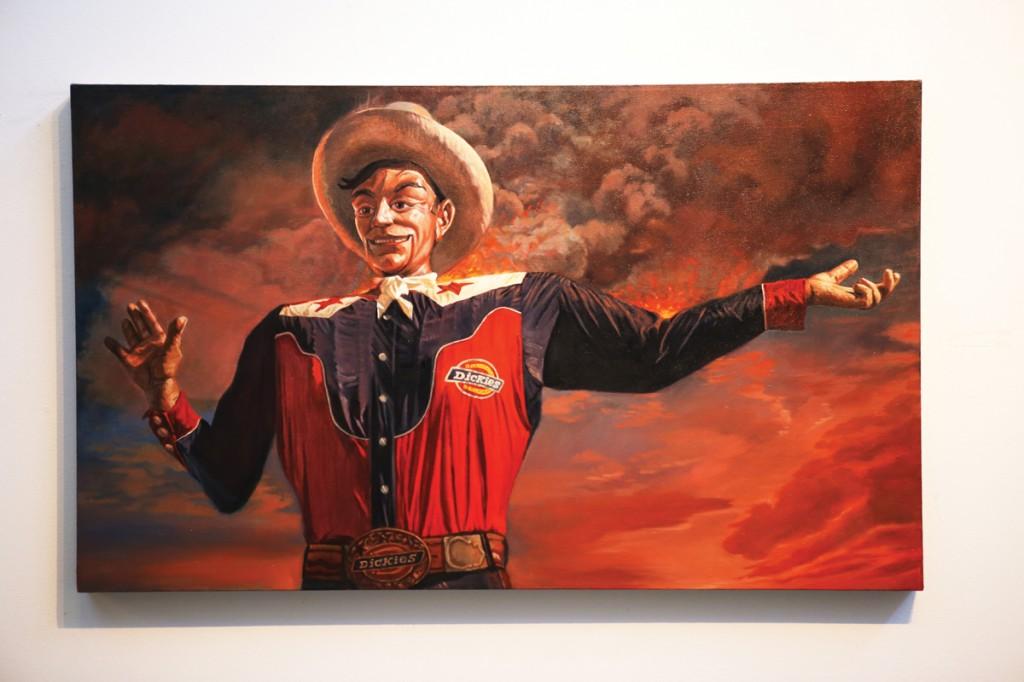 Anyone entering the naturally lit confines of the Brookhaven College Atrium Gallery through Nov. 1 may feel more disquieted than usual. The white walls are covered in more than 30 versions of the marionette-like face of the magnanimous Big Tex, all staring blankly toward the center of the space.
Gathering art in a multiplicity of colors, media and techniques, visual communications professor Ray-Mel Cornelius transformed the Atrium Gallery into an elaborate homage to the face of the State Fair of Texas, titled "The Return of Big Tex." Cornelius said: "It just seemed like a good theme to have around this time of year since we lost, tragically, Big Tex last year, and they brought him back. I thought that would be a good thing to commemorate and celebrate."
Cornelius, who reached out to dozens of his artistically inclined friends, began organizing the gallery half a year ago. "I started asking people, about six or eight months ago, if they had something already of a Big Tex nature or if they wanted to do something special for it," Cornelius said.
Only a few of the artists completed Big Tex pieces prior to Cornelius informing them of the gallery. Cornelius said many of the pieces were created for the show. "Most of them, I think, were either created for it or something was adapted," he said.
The artists featured in the exhibit are a mix of Brookhaven faculty, former students and Dallas artists. Faculty who have pieces on display in the show include Cornelius, visual communications professor Wes Smith, communications professor Daniel Rodrigue, and adjunct faculty members Jillian Round, Rock Morris and Pam-Ela Harrelson.
Former Brookhaven student Edward Ruiz submitted an oil-on-canvas painting titled "What, Me Worry. Folks?" Ruiz, who attended Brookhaven in the early '90s, drew inspiration for the piece from the Mad Magazine cover boy Alfred E. Neuman. Ruiz combined the towering denim figure of Big Tex and the head of Alfred E. Neuman to create his iconoclastic piece.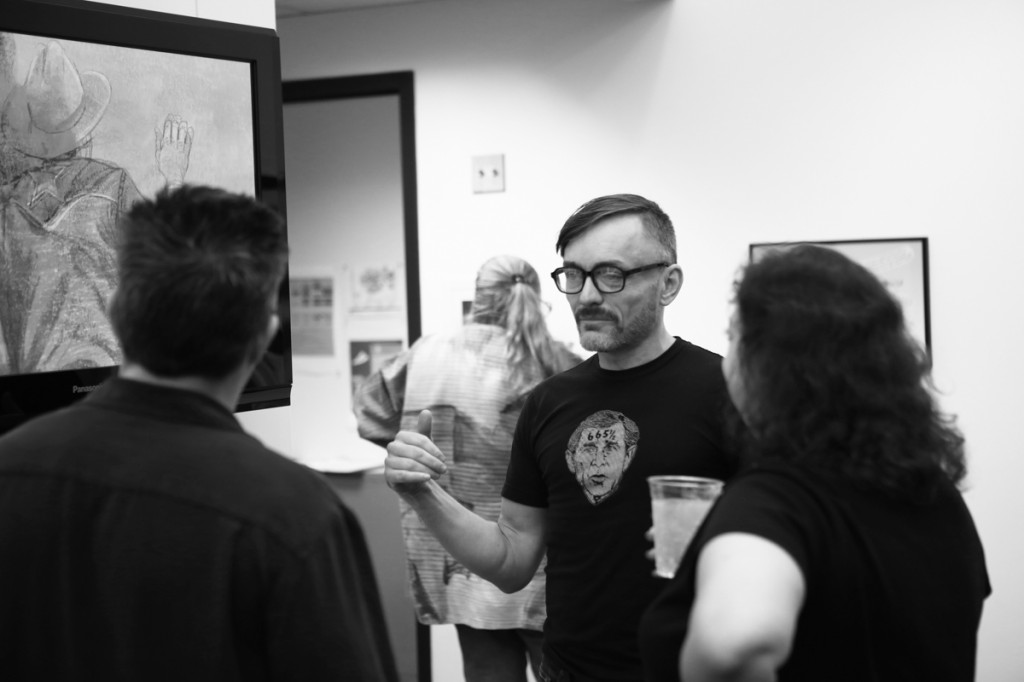 Ruiz said the theme of the gallery interested him because of the unique memories he has of the fair. "I have been going to the fair since I was a kid, and going to see Big Tex was like a pilgrimage," he said. This, as well as his interest in other Dallas icons, such as Kip's Big Boy and the giant bull on the roof of Charco Broiler in Dallas, served as muses for his merging of two icons. "In the spirit of fun and in the style of Mad Magazine, I worked on my entry for the Big Tex exhibit," Ruiz said.
Cornelius' painted his Big Tex piece for Texas Monthly years ago. Painted on a small square of canvas, it is done in Cornelius' playful style: a colorful, carefree take on Big Tex with expert use of gradient and salient background.
Another piece, noticeable both for its highly expert technique and its size, was submitted to the show by Dallas-based artist Mark Ross. The oil-on-canvas piece, titled "Big Tex Burning," captures the beginning of the end for Big Tex. It shows the conflicting puppet-like grin of Big Tex while his shoulder and arms catch ablaze. "I was thinking about making Big Tex's last day a more epic event – giving it a sort of romantic remembrance, even though it's really just a big puppet catching fire. I didn't necessarily want to show him fully engulfed in flame, just the early moments of the event," Ross said.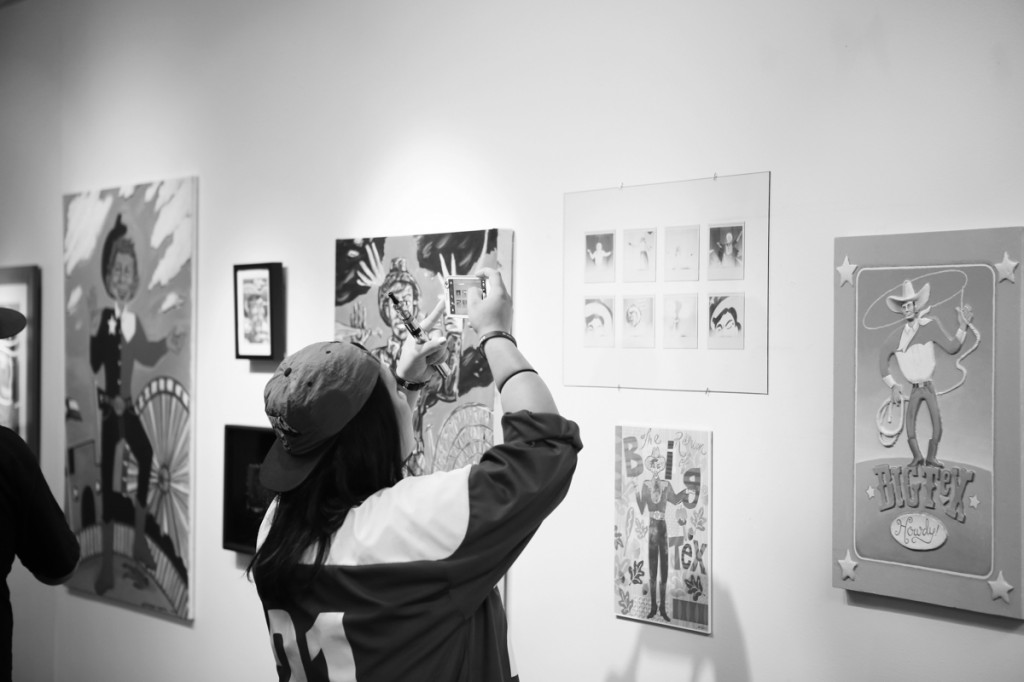 In organizing the diverse artists featured in the gallery, Cornelius said, "I was looking for a variety of photography, illustration, painting, construction, prints, digital pieces as well as oil paintings. I wanted not only a variety of artists but a variety of media."  The variety of media can be mindboggling when viewed in the modest space of the Atrium Gallery. There are infrared photos, oil and acrylic paintings, Polaroids, constructed pieces, film prints and even a video. With the huge diversity of pieces on display, Cornelius had to think carefully about how to lay out the gallery.
"When I hang a show, I look for connections of some kind, whether it's color or shape," Cornelius said. "As your eye goes across the walls, rather than having ones the same size all in a line, I like more of a roller coaster effect. It engages your eye a bit more."
On Oct. 17, dozens of art enthusiasts attended the gallery reception to view the mesmerizing pieces hung in the space. Individuals could be seen wandering from piece to piece, becoming fixated on one or another rendition of the giant cowboy. People also posed in the Big Tex cut-out piece, created by Benjamin Vincent, for a quick photo with their face on top of Tex's broad shoulders.