Students find happiness together
By Chanel Sidi
Staff Writer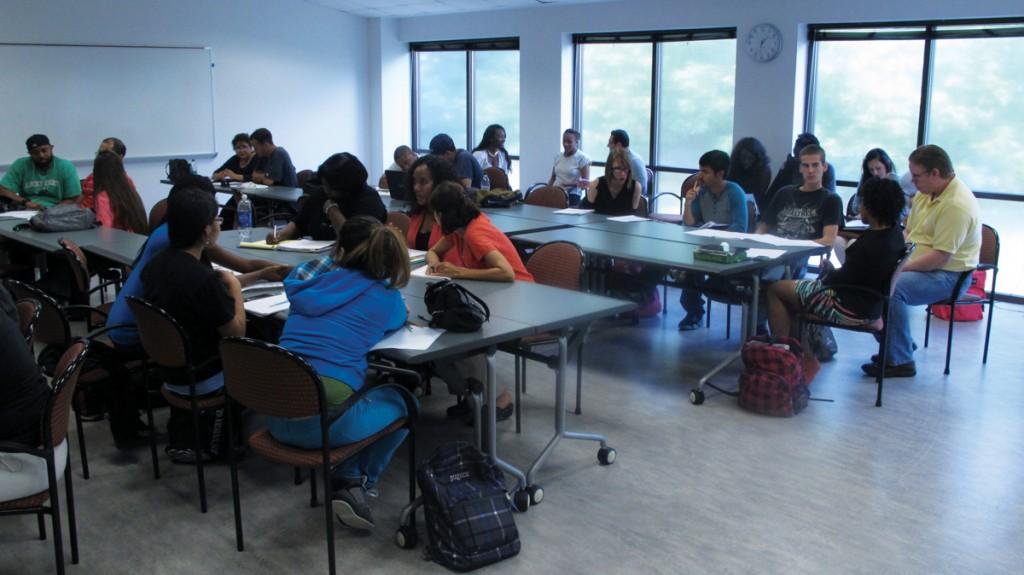 Dr. Laura Gambill, professional counselor with Brookhaven's Student Support Services, successfully reeled in students by starting her lecture in Room S220 with the question, "What is happiness?"
There were so many students that some were almost turned away.  The introductory question was clearly thought-provoking, as Gambill began to call on random students to define happiness. Students began bashfully raising their hands to volunteer responses. Several more blurted out in the lecture-turned-discussion. Some perceptions included "contentment," "being at peace" and "you have to find the silver lining."
Gambill presented stimulating questions, encouraging active participation in the SkillsShop.  Following a dialogue about what approaches students typically used to over- come negative thinking, the assembly was asked whether anyone else wanted to share.
A quiet yet attentive Brookhaven student in the corner of the room, Todd Bunch, hastily raised his hand. "My favorite song is by Bob Seger: 'Turn the Page.' I believe that all of us, every day, turn a page in our lives, and if we hit a hard road, whatever is happening to us at that time, we can say, 'this is just a page and we're going to put that behind us,' and we can go forward from there."
Later, Bunch told the group how he had survived a tragic accident. He mentioned "spending tons of time in scripture, having millions praying for me, and making a difference in people's lives," as elements that keep him optimistic.
Worksheets were distributed throughout the SkillsShop as Gambill voiced countless words of wisdom, the majority of which had been typed out for attendees to retain for personal use. She spoke of living in the present with complete awareness, describing how individuals tend to run on autopilot, using mindfulness only when something forces reflection.
Gambill said, "The most powerful thing I want you to take away is that if you start consciously addressing negativity in yourself, you will become a much happier human being."
Following the SkillsShop, Brookhaven student Ty Taylor said it "helped me out a lot." He said he typically tries to think positively, and in turn things turn out positively. Gambill said the workshops are created and conducted by the Counseling Center each semester, covering various topics. The Counseling Center offers eight sessions of individual counseling per semester to all Brookhaven students, free of charge. Appointments can be made by going to Student Support Services in S Building.