Art student fosters talents at BHC
By Carmina Tiscareño
Staff Writer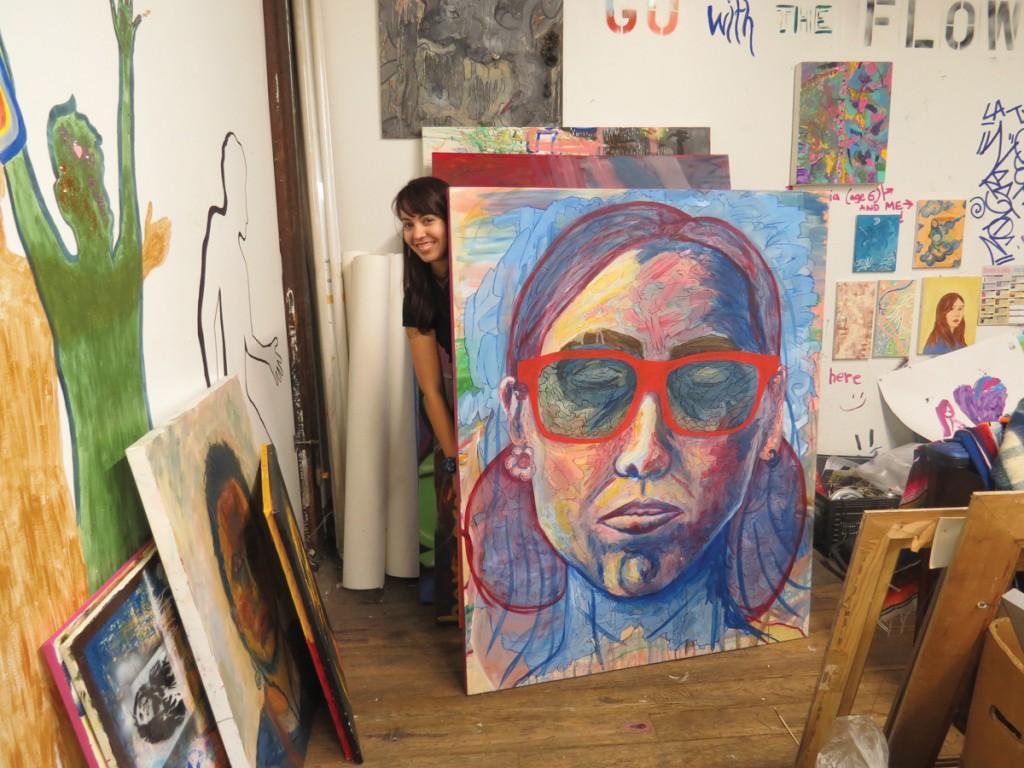 On the third floor of the 125-year-old Continental Gin Building in Deep Ellum, there is a small space filled with art. On the door of the space called Studio 3C3, an Andy Warhol quote is written in red paint: "Don't think about making art, just get it done. Let everyone else decide if it's good or bad, whether they love it or hate it. While they are deciding, make even more art." The studio houses the artwork of local Dallas artist and current Brookhaven College student Karla Aseneth Ceballos.
The space is small, but the white walls and worn, splintered wooden floor give it an illusion of spaciousness. A few paintings hang, while most are on a single wall of the room. A maroon rug with faded gold paisley print lies in the center of the floor, and small bottles of acrylic paint are scattered across it. Next to the rug there is an old, dusty laptop, thicker than a college textbook, playing ambient tropical sounds.
The amount of different media in the studio is staggering, but Ceballos didn't always possess expertise with them all. Instead of beginning her artistic endeavors with paints or clay, Ceballos grew up dancing and playing sports. But, she said when she was younger, she enjoyed "being creative and doing artsy stuff."
When Ceballos was 12 years old, she visited her parents' home country, Colombia, for the first time. It was in Colombia that she came in contact with local "hippies." Ceballos said, "I saw hippies making bracelets and I got so inspired, I started making jewelry." As if to punctuate this inspiration, Ceballos had several colorful beaded bracelets on display in her studio.
Her artistic progression continued past jewelry-making into photography. Ceballos said she has been taking pictures for as long as she can remember. She was the yearbook photographer at her high school and enjoyed taking artistic photographs. Ceballos never took fine art classes in high school, saying she was more of a theater kid.
It was at Brookhaven that Ceballos discovered her talent and began her art career. She took her basics at Brookhaven, hoping to be an elementary school teacher. In the spring of 2009, Ceballos took her first fine art course, a painting class taught by Brookhaven professor Chong Chu. In the class, Ceballos said, she started a higher involvement in her artistic pursuits.
She has taken more than 20 art courses at Brookhaven to date, including painting, figure drawing, ceramics and currently printmaking with professor Don Taylor, who said Ceballos is creative and very talented in printmaking and etching.
She is also taking Michelle Gibson's hip-hop dance course. Gibson said Ceballos stands out from her other dance students because when Gibson assigns a dance move, Ceballos takes a visual artist's approach and makes her movements more passionate. Gibson said, "She's an actual everyday living, walking artist."
Ceballos finds inspiration for her art in many different places, both personal and educational. Her grandmother and aunt paint, and she said they serve as influences for her artwork. Ceballos said other artists she finds influential are Pablo Picasso and Salvador Dali. But Ceballos said her favorite is Mexican artist Frida Kahlo, mainly because she loves the emotion of Kahlo's paintings.
Studio 3C3 became the home for Ceballos' artwork more than a year ago. She originally planned to share the studio with a friend but decided not to, saying she wanted to discover herself in her studio. The building is one of the oldest in Dallas. It holds open studios, where the artists' studios are opened to the public twice a year, usually in April and November.
Ceballos is currently preparing her pieces for the Artists Open Studio taking place from 6-10 p.m. Nov. 8 and from 2-8 p.m. Nov. 9 at the Continental Gin Building. The Nov. 8 date serves as opening night, and Nov. 9 celebrates 25 years of housing local Dallas artists.
Her first open studio at the Continental Gin Building took place November 2012, making this her third open studio in the building. Previous exhibitions include a piece shown at the Basement Gallery in Oak Cliff this summer and at 500X Gallery in Exposition Park.
Ceballos usually gives away portraits she paints, but this summer, she sold her first portrait. "I couldn't believe that I can actually make money and continue to do this," she said. "It feels good to know that I can make money through this."
The theme for her open studio will focus on a tribute to the 50th anniversary of John F. Kennedy's assassination, but will also include a mixture of her portraits, prints and a mural she is working on. The mural is a montage of the outlines of people's bodies who she invited to be a part of her mural. Some of the outlines are painted in, while others are just an outline. She gives each participant a short questionnaire, containing questions like "What do you believe in?" before she paints their outline.
Through interactive art such as this, Ceballos attempts to make her open studio nights engaging. Refreshments, soothing beats played by her friend Cesar Llamas, and a painting activity for people who want to participate will be included at the event. She will also have Colombian jewelry, prints, paintings and shirts for sale. She encouraged everyone to be part of her project and dress in suits or tuxedos, saying this would imitate the look of secret service agents.
In the future, Ceballos sees herself financially stable and living on a beach in Mexico with horses while pursuing art. Working full-time was a challenge for her because she was not able to spend much time doing what she loves. Now that she works part-time, she has more time to attend school and pursue art. She's excited for her future because soon, she will not have to work for anyone.
This is Ceballos' last semester at Brookhaven. She has been accepted to the Human Rights Program at Southern Methodist University in Dallas.
In her journey of self-discovery as an artist, Ceballos said art had to be seen and accepted in a certain way to ensure what an artist creates maintains their personal integrity. She said, "Accept it [art] the way it is. That's the beauty of it. That's art."