By Kathryn DeBruler
Staff Writer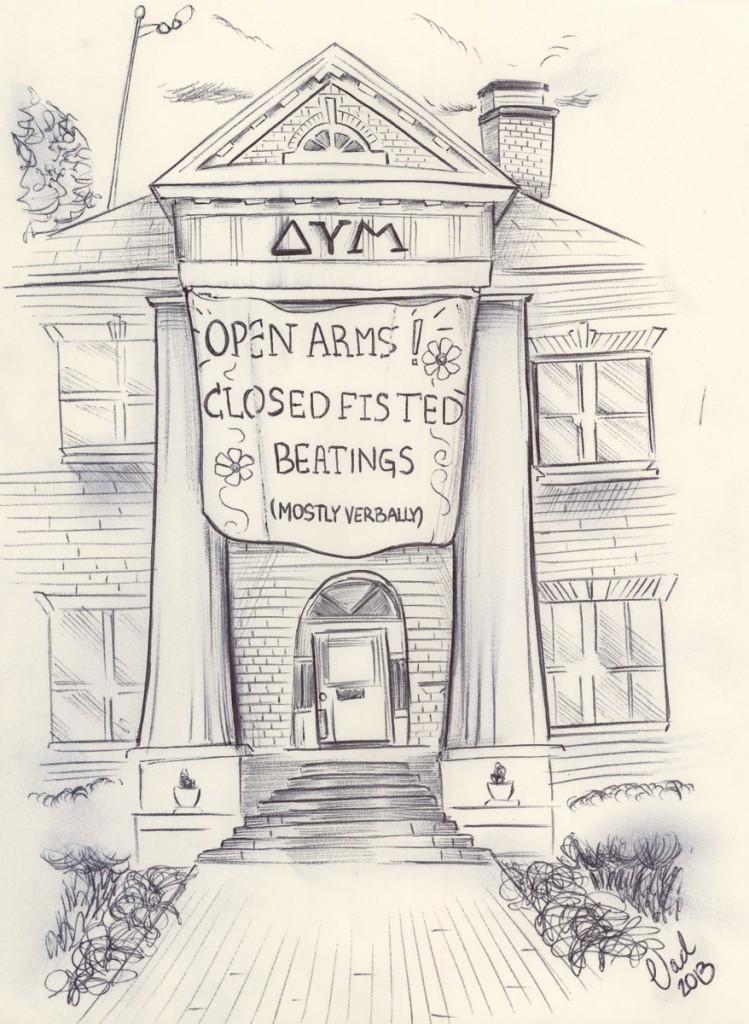 Like many of you, my inbox has recently become a dumping ground for emails from universities hoping to catch my eye as a potential transfer student. No matter how hard I tried to hide among small class sizes, personable professors and a homey campus, four-year colleges have sniffed me out.
And so I stand before the hunters without orange jackets.  Every day they target me with pictures of happy-looking students studying on chemically enhanced lawns, football games bursting with camaraderie and ivy-covered red brick walls.
Sometimes the ads work. I get earnest and hopeful and start thinking things like: "Gee, I could study on the lawn!" or "I could develop a false sense of personal investment in team sports!" And sometimes, I come across things that remind me it isn't all ivy and diplomas – sometimes it's sorority presidents on crack. In April, a tirade of an email was sent by Rebecca Martinson, president of Delta Gamma's University of Maryland chapter, to her fellow sisters. Martinson was apparently upset after hearing that some sisters were not actively engaged in Greek life and neglecting the responsibilities associated therein.
Or so Martinson meant to say. Instead, her profanity-laced email – which became an internet sensation shortly after it was leaked to gawker.com – relied on over-the-top expletives in an attempt to convey her urgent sense of disapproval. Before reading what Martinson had to say, I had wrongly assumed a sorority sister's duties were primarily toga based – not so. Apparently, they have to focus their efforts on fostering relationships with specific fraternities, rather than with one another.
This notion was made evident by the barrage of expletives in Martinson's email, such as "Are you people [expletive] retarded? That's not a rhetorical question, I LITERALLY want you to email me back telling me if you're mentally slow so I can make sure you don't go to anymore night time events." I use this email as just one example of why community college is awesome. Fellow Brookhavenites, take heart in the fact that we don't – and never will – have to put up with this stuff.
For some, Greek presence on campus is a hallmark of their higher learning experience. According to Lauren Westberg, assistant campus editor of The Purdue Exponent student newspaper, data collected by the university in 2010 revealed that "students have a 5 percent better chance of staying at Purdue if they join a fraternity or a sorority." This is great – I'm all for more people staying in school (they help support the neon shirt industry, if nothing else). But I'm also a big proponent of never seeing headlines like "College Student Drinks Too Much Water, Drowns Self." In 2005, a student at California State University at Chico died from a hazing incident involving drinking copious amount of water.
Moreover, I find it downright comforting that at Brookhaven College, the sigma symbol is relegated to my stats class, and that I will never, ever have to "postgame." Whatever that is.
When I started community college, I hadn't expected to feel a sense of (pardon the word choice here) community. Yet over the past few semesters, I have developed important relationships with faculty and students. These connections were not conceived out of membership dues, rank order or hateful emails. They evolved organically, like a community should.
So I'll keep deleting all the college e-brochures that tout chapter affiliations and keep the ones with happy students studying on the lawn. I can find a sense of community without the aid of a red Solo cup – I already did.