Chesney speaks at Fall Forum
By Paula Vasquez
Staff Writer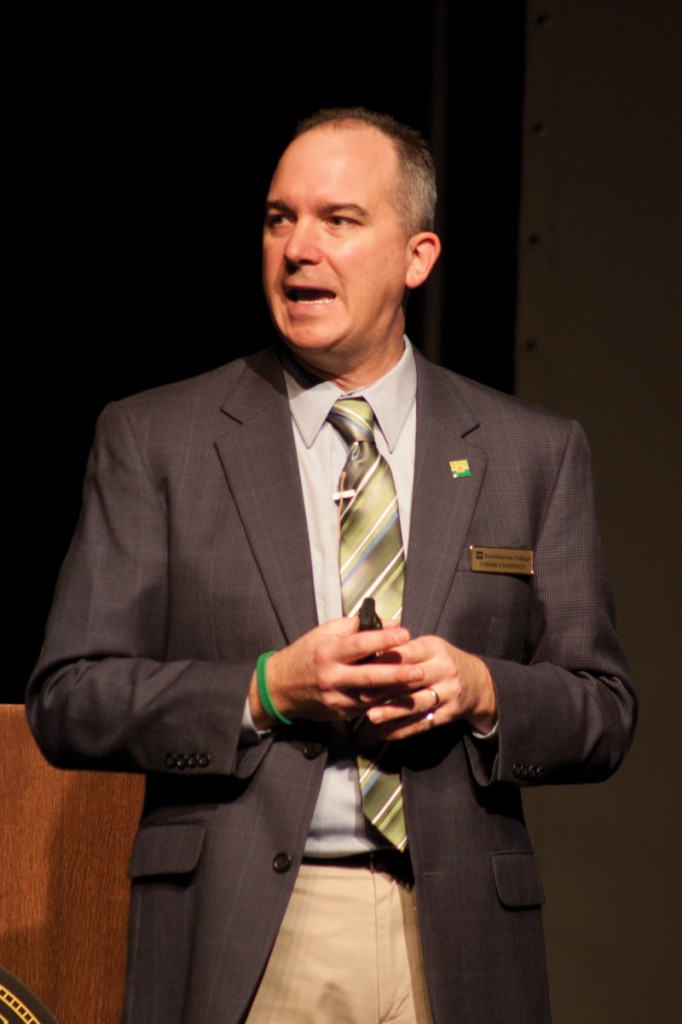 Dr. Thom D. Chesney, president of Brookhaven College, gave the 6th annual Brookhaven Fall Forum, Oct. 24, in the Performance Hall. According to Chesney, Dr. Ivory Toldson, editor-in-chief of the Journal of Negro Education, was originally scheduled to speak but was called to a higher order by President Barack Obama.
Chesney stepped up to the plate and gave the speech, which included topics such as community college "mythbusting" and the importance certain books have had in his life.
The lecture was illustrated by Chesney's nine-slide PowerPoint.
He joked and said he liked telling people how many slides his presentation was going to have so that people would look forward to a short lecture.
He started his presentation by discussing the different myths people have about community colleges.
He said, "The number one myth is that community college is for those rejected by four- year institutions." Chesney refuted this statement and said community colleges are acceptance schools, not rejection schools, which create a path- way for life and a career.
The next myth, Chesney said, was that "community college education is not top- notch." Chesney followed this by explaining that the education provided by community colleges is carefully analyzed, with many assessments to review what happens in the classroom.
He continued and explained that studies are done by universities in Texas to come up with strategies to bring community college juniors to four-year institutions. He said universities notice "community college juniors do as well or better than the natives that came in as freshmen."
Chesney said universities realize there is a big need for transfer students. After freshmen are lost, colleges need to "fill the seats for students that are destined to succeed," he said.
The next myth Chesney included in his presentation was that it is difficult for community college students to transfer to four-year universities. Chesney fought this one by saying there are three agreements signed with UNT to create pathways for students to transfer easily to their college of their choice.
The second portion of Chesney's lecture included various books he has read that have made an impact on his life. Chesney said it is important to take ideas from books and use them as guidelines to help evaluate real life situations.
He said he does this himself by comparing issues in the books he reads to everyday events.
One of the books he talked about was "1984" by George Orwell, which includes the topic of surveillance.
In this case, surveillance is a situation Chesney related to the cameras on tollways that take pictures of people driving through from different angles.
Another book Chesney talked about was "How to Behave and Why" by Murro Leaf, including a short explanation of how his home operates using a few of the rules found in the book.
He said there are five distinct values from the book that his home uses, which are symbolized by the five fingers on their hands.
Chesney said his family uses the thumb to represent respect, the index finger to represent responsibility, the middle finger to represent the many options there are, the ring finger to represent commitment to do your best, and the pinky to represent a promise to tell the truth.
He joked, saying that the middle finger is allowed because it is actually a symbol of good in his home.
The lecture ended in a Q-and-A session, when students were encouraged to ask questions to the Brookhaven president in an open forum.
Barbara Kennedy, a student from Brookhaven, asked, "What is the most valuable advice you can give to a student so they can be successful in school and beyond?" The question was then addressed by Chesney, who said students should not underestimate the resources they have.
Dr. Hurshel Burton, Brookhaven Professor of English and the introductory speaker for Fall Forum 2013, said he was glad Chesney was able to clear his schedule to replace Toldson, because Chesney "was the most obvious answer for our campus." Burton said it is important that students are able to have a clear vision of who the president is so they can rule out the image of someone who is just older and political, because Chesney is "humorous, reads and is fun."
Although Burton did not have a class scheduled at the time of the Fall Forum, he said he tried to encourage students to take advantage of the opportunity and get to know the president.
Burton said students should know that their president is approachable.