Diner serves classic home cooking for more than 50 years
 By Travis Baugh
Staff Photographer
 Restaurant Review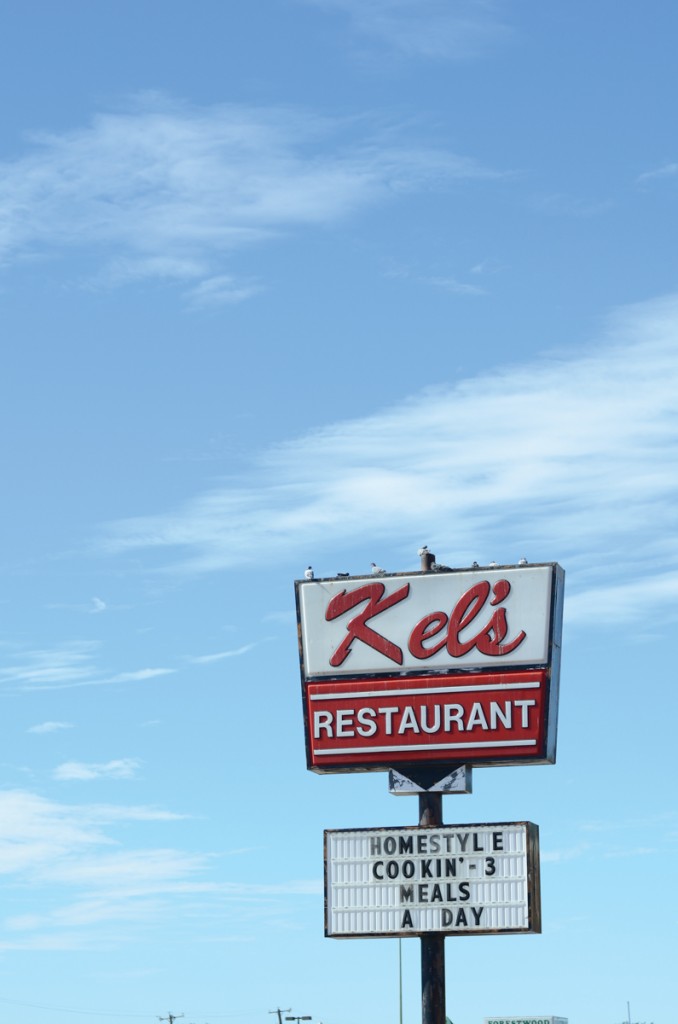 Kel's Kitchen is a classic little diner tucked away behind a car wash and an old antique mall on Forest Lane and Dallas North Tollway. Kel's serves breakfast all day, every day, so the sound of sizzling bacon strips and the aroma of fresh-baked biscuits greet every visitor.  With some of the best home cooking outside of your grandmother's kitchen, it's not hard to see why Kel's has been a cornerstone of the community for 50 years.
Some of the cooks in the kitchen have worked there for more than 20 years. The staff at Kel's knows their regulars so well they have the food cooking before customers show up; one man even comes in wearing his pajamas almost every morning.
C. Bruce Willis II of CentralTrack wrote: "It's the most delicious, down- home, artery- clogging eatery in town … The food is cheap, the service is great and you'll feel like you visited your grandmother's for dinner."
From the all-day breakfast to the diner's literally and figuratively "Famous Chicken Fried Steak," everything is made fresh and comes in one size: "I don't know if I can eat all that." In fact, the only thing about Kel's that's bigger than its portions is its history.
In 1962, John Wendell Meredith Sr. was a milk deliveryman about to take a huge risk to fulfill the dream of owning his own business.  Meredith was a man of modest means.  As a Depression baby, his family didn't have much growing up. At one point, Meredith picked the cotton for his own blue jeans, according to his son, John Wendell Meredith Jr.  While doing odd jobs, John Sr. started working for Triangle Dairy doing deliveries and loved it.
A few years later, John Sr. would make a routine delivery at Ken's Kitchen on Preston and Forest. And he made a decision that would change his and many diners' lives. John Sr. sold all his stock and mortgaged everything in order to buy Ken's, paying $5,000 for the restaurant, according to John Jr.
There was just one problem: Ken of Ken's Kitchen wanted John Sr. to change the restaurant's name.  Having nearly no cash left, John Sr. couldn't afford to buy another neon sign. So, he did the next best thing; he changed the "N" to an "L" and the neon sign for the first "Kel's Kitchen" blinked to life.
On Jan. 1, 1963, Kel's opened for business and took off. The original was open 24 hours a day. John Sr. ran the place with the help of many of the original staff and the addition of his brother as the head cook, as well as his then 7-year-old son, John Meredith Jr., who helped out part time.
Business took off over the next eight years, as John Sr. opened five more Kel's locations, employing family and friends. During his high school years, John Jr. worked part time at Kel's.  He would come and work on Saturday mornings as a short order cook to help with the rush. Saturday morning was the restaurant's busiest day.  People would fight to sit at the bar to watch John Jr.'s uncle cook, while others would argue over who sat where at their favorite tables.
What happened next would change his life forever. In 1971, at the age of 37, John Sr. had a massive heart attack. He was one of the first people in Dallas to have open-heart surgery, according to John Jr. John Sr. was in the hospital recovering for more than half a year after the surgery. Others were left to make business decisions. "The management pilfered and stole from the business," John Jr. said.
John Sr. recovered eventually.  However, his business had not.  John Sr. had to let the leases run out on some establishments and sell others.  He was back where he started. John Sr. was left with the original Kel's kitchen on Preston and Forest.
In 1977, John Jr. started working full time with his dad. Everything was going well. "We owe everything to the neighborhood," John Jr. said.
In 1984, tragedy struck again when a fire broke out and destroyed the restaurant. The family did the only thing they could and rebuilt Kel's.  However, due to some bad business decisions, the bank bought the building out from under them.  John Sr. thought that was the end, until a friend in the restaurant business told him about a Pizza Inn on Forest Lane that was about to close.
The only problem was the restaurant was hidden behind a gas station (now a car wash).  John Sr. accepted, and in 1985, he opened the Kel's that still packs the parking lot every Saturday morning. After moving locations, business increased 40 percent, according to John Jr. It didn't matter where Kel's moved; John Sr. had a loyal following for close to 40 years, due to his friendly attitude and great food. Everyone was sad to see John Sr. retire in 1998 and later die in 2003.
John Jr. took over and runs Kel's to this day with his friend and business partner Jimmy Harris, who manages Kel's. "We are dug in to this neighborhood," John Jr. said.  Over the years, they have served Dallas mayors, Farmers Branch and Dallas Police officers, pro football players and various team owners, but most importantly, a solid base of regular diners.
This is a place with 50 years of history, and some families have eaten there for three or four generations.