Band of former students gains local notoriety
By Chanel Sidi
Staff Writer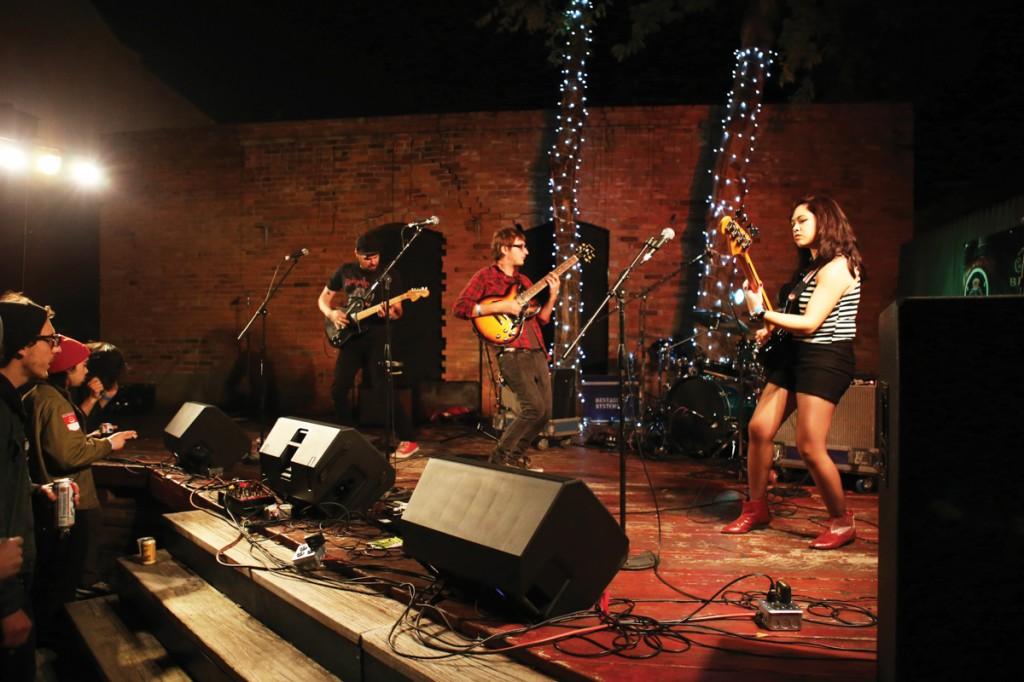 Amid a maze of industrial warehouses, a giant gravel-filled meadow, a shag carpet store and downtown overpasses, local Dallas band Sealion's practice space exists in a dilapidated building. Hunter Moehring, Cole Denton, Samantha Villavert and Alex Poulos are waiting out­side, some smoking cheap cig­arettes and drinking beer. The self-styled "margarita punk" band was recently nominated for "Best Rock Act" in the 25th Anniversary Dallas Observer Music Awards, following a nomi­nation in the "Best New Act" category two years ago.
They nonchalantly greet with relaxed smiles and carry on with their chat regarding Seal's "Kiss From A Rose." A few of them start humming, then singing the '90s ballad, while a member of another band casually joins in as he walks into the building. Practice was supposed to start an hour ago, but there is no sense of urgency as the group coasts toward their rehearsal space. The undersized room is illuminated by the semi-functional lopsided Christmas lights glowing along its border.
It's Thursday evening, Oct. 17, the night before local sensation Sealion seizes a rickety stage to open for Deep Ellum's second annual Index Music Festival. The band is composed of former and current community college students, three of whom attended Brookhaven College. Moehring, Poulos and Denton have played in various bands together since their teenage years.
Drummer Alex Poulos want­ed to be a musician since play­ing for the drum line in high school. He also spoke fondly of his time at Brookhaven. "2-D design and photography classes at Brookhaven have aided Hunter and I in creating posters and band-related artwork," Poulos said.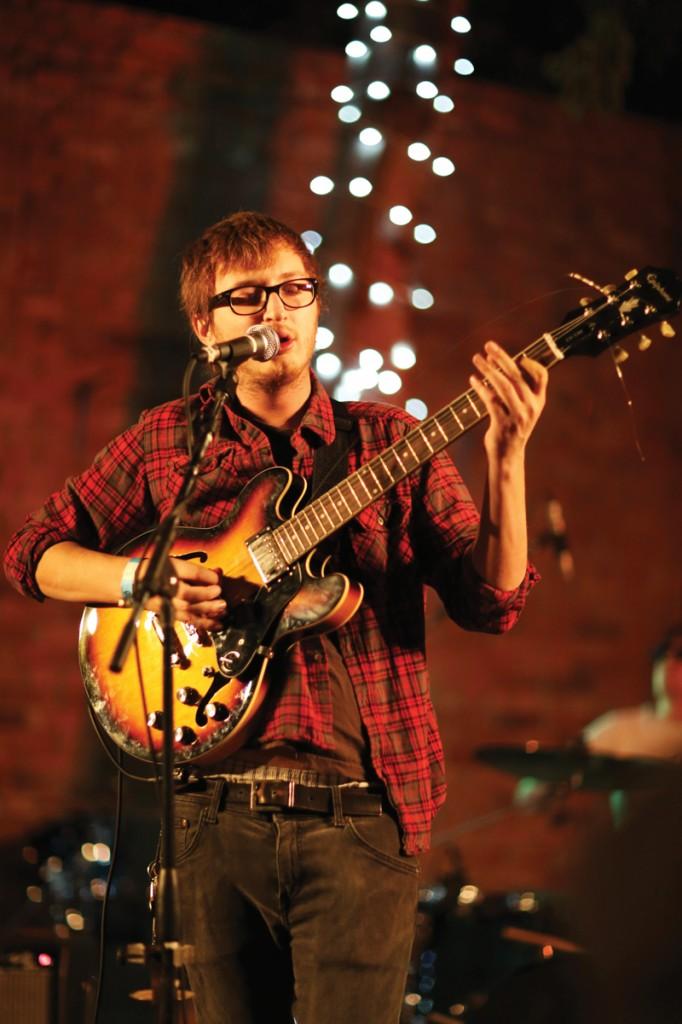 Denton, the guitarist, said: "I never really took any music class­es at Brookhaven. I've never been much of a music theory, sight-reading kind of musician. I did, however, take David Newman's photography class, which I thor­oughly enjoyed."
Following minor adjustments to instruments and Poulos's cue to hit the lights, fidgety Vans, Converse sneakers and tan suede wedges began to thump in uni­son as blissful earsplitting com­menced. The band rehearsed with a passion so intense that their bodies, instruments, and music melted into one. Sealion is not a band of musicians, instruments, or the set list scribbled illegibly on the wall-mounted whiteboard. Sealion is an experience.
After performing at Index fest alongside some of their musi­cal inspirations, Poulos said, "Warming up for Andrew Bird and Devotchka was not only a self- and life-affirming event, but I saw Andrew Bird at the Majestic, and knowing I can open up for an artist of that caliber is beyond humbling." Denton echoed: "Playing alongside peo­ple who inspire you is always sur­real. No matter how many times it happens, I always feel like a fanboy." Even the coveted "Best Rock Act" nomination doesn't influence the band's oblivious­ness to their local-celebrity sta­tus; their passion transcends it. This humble posture was evident during the DOMA nomination party.
The DOMA nominee photo shoot at Sundown At Granada was scheduled, but with the soft conversations taking place among the countless candles sprinkled throughout, it seemed an unlikely venue for local celeb­rities to party.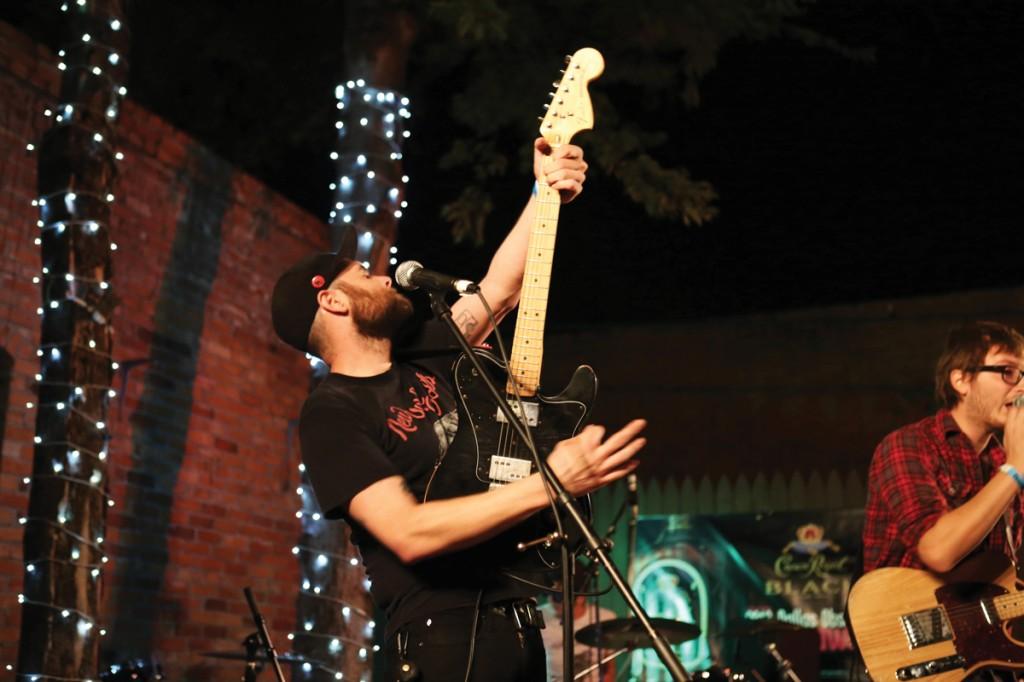 The nominees for the DOMAs were so modest, regardless of notoriety, that they were indistin­guishable from ordinary patrons. Sealion members were scattered through the crowd, and finally united as if they had a preor­dained "safe spot." Poulos said staying focused while constantly being in party environments such as Sundown was due to having the responsibility of a day job, while Denton said: "Lots of cof­fee. Lots of naps."
The life of a local celebrity by night is sharply contrasted by the young, struggling artist of the day-to-day. Villavert said: "Sealion has always been a favor­ite local band, even before I was considered in the band. So to already be a part of a pretty established local band, I feel quite honored." In Grapevine, Texas, she is a student and also works at a coffee shop.
Moehring and Poulos both work at pizza joints, and Denton spends his days as manager at a smoke shop. As Moehring previ­ously said, "You're not going to make any money, so don't do it [music] for that."
At the DOMA showcase Nov. 2, local music cohorts flooded Elm Street. Sealion played a set on the back patio stage at Club Dada. The showcase was more like a block party than an awards show. Groups of friends huddled in corners, discussing their pre­ferred acts over tacos and beer. When Sealion seized the perfor­mance platform, the conversa­tions dwindled.
From their initial chord, Sealion's show radically deviated from their practice session. Lead singer Moehring jerked and sang with the lyrics as if he'd been struck by lightning. The crowd seemed to soak up every morsel of his vivacious energy. They danced with little regard for prop­er personal space or etiquette. As the band initiated the final song of their set, three members of Fort Worth punk band War Party, who Sealion toured with twice in the past, pounced onto stage. The fellow musicians got as close to the microphones as they could, screaming along in harmony with the band.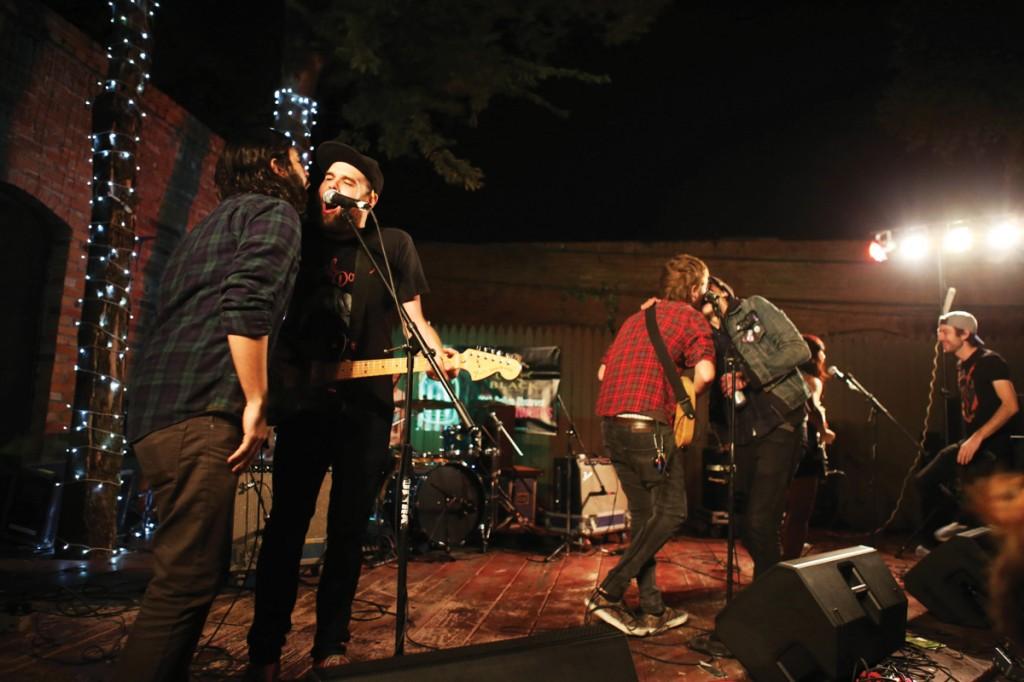 Despite their commendable and stimulating showcase per­formance, Sealion walked away from the DOMA ceremony Nov. 5 at House of Blues emptyhand­ed, save for additions to their mounting fan base. Denton had previously said, "You get a ray of light every once in a while, and you just have to embrace it no matter how small, you know?"
Wanz Dover, also known by his DJ alias Blixaboy, a veteran of the local music scene and fel­low DOMA nominee, said being nominated aids in getting more gigs and expanding fan base. "It might not make your career, but is definitely a stepping stone," Dover said. Sealion has an album in the works set for release in late spring or early summer 2014, and is playing Dec. 27 in Austin at Antone's opening for the Old 97's. Following that show, they will spend January in Portland as part of a mini-tour.
Denton's advice for students pursuing their dreams: "Keep at it. Learn everything you can about your craft. The quality of your art is proportionate to the thought and effort you put into it. If you love what you do, it shows. People tend to pick up these things