Career Center spices up résumés
By Tuyen Anh Hoang
Staff Writer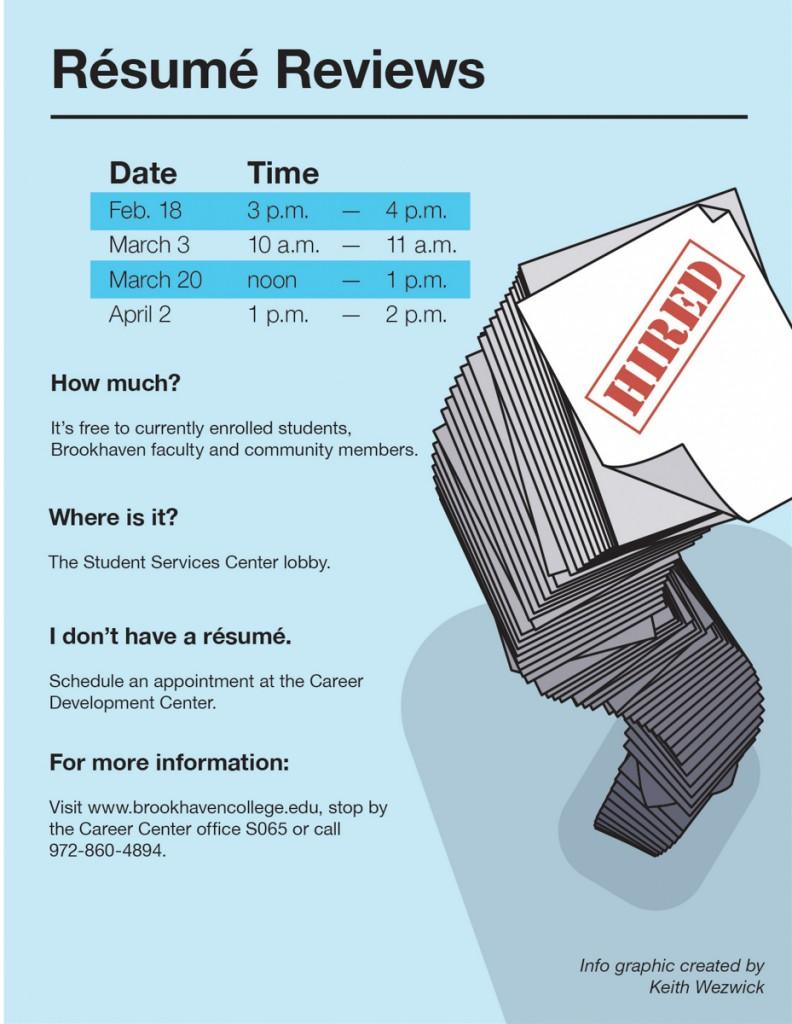 Brookhaven College's Career Development Center provides résumé reviews free of charge to currently enrolled students, Brookhaven faculty and staff, and community members in the lobby of the Student Services Center. Kate Watkins, senior career planning specialist, said the staff of Career Center will be available for people who have a résumé or would like to stop by for reviews as well as suggestions.
If students don't have a résumé, they can still schedule an appointment with the office. Watkins said, "We can sit down with them and talk about what experiences, education and qualities that they have and develop a résumé together."
Brookhaven arts student James McNabb said: "I think it is really great. That sounds Infographic by Keith Wezwick like something I need to check into pretty soon because I need help on my résumé."
The Career Development Center offers a variety of resources and services to assist students, such as job search handouts, mock interviewing and the Ask an Expert Program.
Individual career advising is also accessible to everyone. If students are struggling with what they want to do, they can make an appointment and consult with a counselor to discuss the process of career planning. Watkins said, "It is an opportunity for them to see if there are some other careers they have not thought about that would be a good fit for them."
Brookhaven student Grace Medina said she is having difficulty deciding on a major because she has a lot of interests. Medina said she hopes the Career Center will help her choose a specific major.
Whether students are undecided on choosing a major or concerned about career direction, the Career Center offers Career Assessment tests to help students and community members find out about their characteristics and psychological type, assets and interests.
Watkins said Brookhaven pays the cost of personality and interest assessments for students, fees of $25 or $80 will be applied to non-student community members who take the assessment tests.
The assessment tests are divided into the Myers-Briggs Type Indicator and the Strong Interest Inventory.
People can take both tests at the same time at the Career Center, and some students are asked to take them as part of a course at the Testing Center. Results will be printed off by the Testing Center's personnel; afterward, the Career Center's staff will meet with students and community members to talk about career direction recommendations.
Early College High School student Yohamiseth Perez said she was not sure what direction she wanted to take in her life.
However, after taking the Myers-Briggs test, Perez said she discovered broadcast journalism is a career that matches her personality.
According to its website, the Career Development Center provides computerized career assessment and guidance programs to Brookhaven students. Sigi3 is the career exploration site and an abbreviated version of Myers-Briggs Type Indicator.
Watkins said: "[Sigi3] is free to students to use. We give them the access to get in, and then they set up an account, which allows them to save information and access it later." She said Sigi3 is helpful as an exploration site for careers that helps students find out about salary information and upward or downward trending jobs.
There is a module on the Career Development Center site with specific instructions that assist Brookhaven nursing students in meeting the expectations of the nursing program.
"Nursing department and Radiologic Sciences department have decided that they want all students to have opportunities to go through mock interviews or résumé reviews as part of their graduation requirements," Watkins said.
According to the Career site, the field of nursing is recognized as strong and will continue to grow.
Brookhaven nursing student Karina Hernandez said the Career Center is very helpful. She said the staff lets people walk around to explore what they may be interested in. "They don't tell you what you should look for, they just let you do it on your own," Hernandez said.
According to the website, student Meta Mukala said the appointment at the center was very interesting and beneficial. Mukala learned to make an efficient résumé and cover letter. Mukala said, "With this knowledge, I feel more confident when I am applying for a job."
Watkins said at the beginning of the semester, Career Center staff sends out emails to inform all professors about their services. The center has late business hours on Tuesday-Thursday, 8 a.m. to 7 p.m., to support students who enroll in night classes.
Watkins said everyone should make a stop at the Career Center before they leave Brookhaven to get access to its services free of charge. "You can pay a lot of money to have your résumé reviewed through individual consultant places as far as career readiness," Watkins said.
The Career Development Center staff will have a table in the lobby of the Student Services Center to complete quick résumé reviews from 3 to 4 p.m. Feb 18, from 10 to 11 a.m. March 3, from noon to 1 p.m. March 20 and from 1 to 2 p.m. April 2.
For more information, students and community members can visit the main Brookhaven website, stop by the Career Center office in the S Building, room S065, or call 972-860-4894.