Sport scores with co-eds
By Brigitte Zumaya
Layout Editor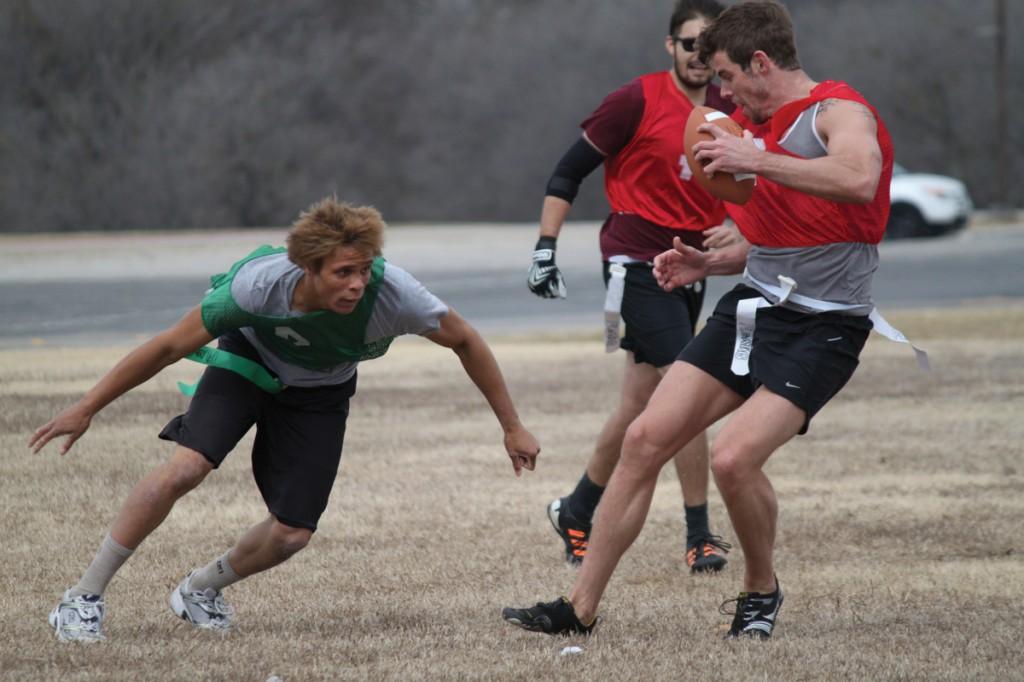 Brookhaven College students looking for outdoor sports with a lighter touch fill the rosters of this season's flag football teams. This semester, there are five co-ed teams at Brookhaven, each with 11 players.
Anyone who joined had to be a Brookhaven student and attend mandatory pre-registration and the first official meeting, held Feb. 21. The coordinator of this program is Student Life Office Coordinator Dominica McCarthy. Co-ed flag football has been going on for two semesters now, McCarthy said.
Five teams were set up, and each team has one team captain and a co-captain. At the end of the meeting, the five teams came up with their names: Fluffy Unicorns, My Vick in a Box, Blitzkrieg, The Blazers and Legion of Doom.
Each team can practice on the open fields on campus, McCarthy said. Every game is 50 minutes, including 10 minutes of halftime and four quarters of 10 minutes each.
Each player has a belt with a flag on each side. Cleats, pants with pockets, and curse words are not allowed. There is no equipment needed, she also said.
The first game started at 10 a.m. Feb. 28 at the open field in front of the H Building.  Players were required to go to the Office of Student Life, show Student ID, sign in, receive their jerseys and go to the field. The first game pitched My Vick in a Box against Legion of Doom. The game ended with a score of 22 to 11.
Women are rewarded five points for a touchdown and men are rewarded three, McCarthy said. "If any player already scored a touchdown, they get to go for a two-point conversion," McCarthy said. There are no field goals.
For more points, a player can score a safety, "when the opposing team is on their goal line and you are able to force the ball into their end zone," she also said.
This semester, there are not as many women playing co-ed flag football as there were the semester before, McCarthy said. "It is a true fact girls can do anything guys can do, and for the most part, they can do it better," previous championship team ATB (After the Bell) player and Brookhaven student Marthaelena Tramel said.
Flag football is a part of the intramural program, in which all students can join and participate in activities. "
To me, I think it's a beautiful thing when you bring people from different back- grounds to come together," McCarthy said.