IGNITE program empowers women
By Paula Vasquez
Advertising & Marketing Director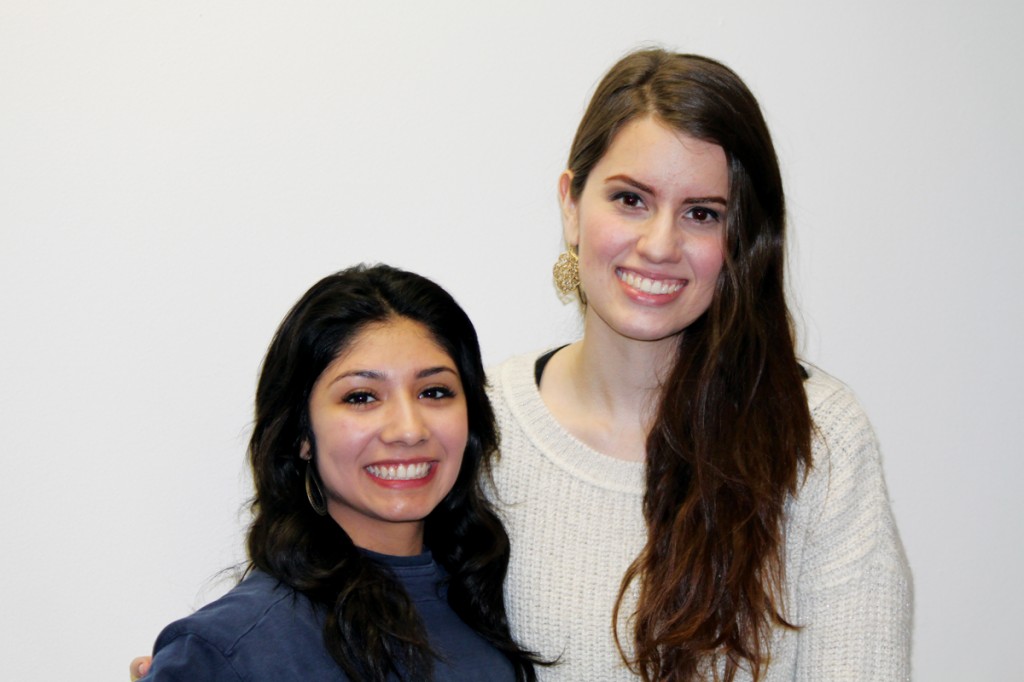 The winning raffle ticket, 928112, read the exact same numbers Sandy Gonzalez, Brookhaven College student, squeezed in her hand. In addition to winning Froswa' Booker-Drew's book "Rules of Engagement: Making Connections Last," attending the 2014 IGNITE Young Women's Political Leadership Conference rewarded  Gonzalez with political advice and a chance to meet former Dallas Mayor Laura Miller and Fort Worth Mayor Betsy Price.
Gonzalez said the conference motivated her to spread the word about becoming informed about politics. The conference, titled "Transforming Your Passion into Action!" was held on Feb. 22.
Gonzalez said she is inspired to share a little of what she took away from the conference with other Brookhaven students because lack of knowledge is what causes "most people to think of politics in a negative way."
Gonzalez, who has studied at Brookhaven for two years, is thinking about studying political science after taking government 2305 with M. Ahad Hayaud-Din, professor and department lead of political science and government director at Brookhaven College. Hayaud-Din was also the person who encouraged Gonzalez to go the conference.  Gonzalez said she absorbed Hayaud-Din's passion and said, "Professor Din's way of talking about politics and government makes me want to know more about it."
Gonzalez said attending the conference "enforced what Mr. Din has been teaching me all along." Hayaud-Din said, "The Brookhaven community should be proud that we had an excellent ambassador for this important initiative to empower young women."
Hayaud-Din said last year was the first time he was able to send a student, Casandra Vazquez, to represent Brookhaven at the conference. Hayaud-Din said after Vazquez attended the conference, she came back and talked about how positive and how life-changing the experience was. Vazquez also said she learned so much, met people and got a job out of it.
Hayaud-Din said this feedback assured him the conference was a worthwhile investment, and that is why he invited all his students. Hayaud-Din said this year, "Sandy was the only person out of my 400 students who said that they wanted to go."
Gonzalez's interest and decision to participate showed her initiative and motivation, and he likes to see these kinds of traits in his students. He said putting Gonzalez and Vazquez in touch with IGNITE and having them attend the conference is critical in their development.
Although both students study at Brookhaven and said they admire Hayaud-Din, their paths crossed at the IGNITE conference, where they learned their common appreciation for the association.
Vazquez said, "Sandy is an extraordinary person, an intelligent and driven student, a fun person to be around, an extrovert and a great friend." Vazquez said she thinks it is important Brookhaven has an IGNITE chapter because "it would be a great opportunity for female students to get more involved in politics and in their community."
According to IGNITE: Political Power in Every Young Woman's website, "IGNITE serves young women (14-22) in their own communities … who have a harder time seeking out and self-motivating for the kinds of leadership opportunities and training they need."
The website also indicates that IGNITE's help goes out across Texas and California to approximately 700 high school and college women.
According to IGNITE, the goal to expand the program consists of annual conferences, such as the one Gonzalez attended, and the initiation of clubs, or "chapters," at colleges. IGNITE teams up with schools, colleges and nonprofit organizations to bring young women to the conference and provide the support college women need in order to begin chapters.
IGNITE's growth has shown in its operating budget, which "has grown in the past three years from $100,000 in 2010 to $550,000 this year," according to its website.
Vazquez attended the IGNITE conference last year and liked it so much she decided to attend again. One of the most memorable teachings from the conference Vazquez remembered was about the view of women in the media. "The media focuses on different things when it is a woman speaking, such as personal life, her appearance, and they tend to make women's mistakes a lot bigger than what they would do for a man," Vazquez said.
She also said she enjoyed meeting new people at the conference and seeing people she has admired over time, such as Lauren Embrey, director of The Embrey Family Foundation, who funded the organization. Vazquez said: "I actually got to sit with her at my table for lunch. It was great to tell her thank you in person for all she's IGNITE program empowers women done and the programs she's helped fund and how much of a change that's made in my life." Vazquez said the conference changed her life because it gave her a purpose and more determination to pursue political science.
The 2014 conference consisted of different sessions for high school and college students, including topics such as dating violence, human trafficking, reproductive rights, immigration policy, and voting preparation. Other sessions were "How to Brand Yourself" and "Getting Involved In Student Council."
The conference lunch included elected women and public officials, and many were state representatives. Gonzalez said she was inspired to start the first steps in introducing a chapter at Brookhaven. She said it could help other students like it helped her. Gonzalez said this organization is important because it helps people understand what is going on around them.
She said the program would be beneficial, especially at a community college level, because participation through organizations and clubs is what makes a difference. Gonzalez also said she believes programs help students become involved outside of their colleges and in the community.