SGA Mardi Gras bash is a hit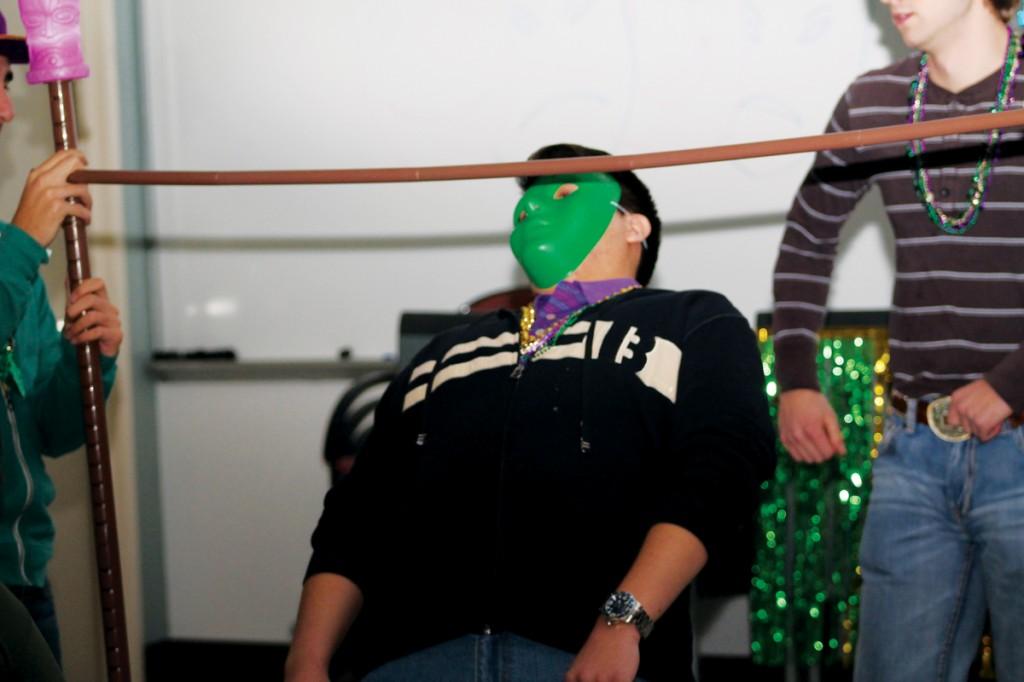 Beads, masks, party games, Creole and Cajun food, good music and colorful celebrations were part for the festivities organized for Brookhaven College's first Mardi Gras party. Fat Tuesday was very chilly, but inside the S Building it was warm enough to feel the spirit of the last day of the carnival.
On the first floor, there were purple, green and gold decorations; the colors of Mardi Gras symbolize jus- tice, faith and power. The neutral walls were changed that evening to a vibrant mix of styles, from the French burlesque theme with feathered boas to science-fiction accents.
The women preferred to don partial masks, while the men enjoyed covering their whole faces. Gold and silver hats and neon green feathers were some of the eye-catching accessories of the night.
The festival was strange for some of the foreign students who were not familiar with Mardi Gras. Pooyan Gorjidooz, an English for Speakers of Foreign Languages student, came from Iran to Dallas three months ago. "It is my first Mardi Gras party ever, and I'm glad that I decided to come here," Gorjidooz said.  "Celebrations in Iran are different," he said. Gorjidooz said he also enjoyed the music and atmosphere of the event.
For Brookhaven nursing student Sunny Kimbrell, it was also her first Mardi Gras party. She said she enjoyed the food the most.
Brian Borski, SGA student adviser, made classic New Orleans dishes such as gumbo, dirty rice and jambalaya. For dessert, they served King Cake, a traditional Mardi Gras sweet that has a toy baby baked inside, and cookies in Mardi Gras colors. "I like cooking. I chose Cajun and Creole food for today because I like the students to feel right at home in New Orleans," Borski said.
Borski said he knows the event well and is a big fan of Mardi Gras. This year, instead of going to Louisiana, he decided to organize a party for the college students. "We know the Halloween tradition very well, but Mardi Gras is still new to some people in the U.S.," he said.
The biggest Texas parties on Fat Tuesday are in Galveston, but not here in Dallas."  In Borski's opinion, the last day of the carnival should be celebrated the most, because it is a day when eating, drinking, dancing and having fun is a must. Ash Wednesday comes the next day, followed by six weeks of Lent, a religious holiday celebrated by some Christians, especially Catholics. Believers make vows of abstinence to refrain from eating or drinking specific foods or from certain behaviors.
At this Mardi Gras festival, the organizers said they expected around 50 guests, but more came.
Even though the weather was cold, people chose to attend this fun-filled event.  "We are glad that the party is so popular," SGA Vice- President Bruno Chiquini said. "It is a very important event for the Student Government." They want to show young people that college can be a place to have fun, not just a place for study and learning, he said.
SGA members are planning more interactive events this year and hope that Mardi Gras at Brookhaven will grow bigger and better every year.