Former student, photographer captures fame
By Travis Baugh
Staff Writer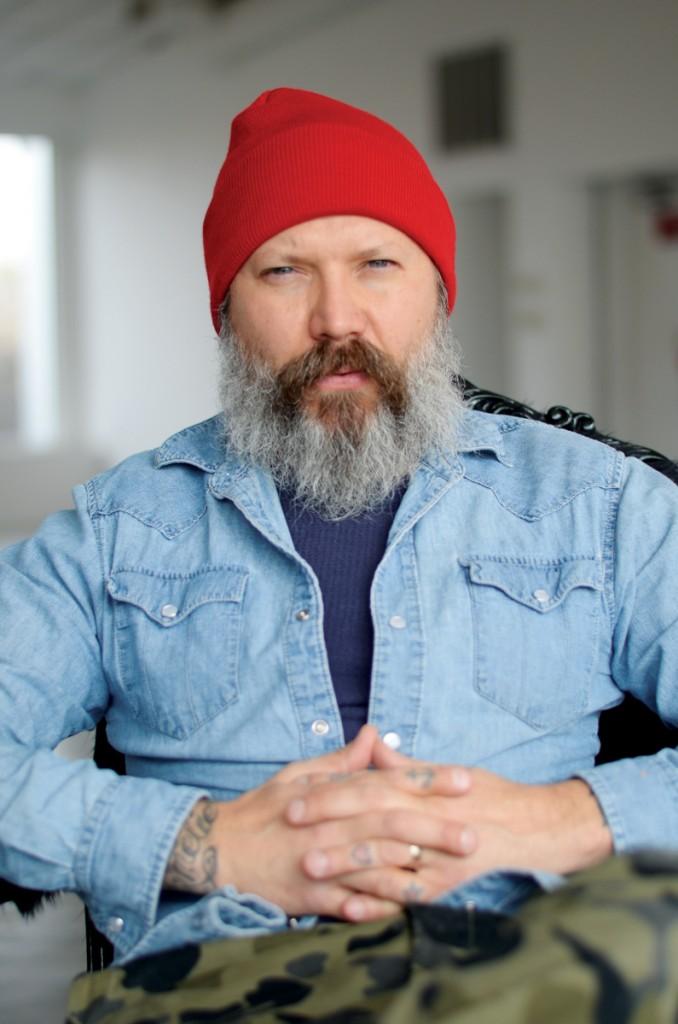 JCPenney, Buckle, Neiman Marcus, FD Luxe: This is what Steven Visneau sees when he checks his recent calls. Visneau is a profession- al photographer and former Brookhaven College student.
What he lacks in height, Visneau makes up with his grizzled demeanor. A two- toned beard explodes from his face, settling in a jumble of salt and pepper inches below his chin. Tattoos peek out from the cuffs of his denim shirt, becoming more obvious as he grapples with light stands and cables in preparation for the day's photo shoot.
In 1986, Visneau attended Brookhaven. In those days, he was pursuing a degree in history and had plans to go to the University of Texas at Dallas to finish. He wanted to become a teacher. Life had other plans.
The punk band Mess, for which Visneau was drumming, received a record deal in 1989. He toured with Mess on and off for the next 10 years. Around 1997, while the band was back at home, Visneau found a job waiting tables. A friend asked him if he would like to help with a photo shoot. "Hell yeah," Visneau said.
The shoot was for a rep firm called Independent Artist. Visneau was paid $100 a day for a 10-day shoot. "It took me two weeks to make that much waiting tables," Visneau said. So he quit his job waiting tables and took a position as a production assistant.
"I would get up at 5 o'clock in the morning and go get the box truck that was parked at the agency. We had, I don't know, $100,000 worth of merchandise," Visneau said about his photography job in a Highland Park house. He said he would arrive early to help Polaroid the house, move the contents to the lawn, transfer the furniture from the truck into the house and return everything back into place.
Visneau's next job was running a merchandise room at a photography studio; his responsibilities mainly consisted of moving things, he said.  "Call it the artist in me or the musician or whatever, I was always just infatuated with photography."
Tired of loading boxes, Visneau went to the first assistant, who was also a friend, and said, "Dude, I want to become a photo assistant."  His friend agreed to help. Visneau went out, bought a Photography 101 book and read it cover to cover that weekend. "I was an apprentice there for four years," he said. "My first job as second assistant, I was always second assistant, was a Playboy [Magazine] job."
A photographer friend of Visneau's was selling his equipment to invest in digital photography, and that's when Visneau purchased his first camera: a Nikon FA. Over the next few years, Visneau worked as an apprentice before eventually getting a job as a first assistant.
In 2005, Visneau started to feel the effects of photography's transition from film to digital. He had to change with the times and purchased his first digital camera: a Canon 5D. Soon after that, Visneau got the chance to shoot for JCPenney. "I was super super nervous … I don't think I could sleep," Visneau said.
"[Visneau] is really com- mitted to the things that interest him," Pete Freedman, co-founder of centraltrack.com, said in an interview with former Brookhaven student Nancy Asmus. "He is interested in the world around him, so he will commit himself to shooting." Over the next few years, Visneau shot for bigger names and brands, building his reputation along the way. His career was taking off.
Jennifer Dunn started her agency Sisterbrother Mgmt. in 2010. Dunn loved Visneau's work and said she had to have him as one of the first photographers she represented. "Steven is fantastic fun on set — always energetic and positive," Dunn said. "He's so naturally collaborative that folks love to work with him, knowing they will have a visual voice. On top of that, as one of my oldest friends, I can say that he's just a great guy to spend a day with."
Even though he has been shooting for almost 20 years, Visneau said he still learns something new every time he hears the shutter click. "I don't ever take one of these days where I get to point a camera at something, whether I'm having fun or getting paid to do it, I don't take it for granted," Visneau said.
Readers can check out Visneau's latest spread in the March 2014 issue of FD Luxe.