Charity drive goes big
By Dillon Piekarsky
Copy Editor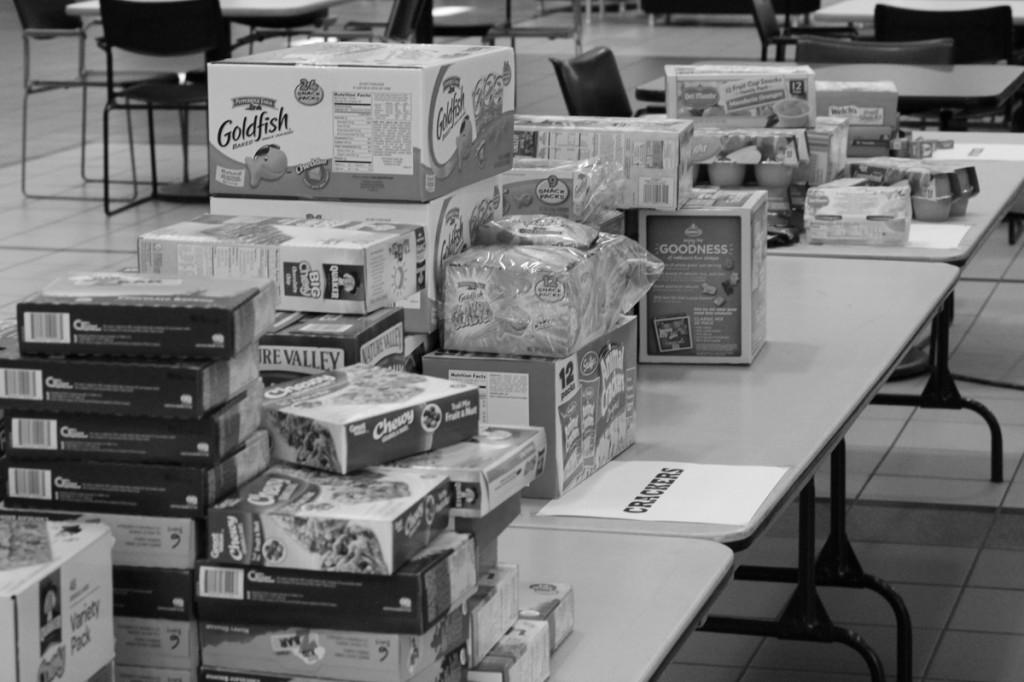 The a cappella vocalizations of a barbershop quartet echoed through the S Building at Brookhaven College as the Men of Note Chorus harmonized for the charitable attendees. Volunteers counted and sorted food items stacked high on tables for impoverished Dallas children. On March 4, the Rainbow Days Snack Pack Assembly had its charity donation drive.
Rainbow Days, Inc. is a Dallas non-profit organization devoted to youth and children in high-risk environments. Founded in 1982, Rainbow Days, Inc. has directly served over 170,000 children and trained over 42,000 professionals in the Dallas area, according to its official website, rainbowdays.org.
Andrew Deibert, service- learning and civic engagement coordinator, said the goal of the drive was to help the children realize there is a better life for them, and there is still hope in the future.
According to Deibert, Charlie Moore, adjunct professor at Brookhaven and member of the Men of Note Chorus, is responsible for drawing the musical act to campus. In addition to performing for students, the Men of Note Chorus donated $300 to the donation drive, enough to sponsor another child for the Rainbow Days summer camp.
The Brookhaven donation drive lasted from Feb. 17 to March 4. The drive collected over 2,600 individually wrapped food items, from granola bars to animal crackers, for the children and for use in Rainbow Days-sponsored summer camps. Brookhaven collected enough snacks to provide over three-fourths of the needed supplies for the full season.
Deibert thought of the idea of writing notes of encouragement for the children.
On the final day of col- lection, while the Men of Note serenaded attendees, service-learning and civic engagement volunteers also held an encouraging note campaign in S Building. Over 200 handwritten letters of encouragement were written by Brookhaven students and staff for the children attending the camps this year. "We were shooting for 300, but I still feel good with the numbers we had," Deibert said.
Volunteer and Student Senator Khadja Lateef spoke positively about the drive. She said: "I think the event was really great. The words of encouragement are probably really meaningful, because it shows that people in general care for them. The only thing I wish we would have done is advertise more."
"Students really need to get involved," Lateef said. Information, including volunteer applications for Rainbow Days can be found at www.rainbowdays.org.
Information including the application process for Service-Learning can be found on the Dallas County Community College District's website on the Student Life page.