Vinyl records make a spin in music sales
By Wanz Dover
Staff Writer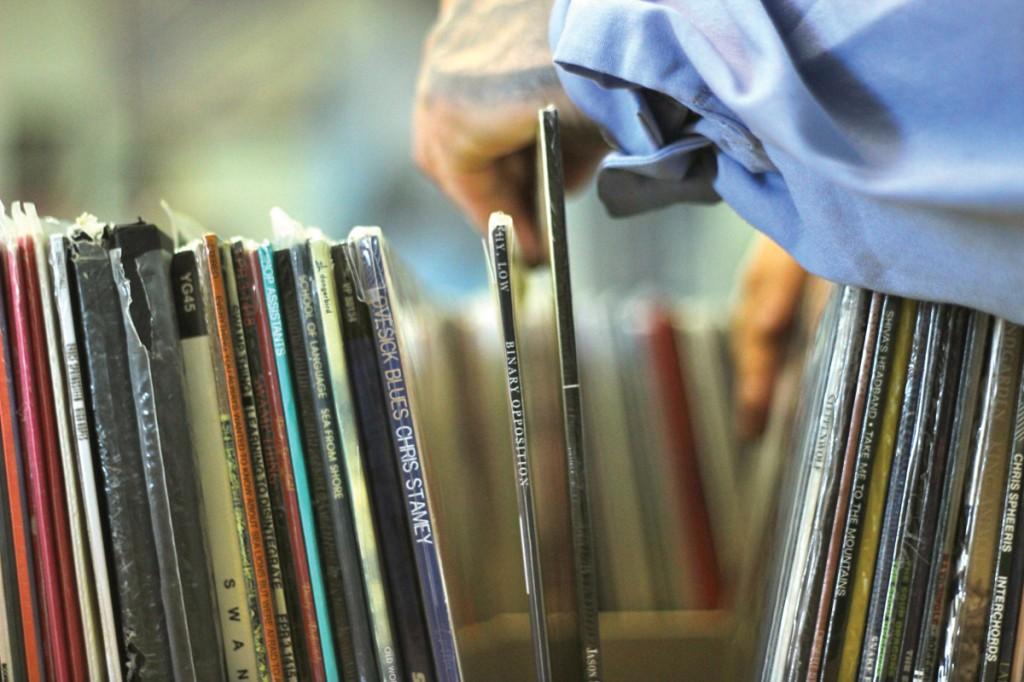 Every Monday night between Expo Park and Deep Ellum, vinyl enthusiasts gather to buy, sell, trade and listen to vinyl of all sorts. Local music scene veteran Mark Ridlen started the night back in 2007 as a singles night. People could bring their favorite seven-inch singles, and he would play them throughout the evening.
Last summer, Ridlen started inviting private dealers Sam Thompson from local shop B4, Ivan Renya from reissue label Lost Records and Bryan Coonrod to come out and sell wax. According to Ridlen, since then, he has had anywhere from three to seven dealers every week.
About five minutes north of the Lower Greenville part of town at Crown & Harp, vinyl fans will find the long-running Cool Out DJ night hosted by DJ Schwa. The night is a haven for the hipster sect, old school boogie fans and disco junkies. At the back of the bar, independent vinyl retailer Keith Govan sets up for business with boxes of vintage black wax every week.
Govan has been selling records since 2009, when he started going to record conventions. Since then, he has made his way around to Beauty Bar when DJ Sober was still a resident, Arcade Bar for the monthly producer battle, the now-defunct Fallout Lounge, and now can most often be found at Crown & Harp.
Between the two spots, Monday nights have become a Mecca for local vinyl crate diggers – more like a refugee camp for lost vinyl junkies than the mega-music-retail fortresses of not the not-so- distant past. The collectors show up to these nights ready to buy, sell or trade vinyl. It is very strange to think an entire industry that once dominated the sale of music has been reduced to the back corner of bars and a few small, privately owned shops.
Over the past decade, there has been a big fuss about the decline in CD sales. The general public has migrated to streaming services such as YouTube and Spotify. Meanwhile, in the shadows, vinyl record sales have been climbing at a steady pace.
With the closing of major music retail outlets Tower Records and Virgin, music col- lectors who actually like owning a physical copy of their music rely heavily on mom- and-pop styled independent shops and online sites such as discogs.com. That particular demographic of music fan has become a shrinking minority. Underground and independent dealers have been forced to innovate or fade away. Such efforts include expanding mail-order business through websites such as discogs.com and gemm.com, showing up to DJ nights to set up guerrilla vinyl shops and going to record conventions and flea markets.
It is still possible to find brick and mortar record shops. Bill's Records is holding out in South Dallas, although with nowhere near the impressive stock he once had. Good Records is a great one- stop shop for all of your indie rock needs. If your interests run a bit more to the fringes of popular culture, there are other, lesser- known brick and mortar options hidden and mostly known only to the more hardcore vinyl col- lectors.
Deep in the suburb of Carrollton, Texas, an unlikely champion of current under- ground vinyl releases by the name of Dead Wax has set up shop. Dead Wax has become a destination for the hardcore vinyl collectors of more specific niche genres. The shop was started by Brad Sigler in 2012. Sigler has filled his record bins with underground metal, obscure postpunk, goth, industrial, psyche rock, soul, funk, shoegaze and other obscure oddities, much to the pleasure of his dedicated customers, who drive from all over the Metroplex.
Dead Wax is open on the weekends and is out of the way for most area record shoppers, but the extra effort makes it even more of a special destination. Customers are not going to just stumble onto Dead Wax, but vinyl enthusiasts plan their weekends around trips to the spot to find records not avail- able at any other brick and mortar spots in town or even much of Texas as a whole. He reopened Groovenet mostly as a mail-order shop, but still welcomes his old customers. One of the deepest selections of progressive rock, krautrock and psyche are just the tip of the iceberg when it comes to what visitors will find. Groovenet's selection is more reflective of his very successful online business. It is also somewhat hard to find, which just adds to the shop's mystique.
Even more off the beaten path, in Mesquite, Texas, collectors will find Groovenet, run by Sigler's former employer Randall Fierson. Fierson has been selling vinyl in Dallas since the late '70s. For long- time Dallas vinyl collectors, he is also known for his previous shop RPM records.
Now that the dust has settled from the collapse of the music industry, everyone is playing by a whole new set of rules. Thinking outside the box has given new hope to the few dealers willing to stick it out through a turbulent decade.