Miles' contributions endure
By Tuyen Anh Hoang
Staff Writer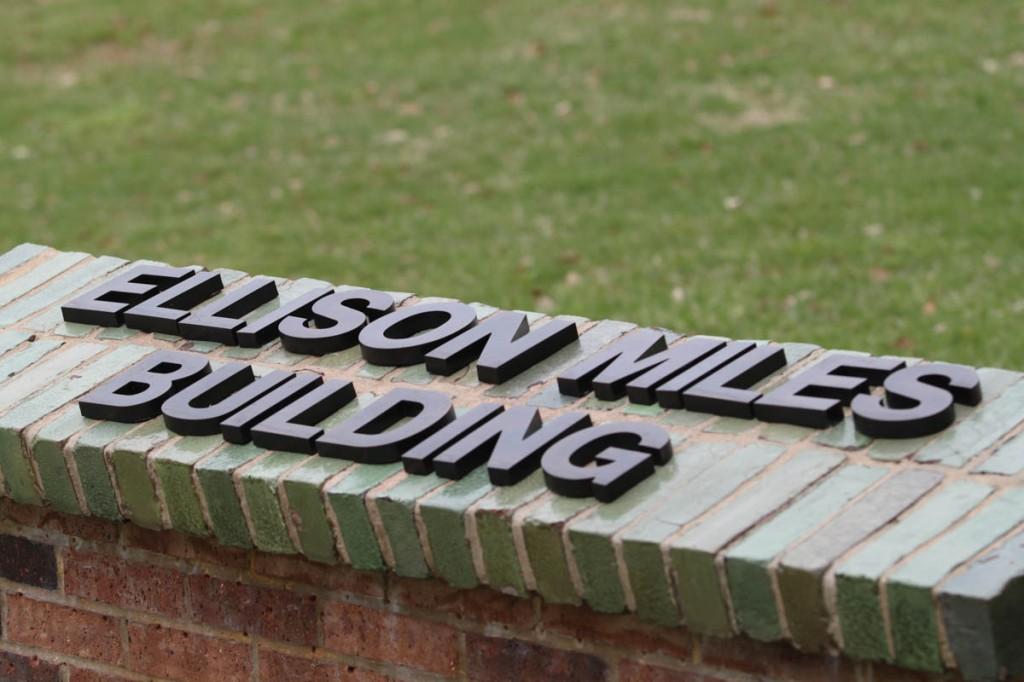 To a round of reserved applause, three students raised a green curtain to reveal a plaque honoring Ellison Miles. A dedication ceremony was held Feb. 25 in H Building. From that moment, the Brookhaven College Geotechnology Institute became the Ellison Miles Geotechnology Institute in memory of Ellison Miles.
According to EMGI's flier, the institute started as the American Association of Petroleum Geologists Mid-Career Training Center and grew out of a cooperative partnership with geotechnical professional societies, the local oil and gas community and Brookhaven.
"We're very proud and pleased to have a building named after him," Dr. Mary A. Brumbach, senior executive, development and foundation affairs, said. "I was here at Brookhaven when this building was built and worked with all of the details of it." Brumbach helped purchase the furniture, equip the building and commission the mural.
As Brumbach pointed at a mural by artist Philip Lamb that captures the history of Miles' life, she said: "He was a World War II hero. That's him right there, and then this is him at the drilling field season."
According to the commemorative plaque, Miles, legendary wildcatter of Texas oil and business industry and philanthropist, became director emeritus of the Foundation Board in 1996. Based on documents provided by Brookhaven President Dr. Thom D. Chesney, Miles' connection with Brookhaven came in 1999 when he donated $3.5 million to renovate an existing building as well as fund a 20,000- square-foot facility that was known as Brookhaven College Geotechnology Institute.
The plaque detailed the organization's goals of supporting geology and earth systems science education and providing training for students, educators and industry professionals.
Miles remains the largest individual benefactor of the Dallas County Community College District Foundation, according to the DCCCD Foundation website, with donations totaling $10 million. The plaque also said after Miles' death in 2004, his estate and personal funds were given to the Rising Star Scholarship program.
A $300,000 contribution from Miles formed the Miles Production Company Scholarship to assist students with financial burdens. Miles also provided funds to establish the Miles Production Company Excellence in Teaching Award to annually celebrate DCCCD staff members who excel in their profession.
In 2013, the district Board of Trustees approved a request from Brookhaven, the DCCCD Foundation Board and DCCCD's then-Chancellor, Dr. Wright L. Lassiter Jr., to name a building at the college the Ellison Miles Building.
This naming event also marks the first time Brookhaven has named a building to commemorate an individual, according to documents provided by Chesney.
J. Scott Sires, geographic information systems faculty, said he was pleased to be in the Ellison Miles Building dedication ceremony, although he had never met Miles personally. "I was hired here 10 years ago as result of working in this building, as result of Miles' interest in this particular field," Sires said. "So what he did here created my very existence here."
According to documents pro- vided by Chesney, EMGI has expanded its mission to promote science, technology, engineering, and math (STEM) education for students as well as training for instructors.
EMGI also hosted a STEM Fair, which attracted more than 1,500 visitors for hands-on science activities for all ages, and also provided a science lecture series in February.
For more information readers can visit brookhavencollege.edu/ EMGI for more information.