Brookhaven tackles tough subjects with art of words
By Leah Clark and Travis Baugh
Copy Editor and Staff Photographer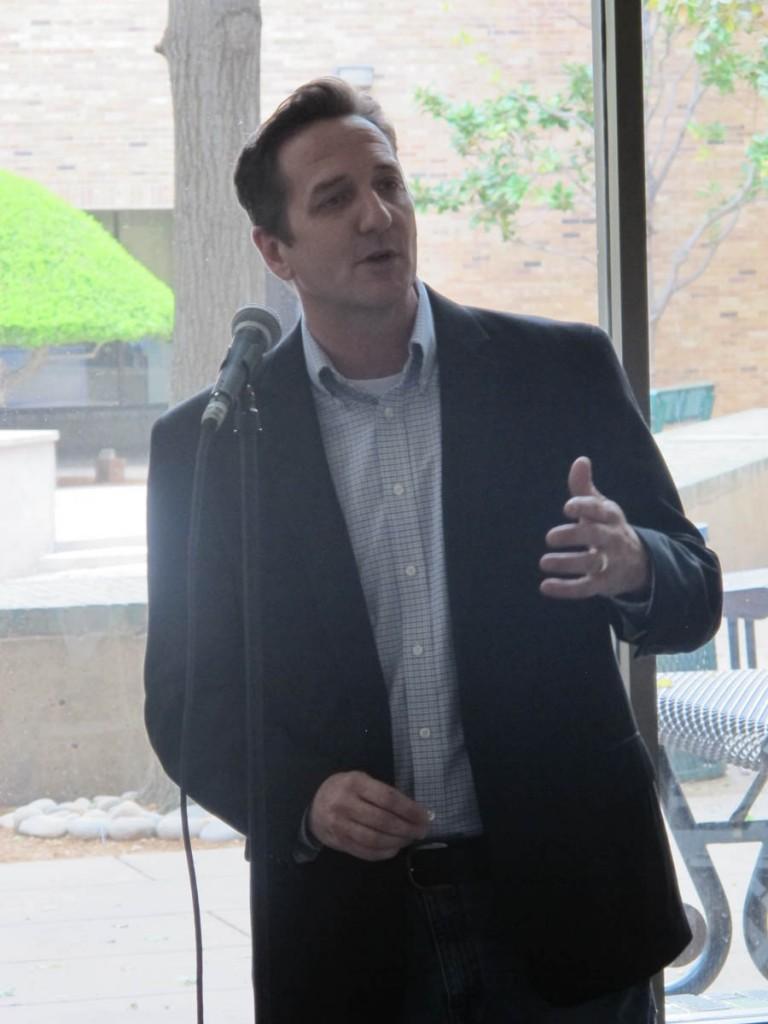 During the first week of April, performances by two Dallas poetry artists, Amy Weaver and Antuan "Twain" Davis, kicked off Brookhaven College's celebration of National Poetry Month.
Brookhaven's Anna Masters, director of the Quality Enhancement Plan, and four-time national slam poetry finalist Jason Carney are the driving forces behind the brown bag performances.
"I like poetry, so I want to promote poetry," Carney said.
The Tree Top Café hosted a rousing performance by national slam poetry champ Twain at 12:15 p.m. on April 1. Twain slipped into the cafeteria in camouflage shorts and a maroon sweatshirt, chat- ting to aspiring writers and poets alike. Once he had been introduced as the afternoon entertainment, the performer came alive. He moved around the space with charisma and charm. "I'm the lucky per- son," Twain said. "I got a chance to perform for all these great people."
Fittingly, on National Battered Women Awareness Day, Twain launched into an emotionally–charged piece he wrote from the perspective of a son who witnessed domestic violence against his mother and was powerless to change the situation.
Twain highlighted the beau- ty of family in a moving piece about his young sons and the joy of being a father.
He spun loving words about his wife. He also brought laughter with a piece on miscommunication. Twain ended the program by reading an original piece written by the talented but timid Brookhaven student Nora Sanchez, another future Brookhaven success story. "It was very life–touching, and I would be delighted to come back," student Debra Tolson said.
Later that week on April 3, Amy Weaver commanded attention of the entire café area. Weaver is a Dallas native and began her poetry career as a Dallas County Community College District student.
Weaver was given the option of a final or an extra credit assignment on an open mic night. That assignment began her love affair with poetry.
Weaver smiled nervously as she approached the mic, yet it was the student body who was not prepared. With a booming voice and masterful command, Weaver captivated the crowd. She spoke about shattered self-esteem, a child waiting for his father to come home from war, an artist's final days as his body is ravaged with AIDS, the tragic one in three rape statistic and the fight for normality for a person with Down syndrome.
Passersby stopped their conversations and stared from the stairs as Amy dealt with such harsh realities in a spell- binding torrent of passion and refrains.
Thus far, the turnout for the brown bag performances has exceeded expectations. Masters and Carney are successfully bringing poetry to the student body with subjects that strike common chords.
Carney has 15 years experience as a teaching artist and runs the nonprofit organization Young DFW Writers. He said those who excel in poetry slam are most often those who are socially conscientious. "I think poetry is a great way I learned equity in my life. It's how I learned equity in this society I live in," Carney said. "I take ownership of my life, and poetry taught me that." In his extensive career as both a teacher and a performer, Carney's mission is to give poetry back to the youth.
Master's sure fire Quality Enhancement Plan (QEP) is a program designed to help students become better readers and enjoy reading more. The program supports literary arts and giving students the assistance they need to excel.
"Poetry shows like this are a way to bring awareness to bigger events and national poetry month," Carney said. "It's also a way to bring awareness to performance art in Dallas; we have a rich art community here, and it doesn't get enough social awareness."