BHC student cooks up ethnic flair
By Carmina Tiscareño
New Media Editor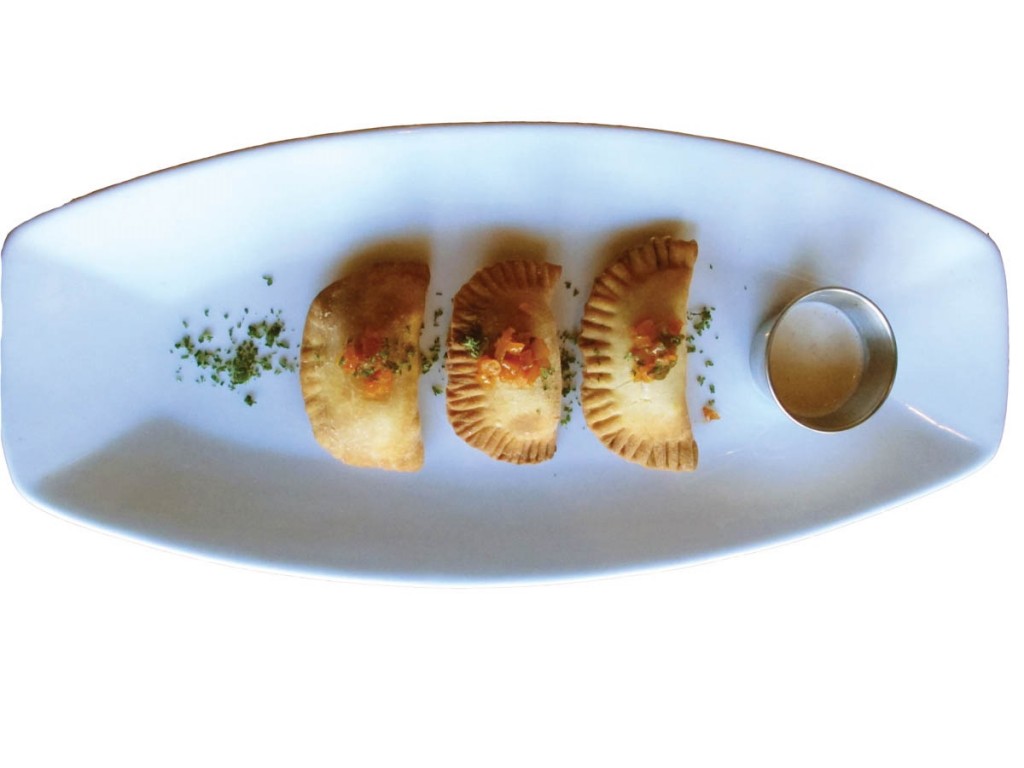 In a packed kitchen, former Brookhaven College student Gigliola Aguilera finishes last- minute artistic touches on the escabeche dish she is about to serve. At the same time, her mother, Joyce Stenvall, prepares two trays of a banana dessert. The light brown wooden cabinets behind the bar area give the restaurant a kitchen- like feel, while Latin and smooth Jazz relaxes patrons.
Aguilera moved to the United States from her home country of Bolivia 11 years ago, not knowing any English. Now she is the chef and owner of the mother- and-daughter restaurant Joyce and Gigi's Kitchen. The elegantly hospitable restaurant specializes in providing customers with South American dishes from countries such as Argentina, Bolivia, Peru and Brazil.
It is not just the South American menu that makes Joyce and Gigi's a restaurant worth visiting – most of the food is homemade, such as the mint bread with chimichurri butter. The restaurant has six appetizer options and seven main courses, making its menu easy to read. Employee Bri Bosco said all the beers come from Southern American countries except for Fireman's #4, a local Texas beer.
Brookhaven government professor Robert Little had dinner at Joyce and Gigi's Kitchen and said he enjoyed the pig knuckles, also known as feijoada. He found out Aguilera was a former Brookhaven student when she walked around and made small talk to make sure all the customers were happy with their meals. Little said he encourages students and faculty to visit Aguilera's restaurant.
Aguilera said it is fairly common in Bolivia for high school graduates to move to a foreign country after finishing high school. She attended Brookhaven in 2003 for one semester and took English for Speakers of Other Languages (ESOL) courses. In 2006, she decided she wanted to be a chef.
Aguilera said she has always enjoyed cooking for fun and loves seeing friends' happy faces while they eat the food she has cooked. She said cooking has always been her passion, and she wanted to make people happy in that way. She then moved to Austin to attend Le Cordon Bleu, because at the time, there were no Dallas locations.  She graduated in 2007. Her cooking background centers on South American dishes.
Aguilera was also trained in Italian, French and Spanish cui- sine. Before opening her restaurant, Aguilera worked in Spain, Switzerland and for famous Dallas chef Dean Fearing.
Joyce and Gigi's Kitchen opened in December 2012. "Most chefs' dream is to open a restaurant," she said. Aguilera said almost three years ago, she decided she wanted to open her restaurant, around the same time as her parents moved to the U.S. Her parents offered their support to help her dream of opening a restaurant come true.
She said she faced many obstacles and knows she still faces many to come.   Aguilera said, "Sometimes equipment doesn't work minutes before we open and we have to find a plan B." Her biggest challenge, though, was making her dream of opening a restaurant possible. From the early construction to opening day, she struggled with little details for the menu, finding the right produce and the right employees. This was a big challenge for her because she did most of the planning herself. The whole change of culture and lifestyle was challenging, and moving to the U.S. was another challenge for her, she said.
Aguilera said her restaurant is "still a work in progress." Other successes for her and the restaurant include getting raving food reviews she never expected from publications such as the Dallas Morning News, The Dallas Observer and Texas Monthly. In five years, Aguilera said she wants to open a second restaurant in Plano, Texas, or possibly a restaurant in Austin or out of state.
Joyce and Gigi's Kitchen is located at 1623 N. Hall St. in Dallas. The restaurant only serves dinner because Aguilera wanted it to be more exclusive. Hours of operation are Monday through Thursday 5 p.m. to 10 p.m., Friday and Saturday from 5 p.m. to 11 p.m. and closed on Sunday. Readers can buy half-priced appetizers and drinks during happy hour every Monday, Tuesday and Thursday from 5 p.m. to 7 p.m. and all day on Wednesday.