Student learns to love new home
By Ludmila Mitula
Staff Writer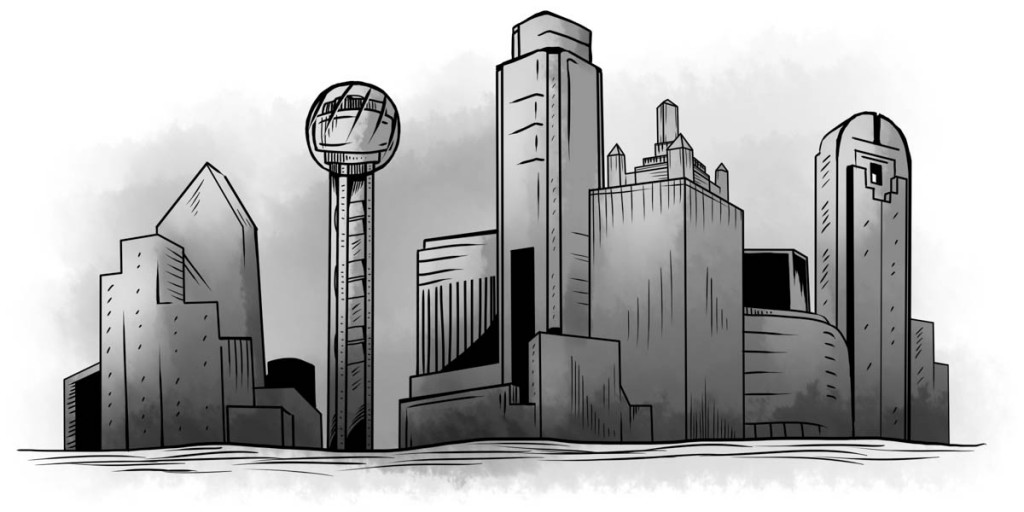 There are many beautiful places in the world – places where tourists take pictures, and they all look like postcards. There are places where the air is clean and where mountains are real, not made of concrete like Texas highways.
Dallas is not Paris or Monte Carlo, Monaco. When I moved to Dallas two years ago, I was not surprised. Everything was just as I read on the Internet. But to be honest, I did not know much about Big D before I moved here. 
I knew that Dallas had a bad reputation. Almost everyone in Europe had heard about John F. Kennedy's assassination in 1963. Texas was the land of cowboys and cowgirls. The people wore cowboy hats and boots. Before coming here, I had also heard about the summer heat and barbecue restaurants on every corner. As you see, my knowledge was superficial.
My attraction to Dallas didn't come quickly. It was not a fast love. At the beginning of my life in the Lone Star State, I was miserable and shocked. I missed seeing pedestrians walking in the street.  I saw cars e v e r y morning but not their drivers, so I desperately began to search for the crowds. Even in coffee shops, people were grabbing their caramel macchiatos and running back to their waiting vehicles. I later realized it was because that particular coffee shop didn't have a drive-through service.
This long list of less-than-humorous happenings in the beginning of my life in Dallas annoyed me a lot. Fortunately, it didn't last long. Soon enough, I become a real Dallasite.
After my first visit to New York City, I had a change of heart. I stopped dreaming about crowds on the street. I realized I enjoyed living in the wide-open space of Dallas. Free parking lots and avail- able tables during lunchtime in popular restaurants were perks I could only find here.
I also like the tempo, which in comparison to NYC, is slow and lazy. For me, a lazy European lady, it is still crazily fast but manageable. I really like the climate here, except for the tornado season. I was raised in a cold area, where the    winter is long and you have to wear a warm jacket, a scarf, a cap and gloves most days.  Basically, for a couple of months people look the same, usually dark gray or brown. This was terrible for some- one like me, who suffers from seasonal depression from time to time. In contrast, Dallas is paradise for me. I can wear different fancy sandals for most of the year and feel good about showing off my fresh pedicure.
The people of Dallas seem to enjoy life more than Germans, even if they are busier and have less free time. Dallasites don't complain as much as people in Warsaw or in Budapest and don't only think about saving money like the folks in Basel or Zurich. They earn money but also spend it. They like everything bigger and better and invest a lot in education, which I adore. They are family- oriented.
What people in Dallas seem to prize the most is a nice, big house with a pool and good-sized back- yard in a location with easy access to everyday shopping and restaurants. Even if their design is not my c u p of tea, I still admire them.  My house is an average house, but still, this is the first time my family can enjoy living in a house instead of an apartment.
Life in Dallas is cheaper, and the home prices are much more reasonable than in big cities in Europe. I know many people in their 20s who have bought a home. This only happens here.
I like the many choices of schools for my kids and the variety of after-school activities. In addition, the economy in the Lone Star State is growing fast, and according to Forbes Magazine, Dallas is one of the best cities to find a job.
White-collar workers are now coming to the DFW Metroplex and not to Chicago or Boston. They don't care about the traditions or old stereotypes in Texas. Frankly, neither do I.
I still miss Piazza Venezia and Bahnhofstrasse, the Alps and the Adriatic Sea. Europe has beautiful places, but Dallas has something else.
Maybe there is love in the air, or maybe it is the smell of making money. I used to value the view from the window like the Swiss do. Now, I'm sure the view has nothing to do with reality. Dallas is a great place to live, even without a spectacular view.