By Joie' Thornton
Web Editor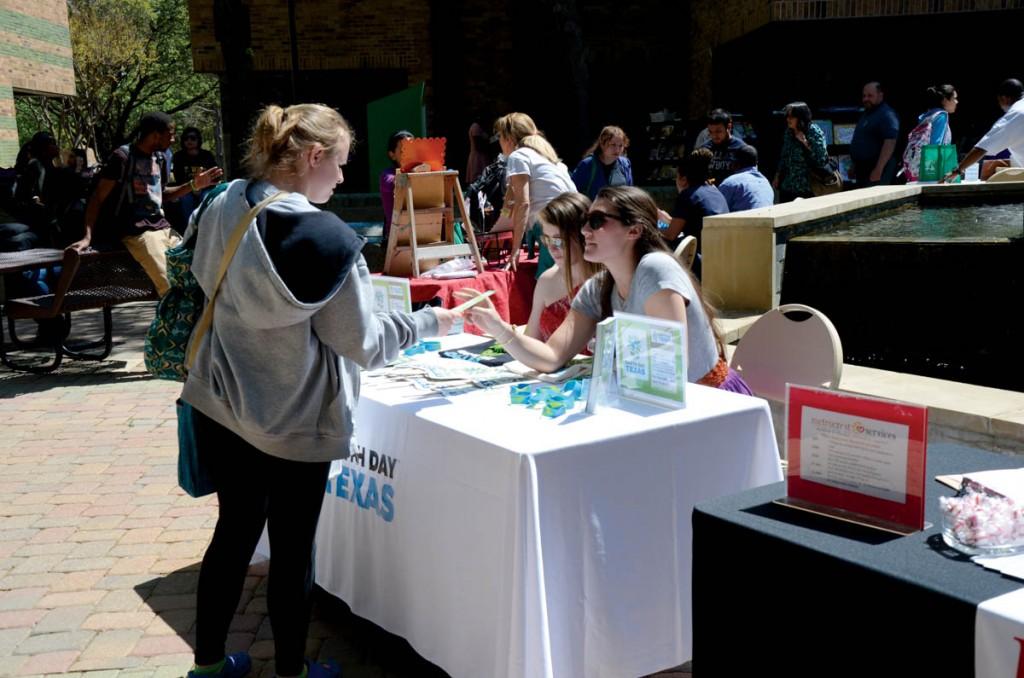 More than 10 booths advocating greener practices and plenty of free giveaways lured in Brookhaven College students, faculty and staff to celebrate the 5th annual Earth Day Fest.
Musician and student Andrew Boyer played the piano and sang a few familiar songs, such as "We are Young" by F.U.N. Popsicles and ice cream were provided to keep people cool as they made their way around the booths.
Carrie Schweitzer, assistant to the president, ran the information booth and passed out tickets to attendees for prizes. To redeem tickets, patrons had to go to at least seven different booths to get stamps. When they returned, they received refillable water bottles.
Attendance exceeded 300 people. Schweitzer said, "We had probably three times as many people this year." The crowd seemed to grow between classes. Schweitzer said that at one point, she could not even count how many people were at the event.
Mary Schoals, department assistant of marketing and public information, walked around and spoke with attendees to make sure they were enjoying them- selves. Schoals said the out- come of this event was more than she initially expected.
Organizers ran out of the tickets needed to get prizes. Student Life had to replenish the ice cream. "Counting the slips and counting tally marks, I think we got close to 500 students coming through here," Schoals said.
University of North Texas was present to promote its campus sustainability efforts. Nicole Cocco, public affairs and outreach coordinator, said: "We are just talking about the green initiatives we have going on campus as well as some sustainability-related degree programs. We've got UNT and UTD, and the purpose behind that is that students will see that sustain- ability is not just a Brookhaven thing or a local thing – that the university they are going to transfer to is a big deal for them," Schoals said.
The Cease the Grease booth attracted a number of people as well. The booth was aimed at educating people about how to dispose of their grease. Helen Dulac, from the Cease the Grease booth gave out bags that people could use to dispose of their grease in. She also gave out blue and green lids people could use to enclose their grease in disposable cans.
The Geotechnology Institute also ran a frequently-visited booth. It had a game where people could spin a wheel and answer a question. When the question was answered correctly, participants got rocks as a gift. Kevin Regis, a volunteer at the booth, described the booth turnout as very lively and fun. "We saw a lot of new people, and it's a good way to meet people, and we love Geotechnology," Regis said.
Schoals described the event as energetic. "The weather was really great. I think the energy was carried out with the good weather."