4-alarm fire changes a life
By Erin Alexis Goldman 
Opinion Editor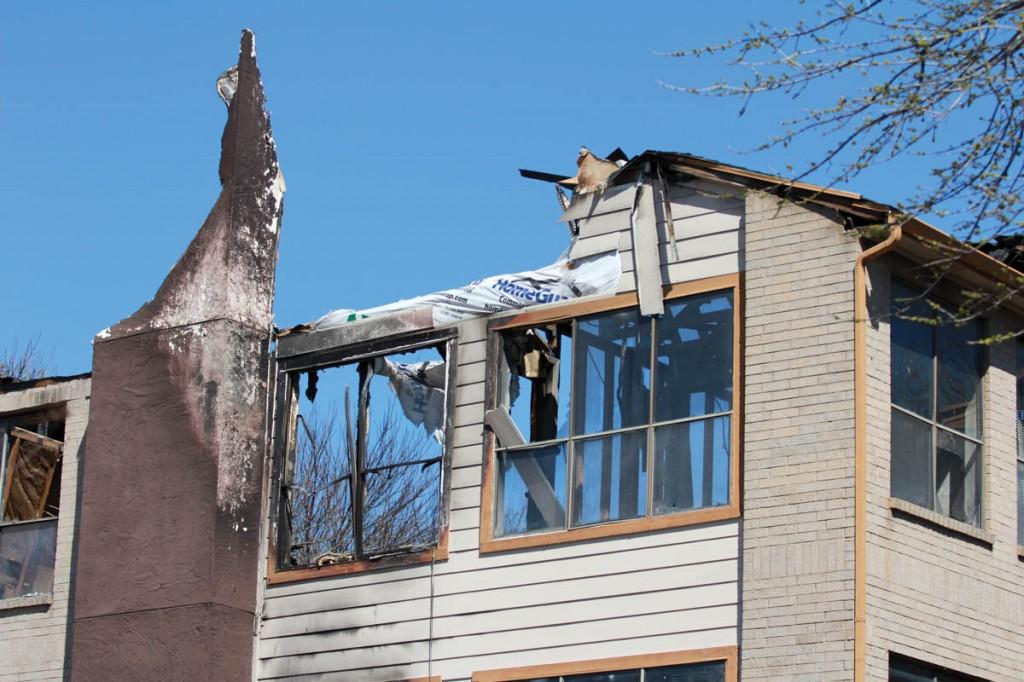 It was a typical Thursday for Brookhaven student and Library Circulation Assistant Brandy Walthall. Her cats, Bourbon and Whiskey, woke her up around 9 a.m. She dragged herself out of bed, threw on a pair of khakis, a plain white T-shirt and black ballerina flats. She chugged a Red Bull, caught an 11 a.m. bus and arrived at Brookhaven around noon. What she didn't know was that Feb. 13 would not be a typical Thursday.
According to NBC DFW, late that afternoon, a four-alarm fire engulfed the Stone Ranch Apartments on the 9300 block of Skillman Street, leaving 90 residents displaced. Brandy Walthall was one of those people.
The apartment complex never contacted Walthall about the incident. It was not until she stepped off her bus at 11:30 p.m. that she found out what happened. "When I got to my building, which was still smoking, I just stopped. I couldn't breathe. I couldn't feel anything. I couldn't think," Walthall said via social media. "I finally came to my senses when a policeman yelled for me to go home. I told him I couldn't and watched the firefighters spray water into a hollow building. I went to my leasing office that night and told them I didn't want a place to stay; I just wanted to know where my cats were."
Dallas Fire-Rescue began working the fire at 4:45 p.m., when it was still considered three-alarm. Flames were not yet visible — only heavy smoke billowed out of the building. However, the fire escalated to four alarms in short order; 75-80 firefighters were on the scene, according to NBC.
In an interview with NBC, Jason Evans of DFR explained the timeline of events. Evans said the fire started in a third-floor apartment, then spread to the wall and into the attic. Around 6 p.m., the fire grew much stronger and exploded out of the second- and third-floor windows.
NBC's Chopper 5 caught video of a large flash of flames coming from the building. "That may be what a lot of people are thinking was an explosion," Evans said. "It sure did create that effect, and thankfully, our firefighters weren't close enough to that window that it caused them any injury." He said the flash might have been caused after a window was opened.
One of Walthall's cats, Bourbon, has been found. She credits a news broadcast that showed an angry, wet, but safe cat, and a Facebook post from the Dallas Animal Services looking for a volunteer to take him to an animal hospital in Frisco, Texas. She said he still smells like smoke and has a bad cough, but is expected to fully recover. Whiskey is still missing. "The last time I saw Whiskey was Thursday morning, when he watched me walk down the steps of what used to be my home," Walthall said. "I would really like everyone to share a photo of Whiskey to anyone that lives in that area so I can have him back. He and Bourbon are all I have left."
Walthall's lease was up, and she had already found a new place to live a week before the fire. All of her belongings were packed up in her living room, ready to go on Feb. 28. She and Bourbon stayed at a hotel close to Brookhaven until she moved into her apartment on Feb. 24. She had to rely on a combination of-out-of pocket cost and donations to pay for her hotel stay. "The complex hasn't offered to help any. They only offered to stick me in another third-floor apartment, and I couldn't risk the chance of losing the little I do still have," Walthall said. "A similar fire destroyed a building close to my old one in December 2012. Both fires four-alarm, everyone lost everything, and the cause can never be determined because the apartments were completely destroyed."
The only belongings Walthall has left are the clothes she was wearing that day and her purse. The most difficult losses were those of great sentimentality. "My mother left my sisters and me her journals and writings when she died; it was hard to look at the ashes of what I'll never know," Walthall said. "I had about 14 books of poetry and short stories, old photos of my mother and her Bible with the only picture of my dad. I didn't have nice things, but they were all I had to remember her."
In high school, Walthall received the Jesse Brown Memorial Scholarship, which honors young volunteers dedicated to serving veterans. She was entered in a national competition after being named volunteer of the year at the VA in her hometown, Tuscaloosa, Ala. She moved to Dallas and enrolled at Brookhaven in Fall 2011. She met Senior Administrative Assistant Edna Love when she came through the president's office about her scholarship. Since then, Love said she has been mentoring Walthall by "helping her through lots of things, making decisions and navigating being alone. She has so much going for her she has just had a struggle."
Walthall is an award-winning poet. She won first place for her poem "Black Skin" in the 2012 Brookhaven Student Literary Competition and third place at the DCCCD Literary Competition. English professor Rhonda Bitner said, "Brandy is a thoughtful and sincere young woman who can take sometimes-tragic experiences and through language create a thing of beauty. I believe her to be a poet wiser than her years."
Walthall was set to graduate this semester, but said that plan may have to be postponed until fall. "I would like to study both English and information science," she said. "I do plan to go to a four-year university soon."
Walthall said she has received the support of her colleagues and Brookhaven family. Walthall said, "When everyone here at Brookhaven found out about the fire, they immediately went to work to help me rebuild. They made sure Bourbon and I had a place to stay and are as comfortable as we can be."
Love said "The college has really come together. We're taking over cleaning supplies, food, linens — all things that she will need in her apartment."
While grateful for all the support, Walthall said she still feels numb. She said it is "hard for me to feel anything right now. I keep hoping this is all a dream, and any minute my alarm clock will wake me up." Executive Dean of Educational Resources Sarah Ferguson is overseeing the donations being given to Walthall. Ferguson said, "Brookhaven College is a very generous college, and this was no exception, as is evidenced by the outpouring of support. Thus far, we've received contributions from over 35 individuals or groups and we continue to receive donations daily." For members of the Brookhaven community who wish to make a donation, Ferguson is accepting them directly. Contributions for Walthall can also be dropped off at the Human Resources office through the Employee Emergency Fund.