By Erin Alexis Goldman
Opinion Editor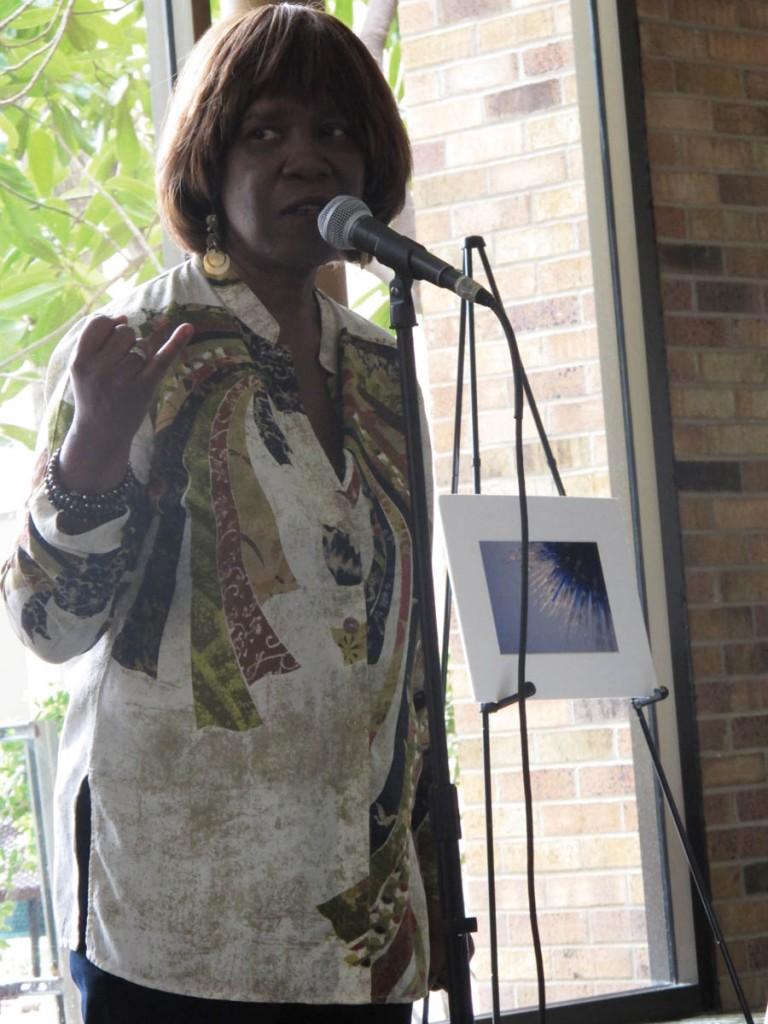 The room was abuzz with chatter among the crowd of people as they claimed their seats to see what some called the most exciting event of the semester.
Poet, author, spoken- word performer, teacher and National Book Award finalist Patricia Smith visited Brookhaven College on April 14 to perform and led two workshops, the first for Early College High School, and the second for the college.
More than 80 students participated in Smith's work- shops, and about 50 people attended her reading. "I like live poetry reading events," Brookhaven student and performance attendee Jillian Thweatt said. "It's much better than reciting it – you can hear the emotion in their voices."
Brookhaven English professor Jason Carney, who has been friends with Smith for 15 years, called and asked her to perform in Dallas as part of National Poetry Month. There have been a slew of poetry-related events and performances at Brookhaven throughout April. "The number of poetry shows this month has been a conscious effort to publicize the Patricia Smith reading," Carney said.
Anna Masters, director of the Quality Enhancement Plan, said after making the suggestion to invite Smith to campus, she and other members of the Brookhaven English department discussed ideas to expand on Poetry Month's offerings. "As Jason knew some local slam poet performers, the idea to bring them to campus germinated and culminated in the poetry performances in the TreeTop Café," Masters said. "The Windmill Writers participated in the fourth performance in that series, so they had the opportunity to showcase some of their work."
KERA Radio covered the TreeTop Café readings and Smith's performance. "It's important for the Farmers Branch and greater Dallas community to know that we are proactively providing these types of cultural opportunities, especially as they relate to reading engagement, as that is our QEP," Masters said.
Brookhaven's QEP focuses on two student-learning outcomes: improved reading skills and improved engagement related to reading.
Masters said that bringing performers such as Smith to campus relies on a college-wide commitment to encourage reading and creativity.
"These events give our students the opportunity to learn and experience art and reading in a different way than they may experience in their classes," she said.
Carney said he thinks these types of events should be organized by student members of groups like the Windmill Writers. "This ownership cultivates com- munity and equity for every student, not just in the con- text of the event, but also in the bigger picture of their college life," Carney said.
"I think these kinds of events can be life-changing for people. When you dis- cover your own voice, your world opens up, the definition you had placed on your- self changes, the world's definition of you changes, you become empowered, think at higher levels, and become a beacon of change to those around you."