City passes new texting laws
By Tuyen Anh Hoang
Staff Writer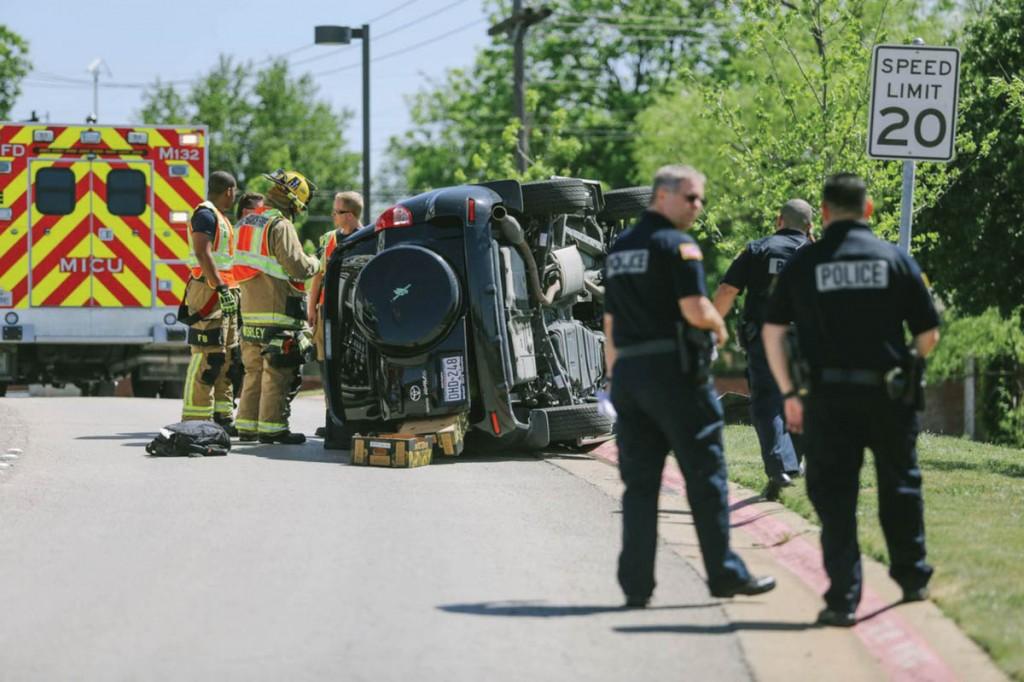 A Brookhaven College student was involved in a rollover accident that left spilled gas, a damaged telephone pole and a marred SUV at the Valley View Lane exit, according to the Brookhaven Police Department's April 28 police report. The report states that two witnesses saw the student texting before the accident. No one was seriously injured.
In an effort to raise public safety for everyone on the road, including pedestrians and bicyclists, the Farmers Branch City Council passed a new ordinance outlawing texting while driving on March 18, council member Ana Reyes said in an email.
If caught using handheld wire- less communication devices while driving, violators will face a fine up to $191 in the City of Farmers Branch.
Carol L. Cinclair, Brookhaven College English professor, said her life was never the same after an accident in November 2012. Cinclair had stopped at the red light, and when the light turned green, hers was the first car to go out into the road. "And boom," Cinclair said, "a car just came and hit me from the other direction."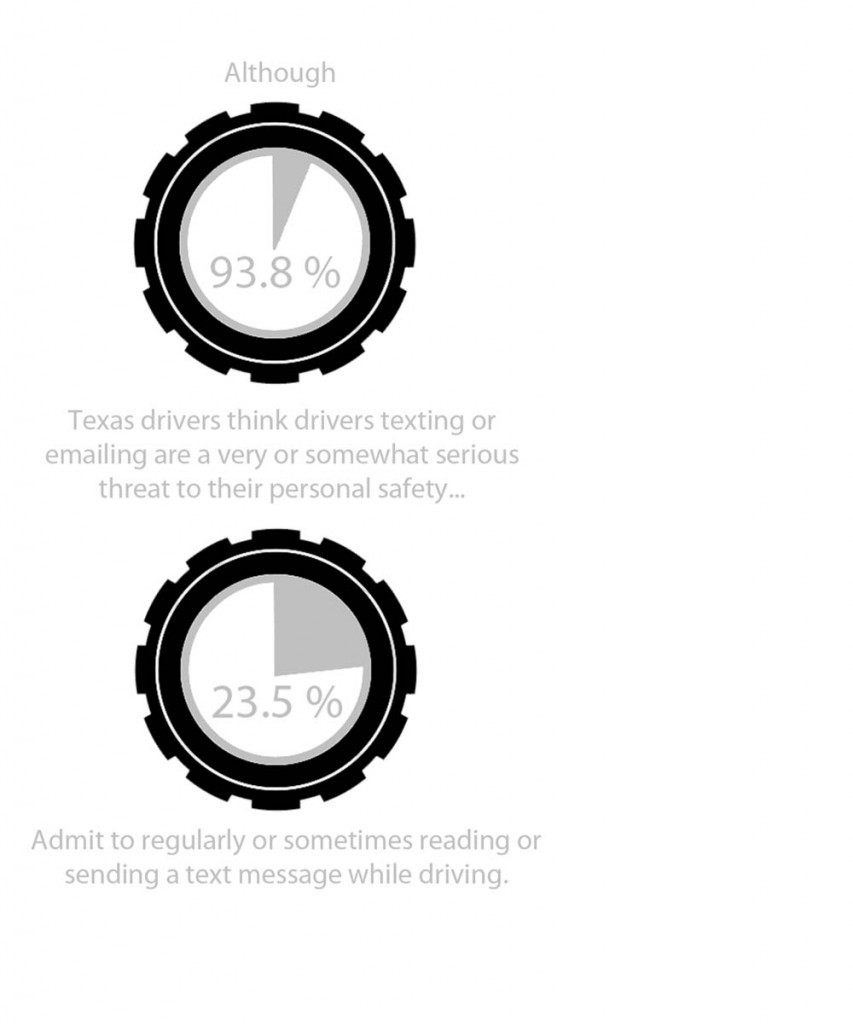 Cinclair said the 21-year- old driver was going very fast and admitted he was texting. Cinclair's left knee was broken and she underwent two surgeries. She said it was hard to get around campus and teach while she was in a wheelchair for three months. Cinclair said her leg is still not the same, even though she still does physical therapy and exercises. She still experiences the aches and pain some days. "I have learned to live with pain in my leg," Cinclair said.
Based on Ordinance No. 3274, no citations will be issued for the first 90 days so that the city can conduct an education program to inform the public about the ordinance. The 90-day grace period started March 18 and ends June 15.
Thereafter, the new ordinance will take immediate effect, Chad Taylor, sergeant of Farmers Branch Police Department, said. After 90 days, police officers will start to issue citations of $191 on campus or in the City of Farmers Branch, Taylor said.
Vikki Ethington, Brookhaven police officer, said in an email the campus police department will post information on Brookhaven's social networking sites, such as Facebook, Twitter, Brookhaven's website and the Brookhaven Police page. "The police department also sets up the 'Texting While Driving' aware- ness event every fall, and we encourage the student population to take the 'No Texting Pledge,' Ethington said.
According to the American Journal of Public Health published in March 2014, the US National Highway Traffic Safety Administration reported that in 2009, almost 450,000 people were injured and 5,500 died in motor vehicle crashes because of distracted driving.
Adopting this ordinance represents an important step to ensure that everyone's loved ones are safe on the roads, Reyes said in an email.
"If you see somebody manipulate the phone while they're driving, then I would say that would be an offense," Taylor said.
According to section 82-22 "Use of Wireless Communication Devices While Driving" of the ordinance, handheld wireless communication device basically means a wireless communication device that is portable, including wireless telephones, tablets, iPads, smartphones and laptops. In addition, text-based communications means a communication that is designed with at least one hand on a handheld communication device to communicate in a non-spoken manner, such as an email, an instant message or a comment on any social media.
Jason Martin, a Brookhaven computer science major, said he has to text while driving because his boss always asks questions while he is driving for work. Martin said he keeps the phone in front of him when his left hand is down low on the steering wheel, holds the phone and texts with his thumb.
There are two major parts, based on Taylor's analysis of the ordinance. First, it is illegal for an operator of a motor vehicle to use a handheld wire- less communication device to write, read and send text- based messages while operating a motor vehicle on a public street. Taylor said, "Even if they stop, if they're on the main lane of traffic, it's still illegal." Moreover, Taylor said the ordinance prohibits sending or receiving something. "You still have to manipulate the phone while you're driving to read the messages, and you're looking at it," he said. "It's a distraction."
According to the second part of the ordinance, Taylor said, it is legal to use text-based communications if the vehicles are out of moving lanes of the roadway or pulled over in a parking lot, if people engage in hands-free phone calls or communicating with an emergency response operator such as a fire department, a law enforcement agency or they believe a person's life or safety is in immediate danger. He also said people can legally use a navigation system as long as it is affixed to the vehicle.
Irma Martinez, communications division secretary, said sometimes she does pick up the phone while driving if it is an emergency call from her son or her husband. Martinez also said she has seen people swerving back and forth while on their phone. In that case, she either slows down or speeds up so she can stay away from them.
Taylor said the law requires officers to prove phone use through the course of investigation. "As in any criminal cases, it would be our burden to prove. If we can't prove that, then obviously, they wouldn't be found guilty," he said.
Taylor said each city can make its own ordinance, but not every city has an ordinance that makes it illegal to text while driving. So, the message of the Farmers Branch City Council's new ordinance is: "In Farmers Branch, just put the phone down. Wait till you stop. Wait till you get out of your car," Taylor said.
Cinclair had a message for Brookhaven students: "Always use your seatbelt and leave your telephone in your pocket while you're in the car." She said one can ruin another innocent life forever by texting and driving.