BHC president speaks, welcomes students back
By Diamond Gregg 
Layout Editor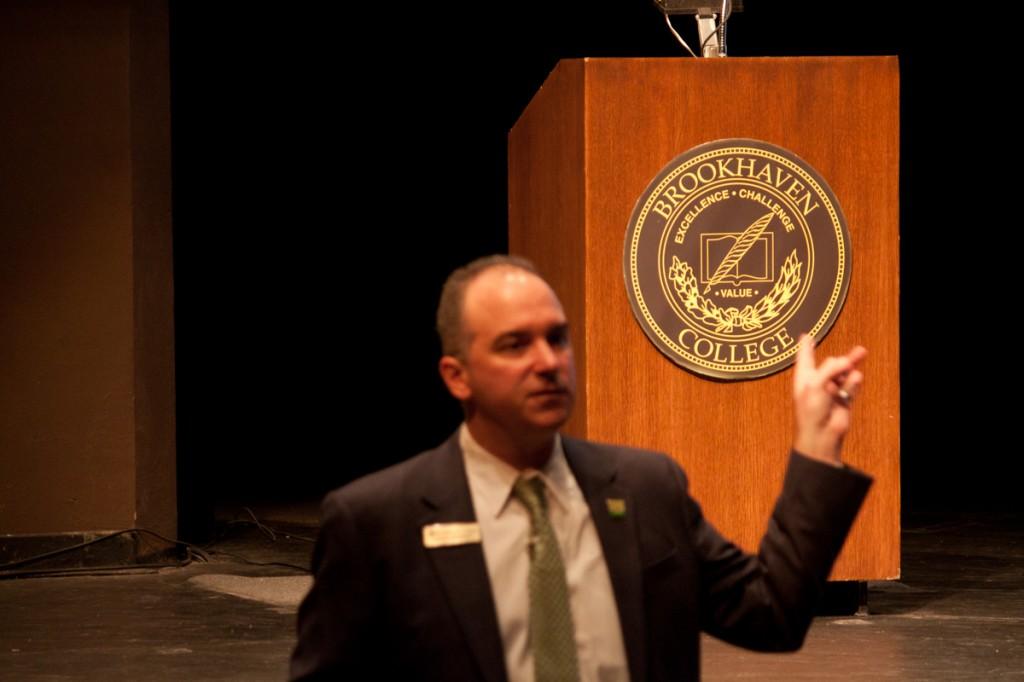 "Here," Brookhaven College President Dr. Thom Chesney said, "you are getting a package of skills." He also touched on how difficult many think it is to transfer to those universities. "If anything," he said, "it's only getting easier."
Chesney dismissed the idea that community colleges are obsolete, discussed Brookhaven values and welcomed new students.
Chesney has been Brookhaven's president since August 2011 and has remained active in student life, attending 112 events last semester alone.
Chesney picked apart different myths about community college, including the idea that it is inferior to four-year universities. Chesney also ousted the misconceptions that community college degrees do not have much value in comparison to four-year university degrees and that no one successful attends community college. Chesney referenced Tom Hanks as a former community college student to further illustrate his point.
"Success is a measure you define," Chesney said. "It's about inclusion, acceptance."
He elaborated on Brookhaven's core values: service, learning, integrity, diversity and excellence. He said students are limited only by their creativity. Chesney said attendees should take part in campus activities to improve their experience and chances of success.
During his speech, Chesney referenced the children's book "How to Behave and Why" by Munro Leaf, explaining the "simple reminders of basic values." He reminisced about activities such as participating in the Arbor Day tree-planting celebration.
While discussing the role of the college in helping students find jobs after graduation, Chesney said he expects constant improvement in community and employer relations. He is not only concerned with current students but also takes pride in their future achievements.
Chesney ended the convocation by asking the audience: "Where can we be doing something better?" He said he is always open to questions and offered his Twitter handle (@ThomChesney).