New restaurant makes noodles
By Carmina Tiscareño
 
Media/Fashion Editor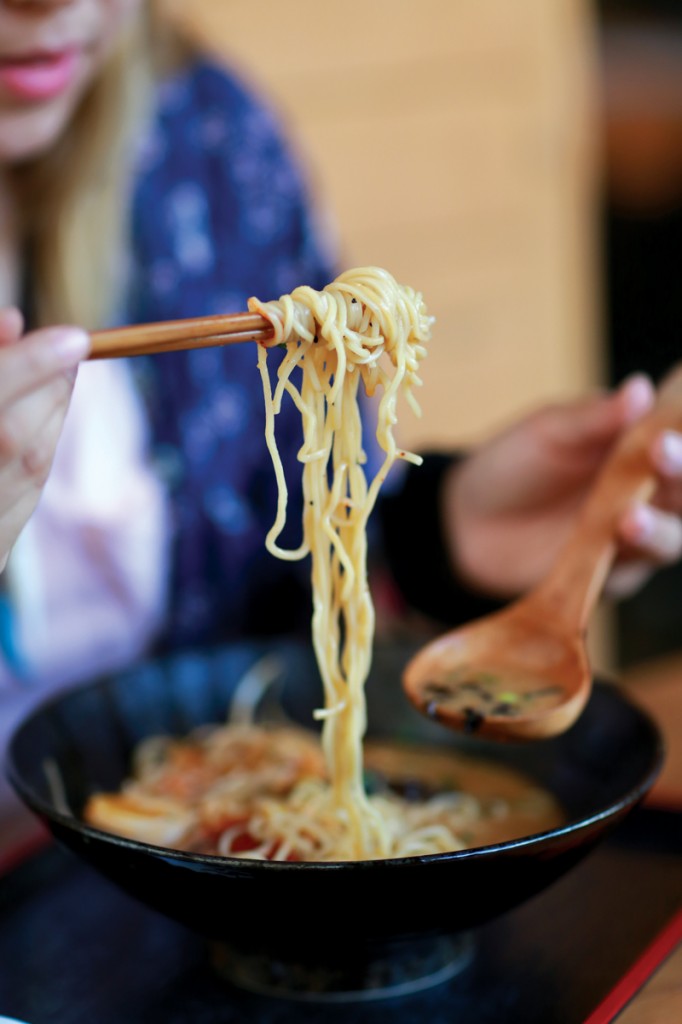 From college dorm rooms to household stovetops and workplace microwaves, ramen has been feeding Americans since the very first Cup O' Noodles hit store shelves in 1973, according to an article in The New Yorker by Sophie Brickman. It is convenient, easy and simple to prepare, but this humble dish has gotten a major facelift at a new restaurant that opened this summer in Addison, Ramen Hakata. Brookhaven College student Noah Dennie said he usually eats instant ramen noodles when there's nothing else to eat at home. However, Dennie said, diners can taste the difference between instant ramen and homemade or genuine ramen.
The restaurant has a sophisticated modern feel. The dining room is bathed in caramel-colored light reflecting off the wood of the restaurant's booths, tables and bar top. But the main attraction takes place in the back. The cooks behind the bar are not preparing cocktails. They are preparing ramen for customers.
Ramen Hakata manager Michelle Hur said the cooks have to separate ramen noodles, otherwise the noodles get sticky. She also said they never serve frozen ramen because the quality and taste would no longer be genuine. Hur said the ramen takes a lot of work to cook. The tonkotsu, a pork-based broth used in many of the dishes served at the resturant, takes 12 hours to prepare.
Other than ramen, the menu offers tasty Asian-inspired appetizers like spicy edamame and rice options such as ebidon, a rice dish that consistts of shrimp tempura, onions, eggs and soy sauce. The restaurant also offers some lesser-known beverages including Japanese sodas and canned teas.
The spicy edamame is broiled with jalapeño shichimi spice and sea salt. The appetizer is not very spicy nor does it have a jalapeño taste, but it is better than traditional edamame. For ramen, there is the regular tonkotsu ramen and the tonkotsu miso ramen. The miso variant adds miso soup to the tonkotsu broth, giving the dish a delicious sense of depth. Miso is a Japanese seasoning made from fermented soybeans and barley.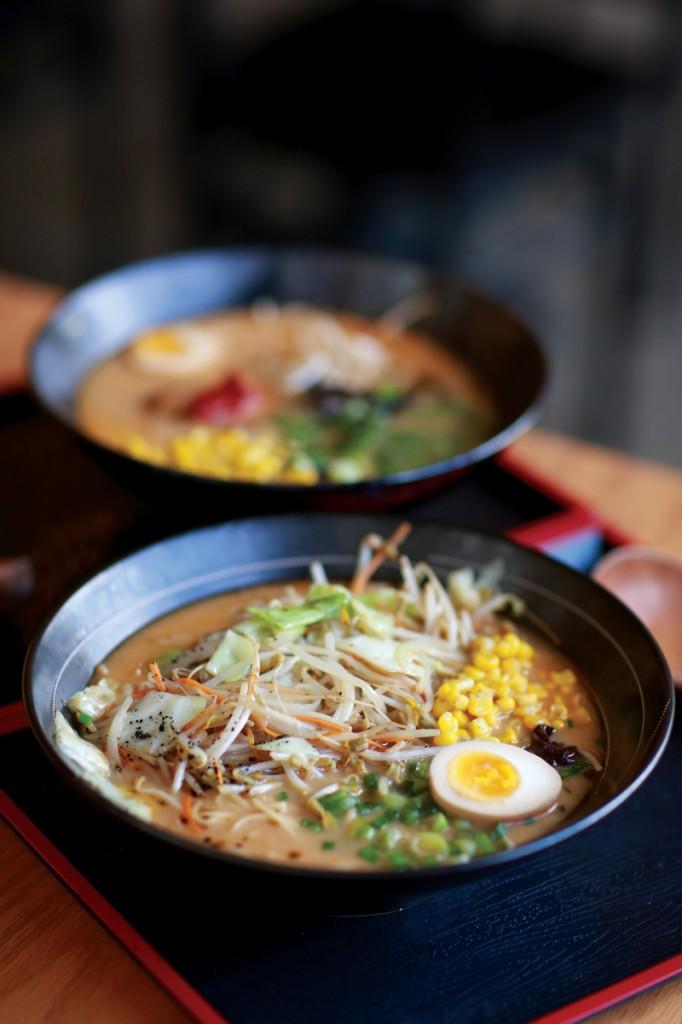 The ramen is served in a bowl comparable in size to a small popcorn bowl on a tray with a wooden soupspoon. The items in every bowl of ramen are placed with care. The spicy miso ramen is topped with bright yellow buttered corn and green onion over a bed of ramen noodles, black mushrooms, bean sprouts, a soft-boiled egg and chashu. Chashu is grilled then boiled pork belly that has a taste similar to bacon but had a soft texture instead of being crisp. All of these tasty morsels are served swimming in a deliciously milky broth flavored with pork marrow, according to the restaurant's menu.
The noodles were soft and the texture was completely different from instant ramen. It felt more genuine, and it had a comforting taste. The ramen had the perfect amount of spice, but there are shakers filled with powdered chili pepper at every table. So diners can bump up the heat to their own tastes.
The presentation of the garlic miso ramen was similar to the spicy miso ramen except this one had an extra ingredient: garlic flake. Surprisingly there was no garlic overload, making it first-date friendly, but it did maintain the smooth, soft taste of garlic.
Regular ramen bowls without the miso seasoning start at $8 and range up to $10 for the miso ramen. Ramen Hakata is located at the intersection of Beltline Rd. and Marsh Lane in Addison. Lunch hours are from 11:00 a.m. to 3:00 p.m. and dinner hours are 5:30 p.m. to 10:00 p.m. Get there early, Hur said, as they commonly run out of noodles throughout the day