May talks strategy
By Nicholas Bostick 
Editor-in-Chief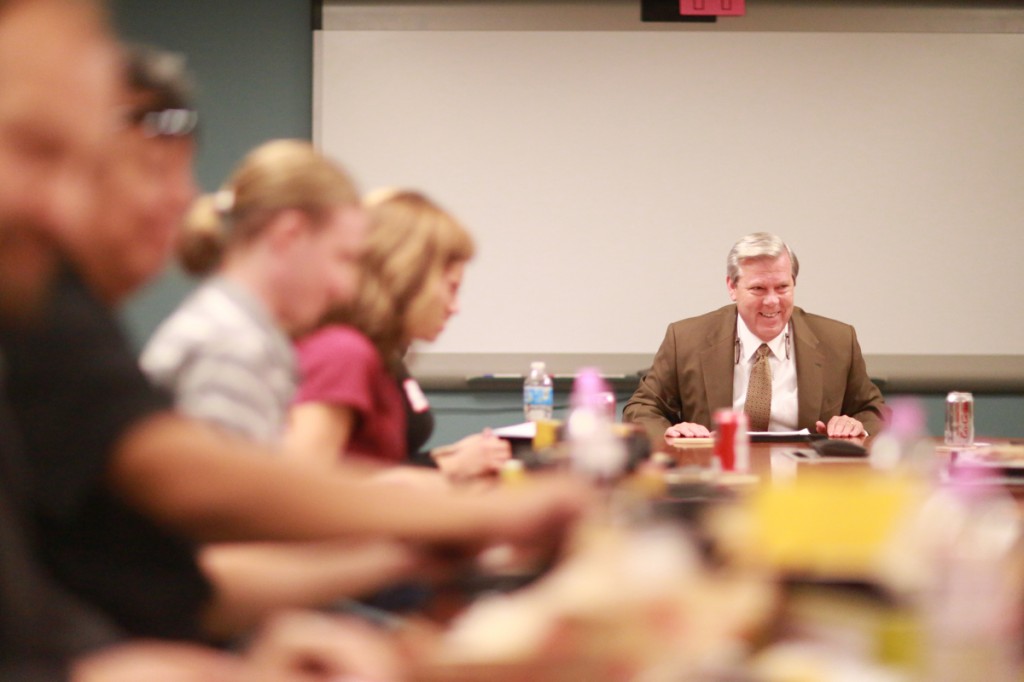 New chancellor looks to decrease poverty by offering DCCCD students training and opportunities through partnerships with local employers.  Boxed sandwiches and cans of soda awaited journalism students, professors and advisers from Dallas County Community College District offices at this semester's chancellor's luncheon.
While he did not partake in the food, the new chancellor seemed to have a full plate of his own.  The Oct. 9 luncheon began with a presentation by DCCCD Chancellor Dr. Joe May that outlined Dallas County's current economic duality and how the district can face these issues. Strategies included partnerships with employers such as Texas Instruments and a focus on workforce education.
"Things are looking pretty rosy for the economy," May said. "Then there is another side … where we find that poverty is on the rise. Depending on where you live, you may find the ability to get a job harder than ever."
According to a news release from the U.S. Department of Labor, Dallas/Fort Worth saw an almost 4 percent increase in employment between 2013 and 2014, well above the national increase of 1.9 percent. Dallas was ranked second in the country in both number of new jobs created and rate of job growth.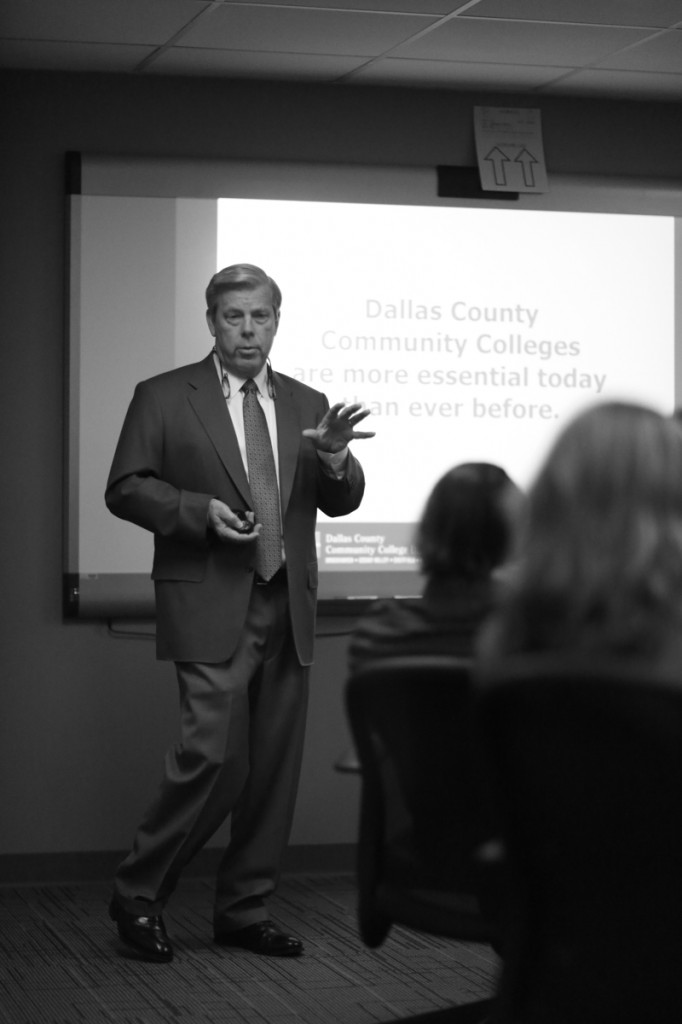 "Almost all people today [in industries] where jobs are growing keep telling me they can't find people. They're hanging banners on the sides of buildings. They're trying to figure out what to do," May said. "The issue is this: how can so many people want a job and need one and so many employers can't find the people that they need to really grow their business? How can that all be going on right here in Dallas County? That's the conundrum."
One of the solutions to this challenge is creating career pathways for DCCCD students. In the partnership between the district and TI, for example, DCCCD schools will offer a program for students to learn high-tech manufacturing skills specifically tailored to the company's needs.
In turn, TI will hire a minimum of 800 students from this program over the course of eight years. Starting pay for these jobs will be around $60,000 a year, May said.  Another part of May's vision for the district is to invest in technical certificate programs where job growth is the highest or demand is most needed. For example, May said the demand for people with certificates in construction is about 8,000 a year, and currently only around 900 students per year are earning these certifications district-wide.
May said the same scenario can be seen in the nursing program. He said out of 19,000 registered nurses in Dallas County, 16,000 are working, and there are 6,000 openings for nurses in the area. "We produced a little over 450 nurses [per year], so there's a real gap that's there," May said.
Under May's plan, all DCCCD schools will be required to develop new certificate programs in the coming years. These programs will be created at the college level, with individual presidents designing them to meet local job demands.
May said that during the 2009 recession companies heavily invested in technology, creating a demand for people with the technical skills to operate and maintain new systems. "Heavy equipment operators used to be run by somebody who had the feel for a bulldozer and could just run that," May said. "Today they're all GPS controlled and programmed. It's a whole different skill set."
Not long ago, a middle-class wage could be earned with a high school degree, May said. However, post-secondary education of some kind is now required for many of the positions that offer this standard of living.
May had one piece of advice for anyone who has heard the statement that college isn't for everyone. "Don't believe it."
"It's no longer a true statement. I think it was a true statement at one time, when we only needed 22 to 26 percent of the population with some type of degree or credential. But today, we need virtually 100 percent with some type of education beyond high school."