BHC nursing students weigh in on the subject of Ebola. Part three of a three-part series on the deadly virus.
By Erin Alexis Goldman 
Arts & Entertainment Editor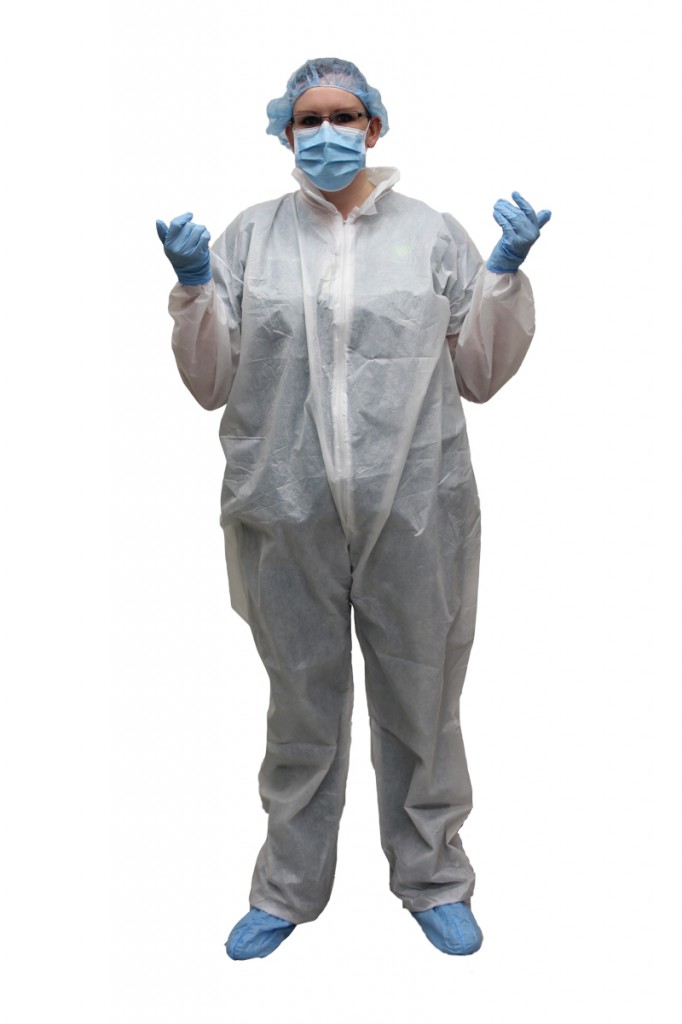 When the news first broke about Thomas Eric Duncan, the first Ebola patient diagnosed in the U.S., a media whirlwind made the event nearly impossible to turn on the television, surf the Internet or pass a newsstand without seeing the word Ebola. The coverage intensified and shifted its focus to nurses when Texas Health Presbyterian Hospital nurses Nina Pham and Amber Vinson were diagnosed with the disease.
Brookhaven College and, according to the Dallas Morning News, other hospitals and nursing colleges in the Dallas area reported nurses and other healthcare workers regularly learn how to protect themselves while caring for patients with infectious diseases. Brookhaven provided additional training to its future caregivers.
Students and faculty in Brookhaven's allied health program reviewed the signs and symptoms of Ebola and practiced getting in and out of the special gowns, masks and other protective gear. "We were pulled off of the hospital floors until we could attend a mandatory personal protective equipment lecture and redo our PPE check-off," Brookhaven nursing student Allison Jackson said. "We did a PPE check-off the first semester before we were allowed to start our first clinical rotation, so it wasn't anything new to us."
As panic spread, so did the blame. According to the Dallas Morning News, nurses from Presbyterian contacted National Nurses United, the largest union and professional association of registered nurses in the United States, which then sent a letter to President Barack Obama, governors and members of Congress urging them to set the highest standards for handling Ebola cases.
"It is not up to the nurses to be setting the policy, nurses say,
in the face of such a virulent disease," according to the association statement. "They needed to be trained optimally and correctly in how to deal with Ebola and the proper PPE doffing, as well as how to dispose of the waste."
Among the biggest complaint was the gear provided to those working with Duncan. Hazmat protective gear was not used by nurses and other workers until two days after Duncan was admitted. "Until Ebola, universal protocol has been generally the same," former Brookhaven nursing student and Methodist Richardson Medical Center nurse Carol Williamson said. "Ebola brings the addition of 'all skin must be covered.' Generally, even with gown, gloves and mask with eye shield, hair and the skin around the neck and ears is exposed. Also, clothing below and on the back side of the nurse is still exposed."
Since Ebola is transferred through bodily fluids, Williamson said those treating Ebola patients wear suits that cover everything, and suits with their own air system are used in many settings to keep the health care worker from inhaling droplets from the infected patient.
On Oct. 11, Presbyterian nurse Pham was diagnosed with Ebola. On Oct. 14, a second nurse, Vinson, was diagnosed with the disease as well. "The day after the news about the first nurse getting infected came out, our Med II professor sat us down and pretty much said: 'Hey, let's get real. If you maintain proper PPE technique then the chances of you getting infected are slim. It's not rocket science; stop freaking out,'" Jackson said.
Jackson said she was a little nervous after she first heard the news, but in the weeks following, she was disappointed by the general public's reaction. Jackson said: "I came across Facebook comments every day bashing the nurses for getting infected. Saying that they didn't do their job and that's why they got infected, that they should have known better as nurses, and how dare they knowingly risk infecting everyone else.
"No nurse in their right mind would knowingly risk spreading any infectious disease, let alone one that has up to a 90 percent death rate," Jackson said. I think the public needs to get their stuff in check and start being a little more understanding and appreciative of those nurses. They risked their lives to make that patient's last days a little less painful. They deserve gratitude and respect."
Vinson received immense criticism due to a trip she took to Cleveland prior to her diagnosis. In an exclusive interview with People magazine, she said the criticism "has been very frustrating – people saying I shouldn't have set foot on the plane and that I put everyone at risk. It's hurtful. I didn't have any symptoms." According to the article, Vinson said she had been checking her temperature twice daily on the days leading up to her trip and got permission from the Centers of Disease Control and Prevention to travel.
Williamson said she was not surprised when she first heard about the nurses who tested positive. Because Ebola is just now intersecting with advanced medicine, understanding its path of transfer and how to handle patients possibly exposed required a learning curve. "Seeing how the nurses dealt with this dangerous situation and their determination to care for the patients as best they could has only strengthened my desire to be the most effective nurse I can be," Williamson said.
However, she said there have been nurses who said they would not be able to work with Ebola patients. "Generally, it relates to their family situation, especially when they have small children," Williamson said. "I would rather a nurse know her limitations than to have her endanger herself, her peers, and most importantly, the patient. This, too, is good nursing."