Bennett shares passion for music
By Jubenal Aguilar 
Staff Writer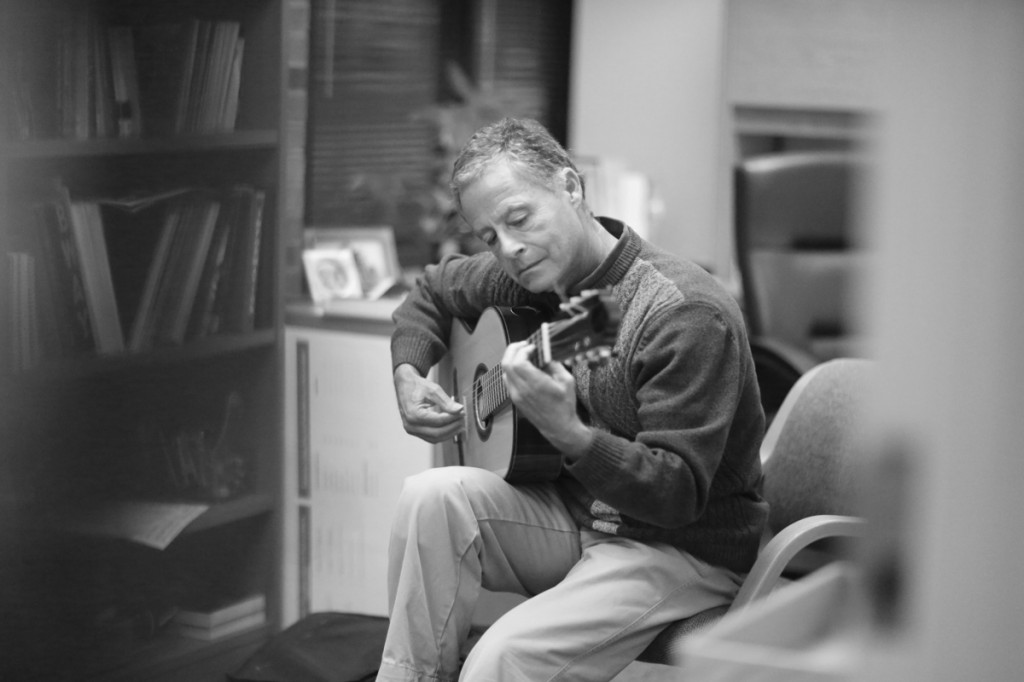 Tucked away in the A Building of Brookhaven College is an office with the cozy warmth of sunlight, and four strategically placed incandescent lamps fill the room. The ambience of the office contrasts with the bright, harsh fluorescent lighting of most offices on campus. The soothing sound of classical guitar streams from the office's usually open door, adding to the welcoming ambience.
This office belongs to Rodger Bennett, vice president of academic affairs and student success. He will be retiring at the end of the fall semester after more than 20 years as an administrator at Brookhaven.
Bennett has served as vice president for the past six years. In that time, Bennett said, he has enjoyed the camaraderie of students, faculty and staff as well as the opportunity to positively affect change in Brookhaven. But working in education was not part of his original plan.
Bennett said he has played classical guitar for nearly 46 years. He became interested in music at the age of 17 during a time when folk music was popular. An interesting bossa nova, a genre of Brazilian music known for its lyrical fusion of samba and jazz, further fueled his desire to study music.
He said his interest in classical guitar emerged during his first year at Wright State University in Dayton, Ohio, where he heard a family of classical guitarists known as The Romeros play.
Bennett's mother, a musician, encouraged him to become better and brought home records of classical guitarists for young Bennett to listen to, he said.
That is how Bennett first learned to play – by listening to music. He said: "Back in the day when you had a [vinyl] record, you would take the needle and you would put it on the record. You listened a little bit and you would put the needle back and you'd try to imitate what you heard."
However, there was a limitation that kept Bennett from advancing as he wished. He did not know how to read music.
"At some point, I realized that I had to learn how to read music so that I could learn a lot of different music and not rely just on listening," he said. He applied to Southern Methodist University, which was one of four schools in the country that offered a degree in classical guitar at that time.
Attending SMU to study music was Bennett's second chance to gain an education, an opportunity that brought him to Texas. Bennett initially began his higher education at Wright State as an engineering student.
He said his poor study habits and his difficulty understanding how to relate to the material hampered his time at Wright State. Eventually, he dropped out and sold stereos for a year and a half.
Bennett said he eventually learned to relate his schoolwork to his musical ability, which led him to pursue his true passion at SMU. "The minute I found music, it was a total turnaround," he said. "I'd learn something in one class … and I'd be able to apply it in another class, and then I'd see it show up in my music and it made sense. It was like the perfect coming together of lots of stuff."
Bennett has played professionally in a variety of venues covering local and international events.
He has been featured with the Mesquite Symphony Orchestra, a local community orchestra composed of professional and amateur volunteer musicians. Bennett and the orchestra have held scholarship benefit concerts for the Brookhaven music department.
The largest crowd he has performed for was for the international Rotarian club in South Korea where he said he played for "a couple thousand people."
Bennett's career in education includes heading the guitar department at the University of Mary Hardin-Baylor in Belton, Texas, while teaching music full time at nearby Temple College.
He saw the position for dean of fine arts and physical education available at Brookhaven while serving as Temple College's music department chair. He applied for the position in 1992 and moved to north Texas after being selected for the job.
Although he loved his new role, taking on administrative responsibilities at Brookhaven presented another challenge for Bennett. "It was very difficult the first couple of years I was here as the dean," he said. "It was difficult to walk by a classroom and not go right in and start talking to the students, interacting with them."
It took Bennett a couple of years to adjust and learn the ins and outs of the Dallas County Community College District, a large district compared to the single campus of Temple College.
Before long, Bennett started the string ensemble at Brookhaven and later taught music appreciation. And so one of Bennett's greatest joys returned. Once again, he could influence the minds of students through music.
Bennett said among his favorite aspects of teaching is seeing the moment when students understand something. "We used to get in these wonderful philosophical discussions about what makes music great," he said.
Bennett said his students learned to read, write and perform music at a very elementary level. They learned that the process is subjective and can be applied to everyday life. He said: "To watch them begin to understand this whole process, and then [talk] about how that relates to things that have nothing to do with music, that learning to understand music is a skill that you can apply in non-music settings. Seeing them sort of get that and understand [it] was an enormous amount of fun."
As vice president, Bennett said he has seen himself embody different roles, including adviser, counselor, teacher, mediator and innovator. He described the position, saying: "If you had a card, you're not sure what to put on [it]. It's one thing to put your title, but it depends on the day. The card just really needs to be left blank."
As Bennett's administrative career at Brookhaven comes to a close, he looks forward to spending time with his family and playing more after retirement. He is scheduled to play in the Seattle area in April 2015. He will still be around, he said, working part time at the R. Jan LeCroy Center and teaching guitar students at Brookhaven.