Burst pipe floods X Bldg
Early morning water leak floods classrooms, cancels classes across multiple departments
By Kate Rhoads
Managing Editor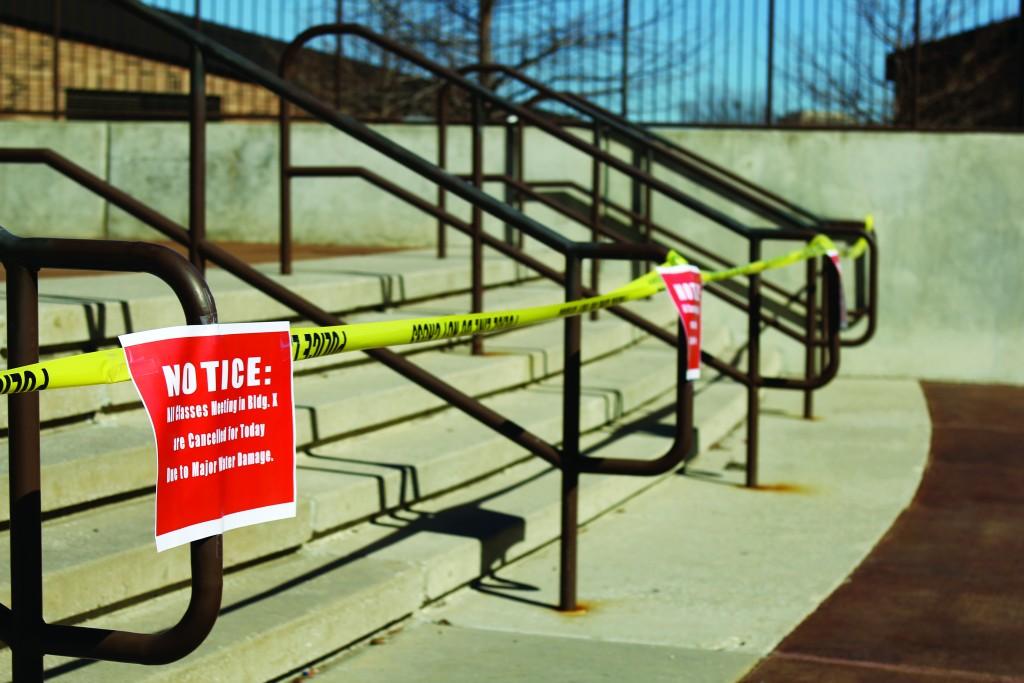 Brookhaven College students were shocked to find X Building closed due to a water pipe rupture discovered around 7 a.m. Jan. 27, George Herring, vice president of business services, said in an email.
According to Herring's email, a threaded end cap in a half-inch pipe failed in the second floor ceiling on the northwest side of the building at about 6 a.m. An isolation valve that should have been turned off was left on, causing the full water pressure to erode the end cap over time.
Gabriel Galvez, assistant chief of the Brookhaven College Police Department, said in an email that he received an alert from the 911 dispatch center early that morning. After determining the situation was not life-threatening, he and his team, along with the Incident Command Staff, set up a command post and prepared a plan of action.
The ICS "consists of a key group of college administrators and staff members who are assigned to various roles in the event of a serious incident," according to Brookhaven's website.
Multiple divisions were involved in the response effort, Galvez said, including facilities, public information, police, administration, building coordinators, nursing and Emergency Medical Services.
"Everyone worked together following district guidelines and protocols to take the necessary steps in keeping everyone safe and resolving this issue quickly," he added.
The water leaked through the second floor down to the first floor. "It went down through some of the walls," Herring said, "so they will have to punch holes in the walls to get some air circulating in there."
The EMS area incurred the most damage and "was pretty much devastated," Juanita Flint, executive dean of the health and human services division, said.
Several biology and nursing labs, faculty offices and preparation areas were also damaged, according to Herring's email.
As of Jan. 28, 21 rooms were out of service on the first floor, along with 10 with limited access, Herring said. On the second floor, nine rooms were out of service and two had limited access.
Blackmon Mooring, a cleaning and restoration service company, arrived at the scene quickly, Dr. Claire Bambrough, interim dean of the mathematics and science division, said.
Herring said that initially, squeegees were used to "literally push the water out the door." After removing the standing water, he said large fans would be brought in to help dry out the rooms.
"The first priority is safety," Bambrough said, as the possibility of an electrical hazard was a major concern.
Other concerns, Galvez said, included traffic control, class cancellations, property damage, information security issues, power outages and utility failures.
Meagan Hill, student, said she learned of the closure from an announcement on a campus TV 45 minutes before her class was scheduled to begin. "I went to my eCampus, and you can send out [an email] to every student in your class, including the instructor," she said. "So I just let everyone know that this building was shut down."
Baltazar Alvarez, adjunct professor of world religions, made a last-minute plan to hold his class outside. He said he received a message in the morning that X Building was closed, and he had not yet been assigned an alternate classroom.
He told his students via email to meet between D and K Buildings and said he enjoyed teaching outside in the sunshine and fresh air.
"You just kind of roll with the punches," Alvarez said. "And this is how I rolled with the punches for the day."
Herring and Bambrough said the third floor was unaffected. A meeting was held at 2 p.m. that day between deans, vice presidents, facilities services, a marketing representative and a police officer to assess the damage and coordinate alternate classrooms, according to Bambrough.
It was determined that unaffected rooms would reopen for classes Jan. 28, while damaged areas would be out of service for two weeks, Herring said.
Some classes have been relocated, according to Brookhaven's website. Students are encouraged to check with their instructors for current class locations and are told to not enter damaged areas.