Bill Priest 1917-2014
By Nicholas Bostick
Editor-in-Chief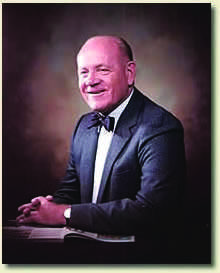 As Dallas County Community College students resumed their studies, the Brookhaven College flag flew at half-mast in honor of DCCCD's first chancellor, Dr. Bill Jason Priest. He died on Dec. 31, 2014 at the age of 97. Priest served as DCCCD chancellor from 1965 to 1981 and was integral in the creation and direction of the district.
"Dr. Priest was the very embodiment of leadership," current DCCCD Chancellor Dr. Joe May said in a statement issued by DCCCD. "His vision for Dallas was far greater than our district because he was a community leader first and a college leader second."
Throughout his career in education, Priest helped shape the image of the modern community college by championing non-credit courses, including technical degrees and certificate programs, and fighting to create the two-year nursing degree, according to Kathleen Whitson's biography of Priest, "Bill Jason Priest: Community College Pioneer." Whitson was a former executive dean of instructional support and outreach services at Brookhaven.
As a young man, Priest was a gifted student who dreamed of becoming a historian, according to Whitson's biography. He was also a gifted athlete and was signed to play for the Philadelphia Athletics baseball team in 1938.
On Oct. 1, 1941, Priest was drafted into the Navy. He worked as an intelligence officer stationed in San Francisco. While working as a radio operator, he took graduate classes at the University of California at Berkeley before shipping off to the Philippines after two semesters, according to Whitson's biography.
Priest was part of an advance team that entered Hiroshima after the atomic bomb was dropped. Whitson's biography states: "It seemed to [Priest] that with all of the intelligence and problem solving mechanisms available to mankind, there should be a less violent means for resolving philosophical differences."
At the conclusion of World War II, Priest went on to earn his doctorate in education and began working at Orange Coast College, a junior college in Costa Mesa, California. Eventually, Priest became the president of American River College (1955-1963) and later the first superintendent of the Los Rios Junior College District (1963- 1965) in California, according to Whitson.
It was here Priest first began experimenting with providing students telecourses, which he would later bring to DCCCD in the form of the Instructional Television Center, now the R. Jan LeCroy Center for Educational Telecommunications.
Priest is survived by his son Andy Priest, who told Dallas Morning News Staff Writer Joe Simnacher: "He saw that [community college] offered people of limited funds a chance to get an education and a way to better themselves, and a chance to get a four-year degree on down the line if they wanted it, or technical education training if they didn't want a four-year degree."
Priest is also survived by his second wife, Ann Sparks Priest; two grandchildren and four great-grandchildren. His first wife, Marietta Shaw Priest, died in 1989.
A memorial for Priest will be held from 2 p.m. to 4 p.m. Feb. 25 at the Eastfield College Performance Hall. The ceremony is open to the DCCCD community.