BHC offers support
By Jessica Ayers
Staff Writer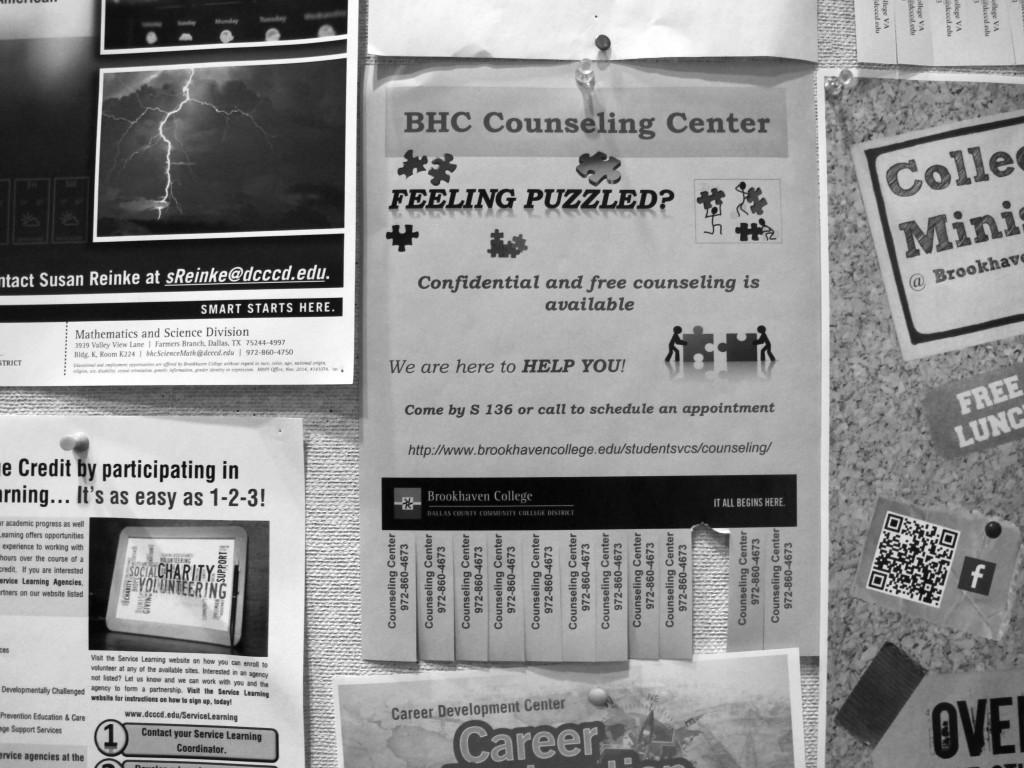 Brookhaven College offers free, individual counseling sessions to students at the Student Services Center. Each semester, students can take advantage of up to eight sessions with a professional counselor, according to Brookhaven's website.
"I have been working with college students professionally for about nine years," Dr. Rhonda Dalrymple, a counselor who works in the center, said. There are five experienced counselors on staff, including her.
According to usatoday. com, one in 10 college students has considered suicide, which is the second leading cause of death among college-aged students. About 300 students per year use the counseling services at Brookhaven.
Although it is a noteworthy figure, Dalrymple said she still believes there are more students who could use the available resources, but do not for a host of reasons.
"There still tends to be a stigma that counseling is for crazy people, but it is far from that," Dalrymple said. In addition to what some may consider more serious issues, counseling is also recommended for day-to-day matters as well.
"Talk with someone neutral for support with varying concerns, such as managing stress, time management, decision making, relationships, among others," Dalrymple said.
"[Students] have preconceived notions about what counseling is," student Challie Haft said. "They don't think talking to a stranger will help."
According to Brookhaven's website, the sessions are both confidential and kept separate from academic records in hopes of providing students a safe haven in which they feel comfortable to speak freely.
If necessary, counseling referral services are also available to students.
"The greatest reward for me as a counselor is to see relationships improve, personal growth and students in a better place emotionally," Dalrymple said.
Outside of individual counseling, the Student Support Services staff also performs classroom presentations on various topics, ranging from goal setting to learning styles, according to Brookhaven's website.
Those services are available upon request and can be catered to specific audiences, depending on the intent. "If we included all of our services, as previously mentioned, we would average serving way over 1,000 students a year," Dalrymple said, based on 2014 figures.
Office hours for the counseling center are Monday through Thursday 8 a.m. to 7 p.m. and Friday 8 a.m. to 4 p.m. The center is located in Room S136. Counseling sessions are available by appointment only. Dates and times may vary, dependent upon availability.