SkillsShop offers students effective habits
By Jubenal Aguilar
Copy Editor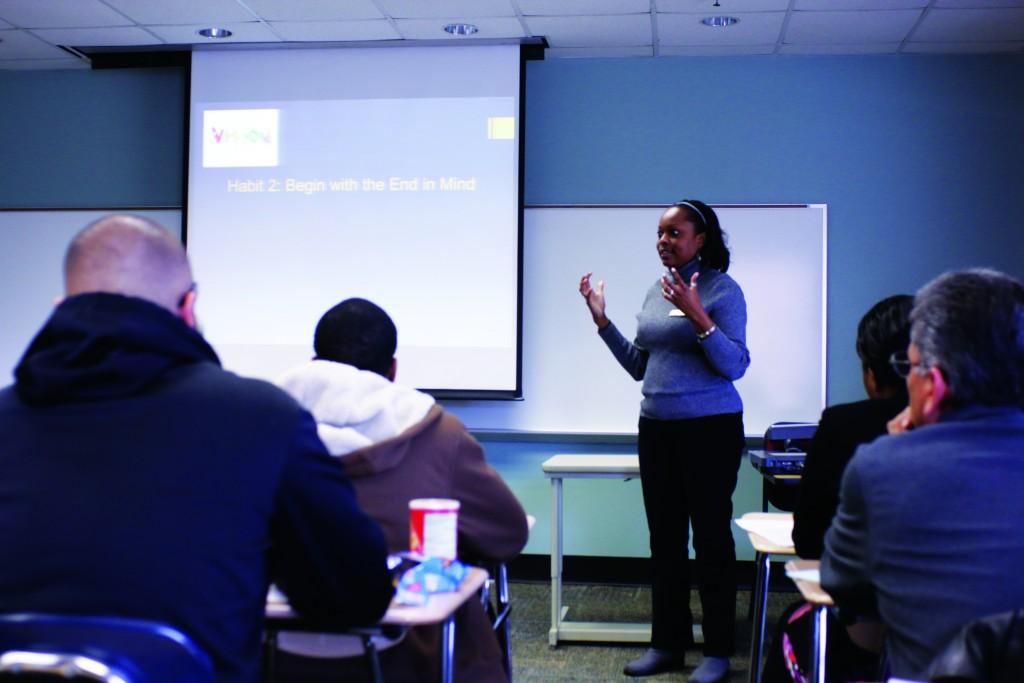 Brookhaven College students learned how to become more effective by developing habits to help them achieve their goals in a SkillsShop offered by the Counseling Center. The SkillsShop, "Seven Habits of Highly Effective People," was based on Stephen R. Covey's book by the same name. Covey was an international authority of organizational behavior and business management.
The workshop, held Feb. 17, in Room S064 was the fifth in a series of 18 offered this semester by the Counseling Center to currently enrolled students. The workship was led by Rhonda Dalrymple, who has a degree in counseling psychology. Dalrymple is a professional counselor at Brookhaven's Counseling Center.
The intellectual wellness-themed SkillsShop "focused on learning, expanding knowledge and professional development," Dalrymple said. Students learned about the habits successful people use every day to achieve their goals.
These people "provide an incremental, sequential, highly integrated approach to the development of personal and interpersonal effectiveness," according to Covey' book. "They move us progressively on a maturity continuum from dependence to independence to interdependence."
Each stage of the maturity continuum corresponds to the natural laws of growth, according to Covey. Dependence describes peoples' need for others to take care of them. Independence is achieved when people take responsibility for themselves. Interdependence is the realization that collaboration is necessary for survival and to achieve more than working alone.
According to the book, development of successful habits allows an individual to progress through these phases.
Covey defines a habit as "the intersection of knowledge, skill and desire." Knowledge is the "what to do" and the "why." Skill is the "how to do," and desire is the motivation. All three must be present for something to become a habit, according to Covey's book.
Six of the habits are divided into two groups, outlining development from personal to interpersonal effectiveness.
The first three habits focus on the individual. Dalrymple said in this stage, people learn to "shift away from that dependence on others." People become self-reliant and achieve a private victory, according to Covey's book.
Dalrymple said being proactive is the first habit. People must take responsibility for their lives.
"We can't control things that happen, but what we can control is how we react to what is presented," Dalrymple said. "You have the freedom to choose a response."
A lack of vision or goals can cause a person to absorb others' ideals, Dalrymple said. This can lead to unhappiness because people do what others tell them instead of doing what they want.
Students can stay on track by writing a mission statement. "It gives you a visual versus keeping things in your mind," Dalrymple said. Having a mission on paper allows students to modify it as their needs change.
Dalrymple said students should focus on their own priorities and spend time with the "things [they] find the most worthy." According to the SkillsShop, recognizing they do not need to do everything that comes along and learning to say 'no' are important for time management.
The second stage focuses on becoming interdependent – learning to work more effectively with others as part of a larger group. Habits in this stage permit the achievement of public victory. According to Covey' book, "Effective interdependence can only be built on a foundation of true independence."
Dalrymple said students need to learn "how to work with each other instead of against each other." This requires a balance between what one wants while considering the needs of others. Compromise is reached by discussing issues and conflicts in a group.
Dalrymple said listening empathically is important. "Listen to understand, not listen to reply," she said. Understanding others does not mean one has to agree with them. However, it can allow a person to present their ideas more clearly.
The development of synergy moves a group forward. Dalrymple said students should understand that by working together, they will achieve more than by themselves. Through collaboration, they will realize everyone is different.
Students need to learn to "celebrate each others' differences," Dalrymple said. "To see them as strengths, not weaknesses."
The last habit, which Covey calls "sharpen the saw," ties all other habits together. It seeks renewal in life through the four dimensions of nature: physical, spiritual, mental and social/ emotional.
"You are always going to have hurdles to get over," Dalrymple said. "Take that time to take care of you and renew and recharge, and this enables you to practice the other habits … to be able to grow and accomplish your goals in life.
"We are not going to wake up tomorrow and be proficient in all of the habits," she said. "We have got to practice them as frequently as possible and develop them into a habit. You have got to use them in different areas of your life."
Sundas Sheikh, a Brookhaven student, attended three workshops this semester. She said knowing these habits is important to be more responsible. "I'm going to learn to say no to people and to put things first," Sheikh said.
Student Alex Uristes said this workshop will help him improve as an individual in and out of the classroom.
Dalrymple said the workshops help students enhance the skills needed to be successful academically, professionally and personally. "We strive to make the workshops engaging and interactive to get students involved and hope that they leave better equipped with skills that they may not have had before," she said.