BHC 'harvests' victory
By Andres Reyes
Sports Editor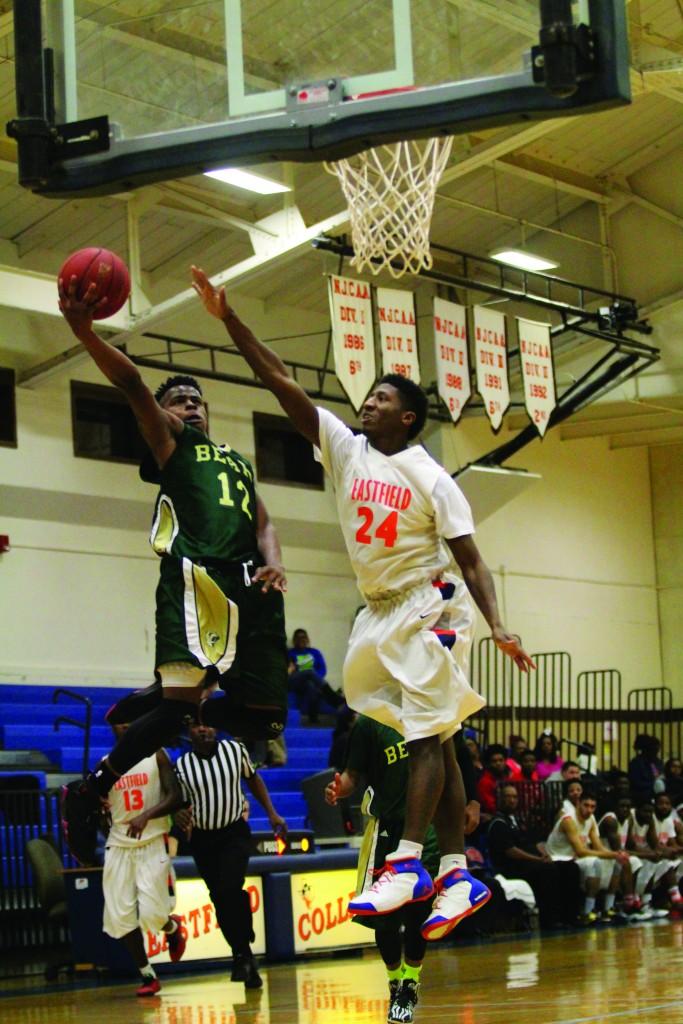 The Eastfield College Harvesters and their fans left the basketball court in shock. In what seemed to be a guaranteed victory for the Harvesters, the Brookhaven College Bears prevailed Feb. 11 at Eastfield to win their last regular-season game in overtime, 89-88.
Eastfield took charge of the first half, playing stout defense and controlling rebounds for most of the game. Although they suffered turnovers and gave up offensive boards, the Bears limited their mistakes and made plays when it mattered most.
"It wasn't more of their defense, it was more of our offense," Bears student assistant coach, Byron Mack, said. "We
had 10 turnovers in the first half. We weren't attacking the paint as much as we should have."
With less than 15 minutes to play, Brookhaven guard Shannon James forced a turnover with pressured defense. The Bears fought back from a 15-point deficit. The score was 52-42 after the Bears' run, Harvesters' lead.
The Bears were down 2 points, and with less than a minute in the game, the Harvesters missed a shot. The Bears secured the defensive rebound and were off to the races.
The ball was passed to Bears forward Aaron Peterson, who was alone under the basket when he jumped up for the pass. The raucous crowd stood as if they knew what was coming.
Peterson threw down a dunk that blew the roof off the gymnasium. The game was tied, 77-77.
The Bears had a huge defensive possession and forced overtime. They were climbing the mountain, but had not yet reached the peak.
The Harvesters made two 3-pointers, three free throws and a layup to advance 88-83 in the overtime period. Each point was a punch in the gut for the Bears and their fans.
Brookhaven made a huge bucket while getting fouled to cut the lead to 3 points. Bears guard Kenny Slocum made two clutch free throws that cut it to 1 point.
In a game when the Harvesters were up by 15 points in the second half and 5 points in overtime, they were now up by 1 point with less than a minute to play.
The Harvesters' point guard settled the team down and started to drain the clock. Each second felt like a minute. He decided it was time to go and started a drive to the basket. He got by the Bears' defense, going for a layup. The shot kissed the glass, rolled on the rim and then rolled out at the last second. The Bears snatched the rebound and started their assault toward the Harvesters' basket.
The Harvesters' defense was caught off guard as five Bears rushed them in full force. The ball found its way to forward Shaun Grant because he was left open under the basket. Grant destroyed the Harvesters with his dunk, putting the Bears up 89-88 and capping off a 6-0 run.
"'Want to.' It's un-quantifiable, but we had more 'want to' tonight," Brookhaven Bears' head coach Kevin Hurst said. "We overcame a really bad rebounding game and a very below-average game from the free throw line. It says a lot about their heart. It's a good way to go into the tournament, to win a tough overtime game on the road when we were down by double digits a lot of the time tonight, and we just found a way to win. Good teams find a way to win."