Consumers determine fate of old electronics
By Megan Smith 
Copy Editor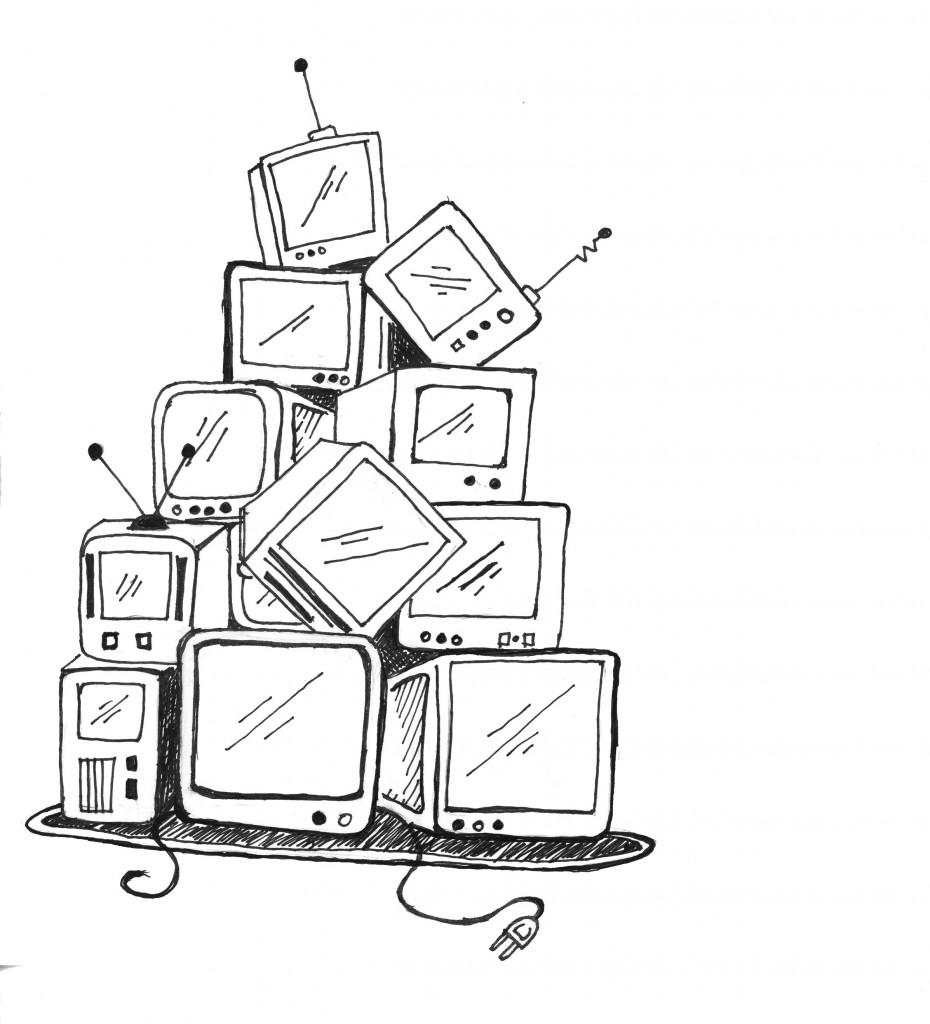 Mountains of computer parts and rivers of toxic ash cut through the otherwise green landscape of the southern Chinese town of Guiyu. Workers with burns on their hands and noxious air in their lungs pick precious metals from computer parts heated over coal fires.
In Guiyu, improper handling of electronic waste has resulted in the highest level of dioxins on the planet, according to a 60 Minutes report. Dioxins can cause "reproductive and developmental problems, damage the immune system, interfere with hormones and also cause cancer," according to the World Health Organization's website. In Guiyu, 70 percent of children have unsafe levels of lead in their blood, and miscarriages are six times more common than normal.
Presumably, all of the ele ct ronics in this t o w n came from the U.S., w h e r e e-waste is an ever-mounting problem.
Electronics often contain lead, mercury and other toxic compounds. According to the 60 Minutes report, Americans throw away 130,000 computers every day and 100 million cellphones every year. However, the waste in Guiyu is not from electronics consumers have thrown away, but from companies that promised to properly recycle them.
Not surprisingly, the export of electronic waste is illegal not just in the U.S. and China, but on an international level. The Basel Convention is a United Nations treaty that prohibits developed countries from dumping hazardous waste in less developed countries. This treaty has not stopped American recycling companies from shipping e-waste overseas for profit.
Some electronics companies and governments are already doing more to ensure the proper disposal of electronics. According to an article on wamc.org, it is now illegal to throw away electronics in New York State. Violating the Electronic Equipment Recycling and Reuse Act could cost New Yorkers $100 per violation. Texas laws require computer and television manufacturers to reuse or recycle their old products.
Office supply company Staples aims to offer only sustainable products to customers and recycle 100 percent of the technology it sells, according to its website. And in 2012, Dell Inc., which is based in Round Rock, Texas, collected more than 10 million pounds of computer equipment, according to texasenvironment. org.
The Basel Action Network, named after the Basel Convention, now certifies electronics recycling companies as e-Stewards. According to e-stewards.org, "The e-Stewards Initiative states in part that no hazardous, illegal e-waste will be exported to developing nations, be disposed into landfills or recycled using forced or child labor."
With all of these international, local and private-sector attempts to reduce the irresponsible handling of electronics, why is our waste still ending up in places like Guiyu? The answer comes back to the reason electronics are produced in the first place – the consumer.
Whether multi-million dollar companies or college students, consumers must take responsibility for their luxuries. There needs to be a cultural shift from not thinking past our next text message to considering the wider impact of the next big gadget. Convenience and planned obsolescence have numbed us to the cost of technology-centered lifestyles.
This change in thinking needs to start with millennials. Made up of those born from roughly 1980 to the year 2000, this generation is the biggest consumer of technology, according to a consumer research report by Forrester.
Young people need to use the wealth of technology and information available to them to push their local and state governments to enact stricter e-waste laws and encourage others to properly dispose of their old phones, tablets, televisions and computers.
These changes in mindset and law would ideally translate to clearer federal regulation of e-waste. In the age of Internet activism, we must also consider the consequences of the very devices we use to stand up for what is right.