BHC professor plays classics
By Willie R. Cole 
Senior Staff Photographer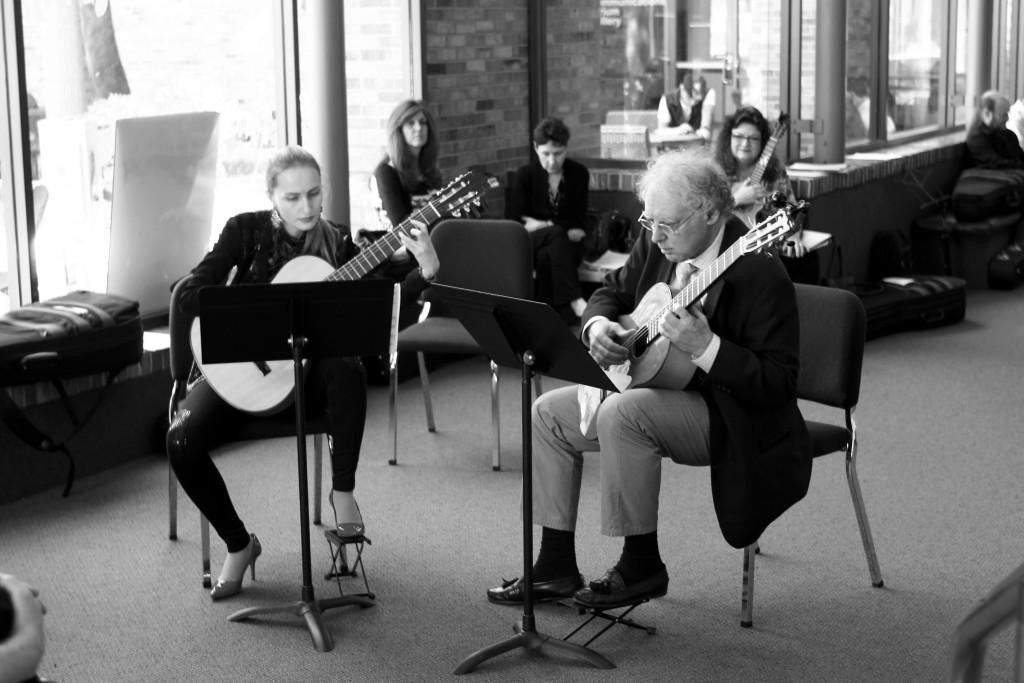 The sounds of guitar strings being plucked and tuned filled the Performance Hall Lobby on March 25. Guitarists warmed up between open guitar cases and music stands as attendees mingled.
The coffee bar emptied as listeners took their seats. Saxophone player Roy Allen Jr. introduced guitarist and Brookhaven professor Carlo Pezzimenti. The wait was over as the first pair of guitarists began the performance with nearly perfect harmony.
With no amplifier in sight, sounds resonated from ceiling to floor, filling every corner. "The beauty of [the classical guitar] lies in its subtlety, and it breaks in different colors," Pezzimenti said. The musicians played pieces by composers ranging from Johann Sebastian Bach of the 1700s to Joaquin Turina and Enrique Granados of the early 1900s to Stanley Myers of the late 1900s.
The songs are rarely, if ever, heard on most radio stations, but seem to have stood the test of time as Pezzimenti plucked and strummed every note.
"In enclosed spaces with good acoustics, you would hear more of the color of the instrument," Pezzimenti said. "It's hard to hear here, even though it did project, and it projected well. But you would hear more subtle things if we were in an enclosed space."
There were six ensembles in the schedule, complemented by different guitars. There was also a ukulele player, who provided a unique sound. The guitarists were of a wide variety, from Brookhaveans to a concert professional. Readers can learn more about guitar ensembles and other music courses in room D110.