Staffer highlights new trend
By Carmina Tiscareño
New Media & Fashion Editor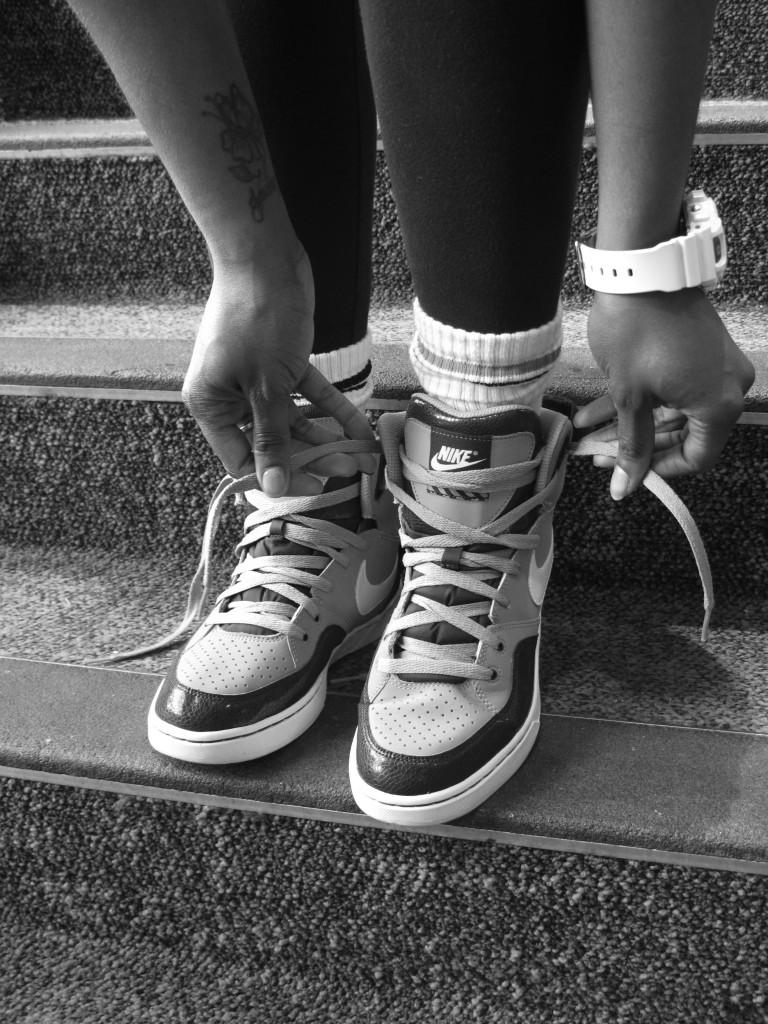 Models have always walked down the runway in towering high-heeled shoes. They may look pretty on the runway, but they lack comfort. A more comfortable shoe is dethroning the 6-inch high heels that have long dominated the fashion runways.
In January 2014, designers such as Chanel held a couture fashion show that waved goodbye to shoes with extreme height and welcomed trainer- style sneakers to their collections. Ever since Chanel and other designers embraced sneakers into their collections, people have incorporated the style into their wardrobes.
According to an article on stylecaster.com, sneakers are not just for the gym anymore. The shoe is a low-maintenance addition to a styleminded outfit.
Fashion bloggers, models, celebrities and even Brookhaven College students are wearing and embracing the sneaker. Brookhaven student Luis Alberto Solorio wore white high-top Adidas sneakers that had a pop of color with teal, red and some minimal print. He paired his sneakers with distressed denim, a cardigan and a dark graphic T-shirt. He said he likes his sneakers because they are comfortable and because of the subtle, fun color.
Ricardo Seco, a Mexican menswear designer, collaborated with New Balance for his Fall/Winter collection at New York Fashion Week last September and February. The trainers were custom-made and inspired by Mexico's Huichol art. Some shoes were decorated in small, multicolored beads with intricate designs, while others had two-tone color combinations.
According to an article on businessoffashion.com, Sasha Sarokin, a buying manager for Neta- Porter, said, "The moment of the model [wearing] 6-inch heels and platforms, teetering down the runway doesn't feel modern anymore."
The popularity of flat menswear shoes for women inspired Chanel designer Karl Lagerfeld to add sneakers to the collection. Fashion shows a year ago featured more flat shoes than ever. Lace-up sneakers were the most popular shoe, but slip-on style sneakers that looked similar to slip-on Vans shoes were also featured on the runway.
According to an article on stylecaster.com, the couture trainers from the Chanel collection were pieces of art, despite their simple design. Some sneakers were white, while others were a pale pink hue. The shoes were handmade by Massaro shoemakers in Paris, France, and reportedly took 30 hours to complete. Some of the shoes were made out of python skin, tweed and lace, and a few had pearls and small jewels on them.
According to businessoffashion. com, high-end designers, such as Céline, Givenchy, Jimmy Choo, Saint Laurent and Lanvin, had models strutting down the runway in slip-on sneakers. Pricefriendly but trendy shoe brand Steve Madden added the slip-on sneaker to its collection.
Holt Renfrew launched "Holt Common," a shared shopping experience. The store had a sneaker wall with more than 100 gender- neutral footwear styles. Carol Song, a head buyer at Opening Ceremony, said flat mens-inspired footwear and sneakers are an allages trend anyone can wear.
Although not many people are wearing couture Chanel trainers, popular sneaker brands include Nike, New Balance, Asics, Adidas and Converse. These shoes can be bought online for regular price or cheaper at thrift stores, such as Buffalo Exchange. Local stores such as Epocha and Centre are also great places for anyone looking for cool kicks. Other retailers, such as Forever 21 and H&M, have also added sneakers to their merchandise.