BHC veterans detail military life
By Willie R. Cole
Senior Staff Photographer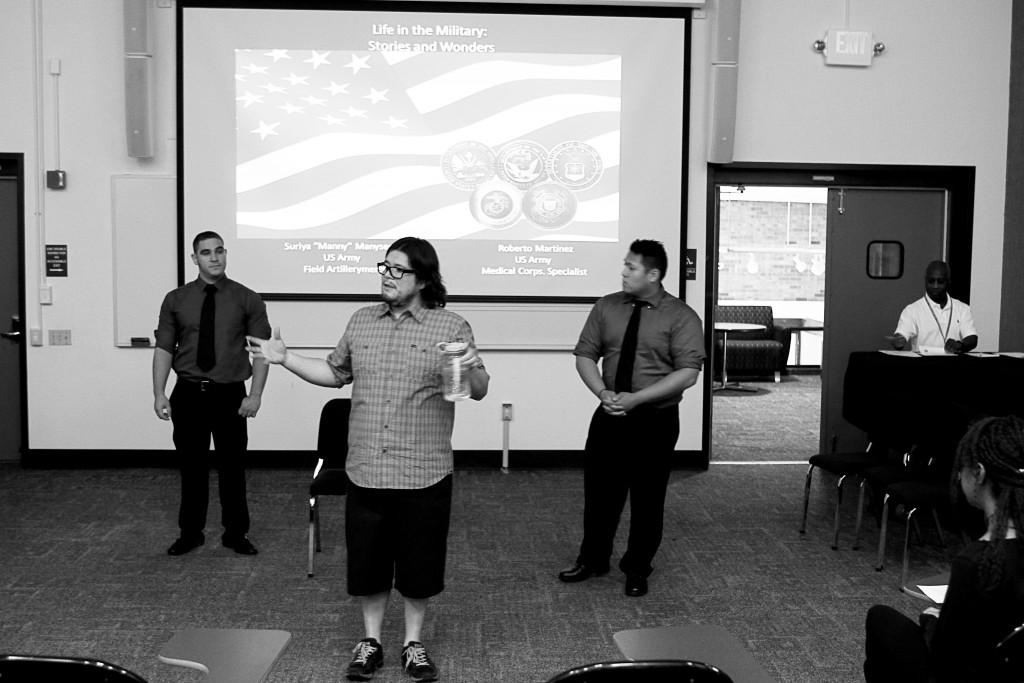 "I will support and defend the Constitution of the United States against all enemies, foreign and domestic." This is just part of the oath men and women of the U.S. military take every day.
This semester, the Brookhaven College Veteran Affairs Office is hosting lectures featuring stories from military veterans. Each speaker is given time to tell his or her story. The first lecture was held in February, the second was held March 25, in Room D208, and the last one will be held April 15.
There was standing room only during the second event as veterans told their stories. Roberto Martinez and Suriya Manyseng described military life.
Manyseng introduced himself as a field artilleryman. "I had an MOS [Military Occupational Specialty], which is a code specified by the military, and that code was 13 Mike," he said.
Martinez said: "I was the one who took care of all the medical supplies and made sure we got them. However, I fell into a medical unit and in the Army … one thing you don't realize [is] you also have to learn other people's jobs, so I ended up becoming a medic instead."
Both men emphasized details of military life only understood by those who had experienced them firsthand. As the pair took turns speaking, they offered attendees a chance to hear from veterans who had similar experiences during their deployments.
From establishing the first 13 colonies in 1775 to the present, the U.S. has been in approximately 90 wars, foreign and domestic. Martinez said it was difficult to be far away from home, fighting "with bullets and mortar shells flying all over the place," and standing long hours on guard duty. "But it's small items from back home that keep you from going over the deep end," he said. Martinez was born in Cuba and said he received his citizenship while on tour in Afghanistan.
Manyseng said staying in touch with friends and family back home was tough, despite social media such as Facebook, Skype and Twitter, because of the often-poor Internet connection.
Martinez said he joined the Army "in order to get ahead in life … I couldn't afford college," he said. Manyseng said he joined to become more social. Both men agreed life in the service means a lot of time away from home, jobs and friends, and returning to civilian life is challenging. Addiction problems and withdrawal from family and friends are common for some veterans. According to an article on time.com, 22 veterans commit suicide each day.
Students can hear more stories and support the veterans of Brookhaven on April 15, when the Veteran Affairs Office will host another day of storytelling.