Fair delivers options
By Kate Rhoads
Managing Editor
The S Building Lobby buzzed with conversation as students and staff mingled among tables draped in blue, magenta, red, purple, gold, green and orange. Colorful balloons dotted the air, and representatives from colleges and health-related companies passed out brochures and goodies such as pens, cups and candy to those who walk by. It was a one-stop-shop for students interested in transferring to a university or wanting more information on a variety of health topics.
The College and Health Fair is an annual event that allows colleges and health-related companies to set up booths at Brookhaven College and reach a wide range of students. Anne Darrouzet, senior academic advisor and an organizer for the event, said combining the two fairs into one provides the opportunity for greater exposure. This year's fair was held March 25.
Universities represented among the 26 college booths included Texas A&M University, the University of Phoenix, Midwestern State University, Dallas Baptist University and Purdue University, along with many others. Most of the colleges offered transfer and scholarship information.
Edward Downing from Northwood University said the school offers a lower tuition rate for veterans and allows the transfer of up to 90 credit hours. Eddie Jorge from Strayer University said one of the main reasons his college attends the fair is because of the partnership they have with the Dallas County Community College District. He said they have an articulation agreement which, according to the university's website, permits the transfer of all associate degree credits, subject to university policies.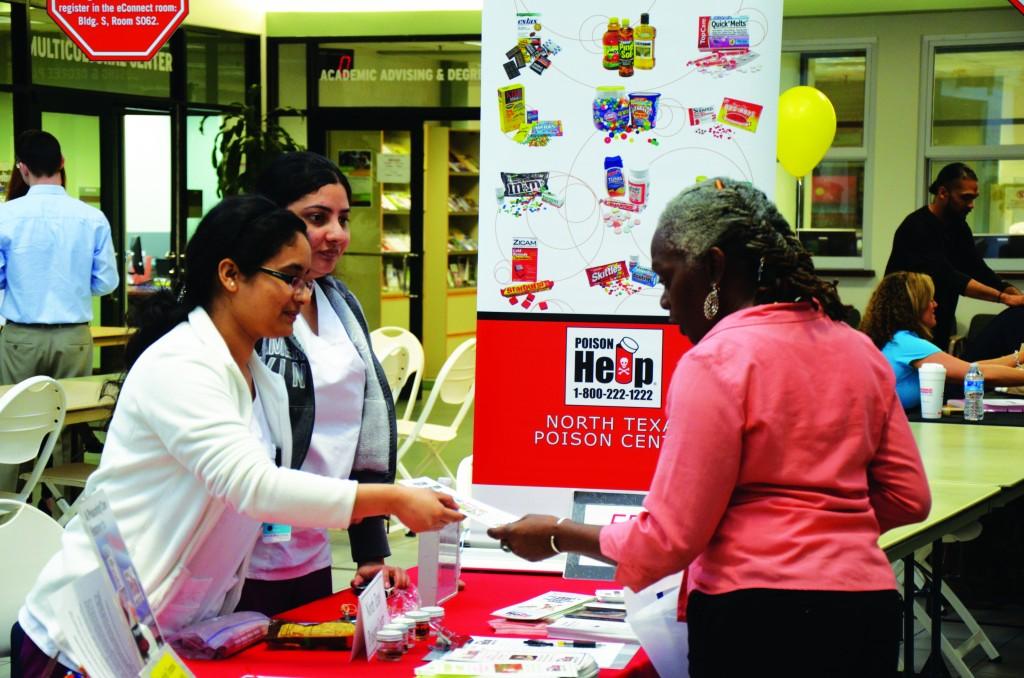 Rex Oliver from Texas Tech University said his booth offered students information regarding admission requirements and available majors. "We're highly focused on recruiting transfer students," he said. Susie Pruitt from the University of North Texas echoed this sentiment, saying she wanted transfer students to be more aware of their options. In addition to providing transfer information, Pruitt said she was accepting transcripts at the table and taking them back to the university.
Student Carly Mason said having access to many college representatives in one place is beneficial. "It's a good way to talk to multiple colleges at once without actually having to drive all over the state," she said.
Similarly, student Shannon Warfstach said, "I think it's a great opportunity for incoming students and current students to learn about colleges and the great transfer programs some … universities offer."
Student Humaira Zakrea said she was going to the S Building to see when early registration started and was unaware of the fair until she stepped inside. "I'm actually headed to the UT Dallas table," she said. "It will save me a trip down there today."
The 14 health-related booths were located next to the Advising Center and featured companies such as Be The Match, Texas Alcoholic Beverage Commission, North Texas Poison Center and Research Across America, among others. Asian Breast Health Outreach Project's booth contained material to help raise awareness of breast cancer, Community Outreach Manager Frances Leung said. She said the company reaches out to low-income women who are uninsured or under-insured and will see them regardless of whether or not they are Asian.
Trinity Bodyworks offered free massages, and Community Outreach Director Lauren Owen provided information about the medical spa at the nearby booth. She said they provided a 30-minute diagnostic screening, any X-rays needed, a follow-up appointment and a massage free of charge.
The Medical Center of Plano's booth was complete with a small station to check blood pressure and equipment to measure body fat. Additionally, they provided information on diabetes, weight loss and body mass index.
Among these health-focused booths was one manned by Tony Bartok, a representative from Green Mountain Energy. He said other companies rely on resources such as coal, natural gas and oil. "When they choose us, it's wind," he said. "Instead of reactive cures, why not be proactive in your approach to the environment [and] to better air quality?"
College Nurse Mildred Kelley, who brought in the health-related booths, said student participation among the tables this year was average. "The more things that they can do or see, then the more they like it," she said. For this reason, she said, the North Texas Poison Center booth, which showcased dead, poisonous spiders, was popular. Be The Match, a booth giving students the opportunity to submit a cheek swab and sign up to potentially be a bone marrow donor, was also busy. Other favorites were the booths offering massages and blood pressure and body fat checks.
In addition to Darrouzet, Academic Adviser Michelle Nguyen also coordinated the fair. "I think it was a good turnout for an early day," Nguyen said of this year's event.
Darrouzet said she was already looking ahead to next year, taking notes of what she can improve. "We're hoping to build on our success this year so we'll have more universities represented and greater attendance."