By Kate Rhoads
Managing Editor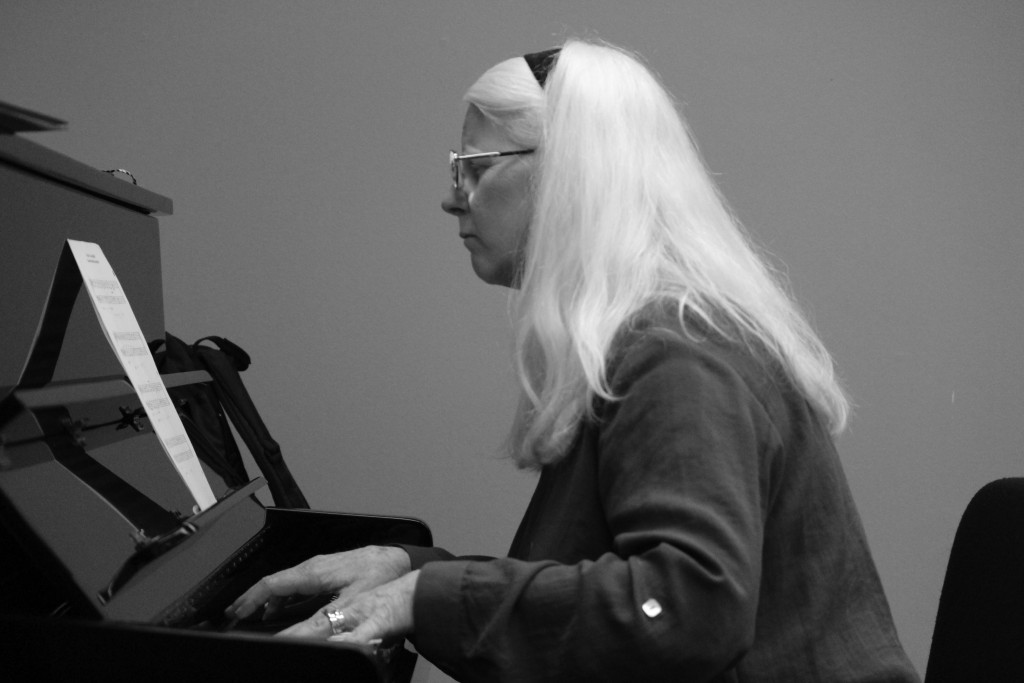 Her white hair falls softly past her shoulders, slightly curling at the ends. Her lips purse in concentration as her fingers dance across the keys of a black upright piano, filling Room D205 with the melody of "Album für die Jugend, Op. 68" by Robert Schumann and spilling the sound out into the hallway.

Kris Baker, an adjunct professor in Brookhaven College's School of the Arts' music department, said she began playing the piano when she was four years old. Although her mother played the keyboard, no one in her family performed professionally.
"My dad played the radio, that's what he'll tell you," Baker said. Baker's parents enrolled her in piano lessons to develop her vision, she said, as she was born legally blind. However, due to the difficulty of reading the notes, she began memorizing patterns in music. This study piqued her interest in music theory.
"I had to use my theory background to [memorize patterns]," she said. "That's actually something that I've realized fairly recently." Baker said she began playing clarinet in fourth grade and continued through high school. Her plan was to attend East Carolina University in Greenville, North Carolina, and major in music to become a band director.
However, when she took a class on perspectives in music education early in her undergraduate career, Baker's interests shifted slightly. "When I got to [college], I realized I really liked theory," she said. Although she plays the piano, clarinet, organ and recorder and performs on occasion, Baker said she is more interested in the academic side of music theory.
"It's logical," she said. "I'm really a fan of finding odd connections in things, and it allows me to do that in the context of something that I love. It's really cool to find patterns … in Mozart or patterns … in Brahms." Eustacio Legua, student, said while most music teachers give the impression that music theory is boring and tedious, Baker has a way of breathing life into the subject. "I've never met a teacher so passionate and so detailed in what she does," he said. "She's made the whole experience worthwhile."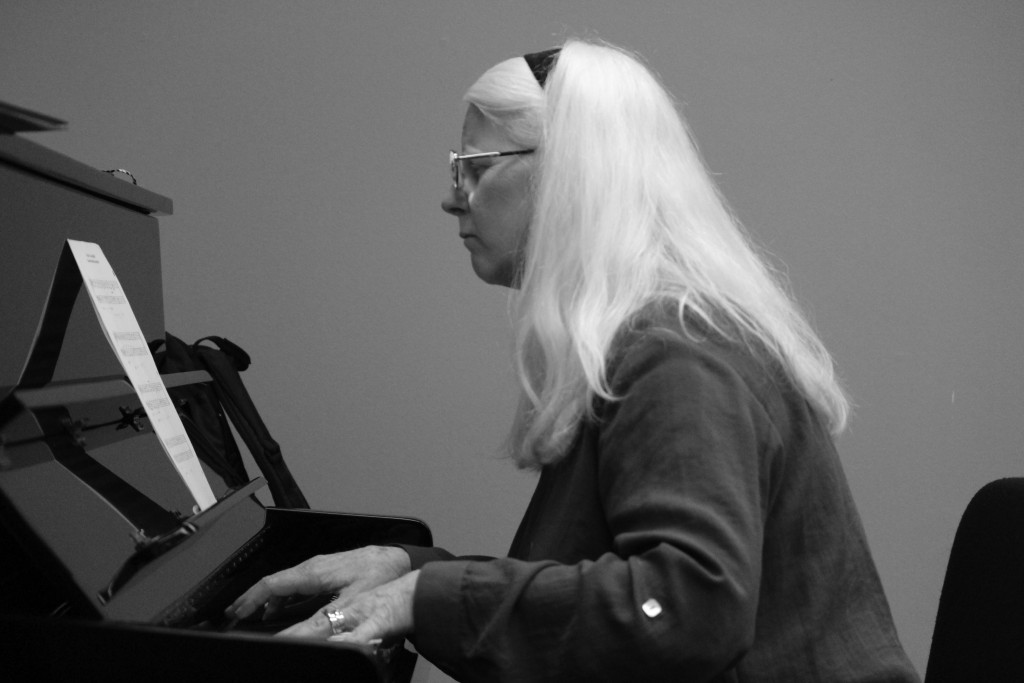 When Baker was a sophomore in college, her music theory professor mentored her for the next few years and through her under- graduate thesis work. They are still friends today. "I tell my students all the time, 'If you don't like what you get from me, you can blame this person,'" she said. "He was a big influence on me."
After graduating from East Carolina University, Baker moved to Dallas and began attending the University of North Texas for graduate school. Although she completed all of the coursework required for a doctorate, she did not finish her degree.
"I realized that what I wanted was the information," she said. "I didn't necessarily need the title." In 1992, she said, she began teaching a music foundations course at Brookhaven as an adjunct professor. Over time, she took on more classes and now teaches eight courses: a music foundations course, a composition course, three levels of music theory and three levels of musicianship.
However, her class load lists only four because some of her classes are combined due to the small number of students enrolled. Regardless, she said, she makes separate preparations for all eight classes. "It doesn't matter whether you're prepping a class for one person or a thousand people, you still have to do the prep," Baker said. "So I don't have a lot of students, but I have a lot of prep work to do."
The extra work is worth it for Baker. "I like what I do, and so I'm willing to do it," she said. Student Helen Marincel said she likes how Baker connects the material from different courses. For example, Baker brings knowledge of music history into theory classes and concepts in music theory into musicianship classes.
"It makes me feel like I'm being well-formed as a musician," Marincel said. "Instead of taking random classes here and there that don't relate, she makes it all come together."
Baker said her favorite aspect of teaching at Brookhaven is the opportunity for individual instruction. Similar classes at UNT that contain 60-70 students, Baker said, only have eight to 12 students at Brookhaven. "It's more on-on-one," she said. "The focus is on the students. That's the biggest thing to me." She added: "Because the classes are so small, I feel like I know [the students]. I really know their strengths and weaknesses, and therefore, I can direct either classes or extra help toward those things."
Student Javier Galvan said he appreciates the way Baker caters her instruction to the individual student. "She lets you learn the way you learn best," he said. Galvan said in the composition class, Baker gave him the option of composing music freely or using a textbook with structured rules. "A lot of teachers wouldn't do that," he said.
"They would say, 'This is how you do it. This is the right way to do it.' And she's totally different." Baker's students range in age from 18 to 86. She said she loves the variety, as her students often learn from each other. She also offers help outside of class.
"One of the big drawbacks about being an adjunct is that we don't have offices," Baker said. She said this lack causes difficulty when providing additional instruction. "It's not like I can have office hours and say, 'Come by anytime,'" she said.
"[Students] have to specifically make an appointment so we can find a place. And that's kind of unfair to them. I'm not unwilling to do it, but it is problematic sometimes." "I'm here all the time. They just have to know where to find me," she said.
Baker said one advantage of working at Brookhaven for 22 years is being able to see students begin as freshmen and go on to do amazing things. "I think, 'OK, well, maybe I did make a difference in somebody's life.'" Baker said majoring in music requires a great deal of work and is labor intensive due to classes, lessons and practice time. "Everyone thinks, 'Oh, it's a blow-off degree,'" she said. "
'We'll go play in a few rock bands and life will be good.' The thing is, it's a lot of work. It's a lot of time. You really have to want to do it to be successful." If it is one's passion, Baker said, the effort is worth it. "If it's what you want to do," she said, "put your mind to it and do it."