Revamped Career Fair offers job opportunities
By Kaylee Rios
Staff Writer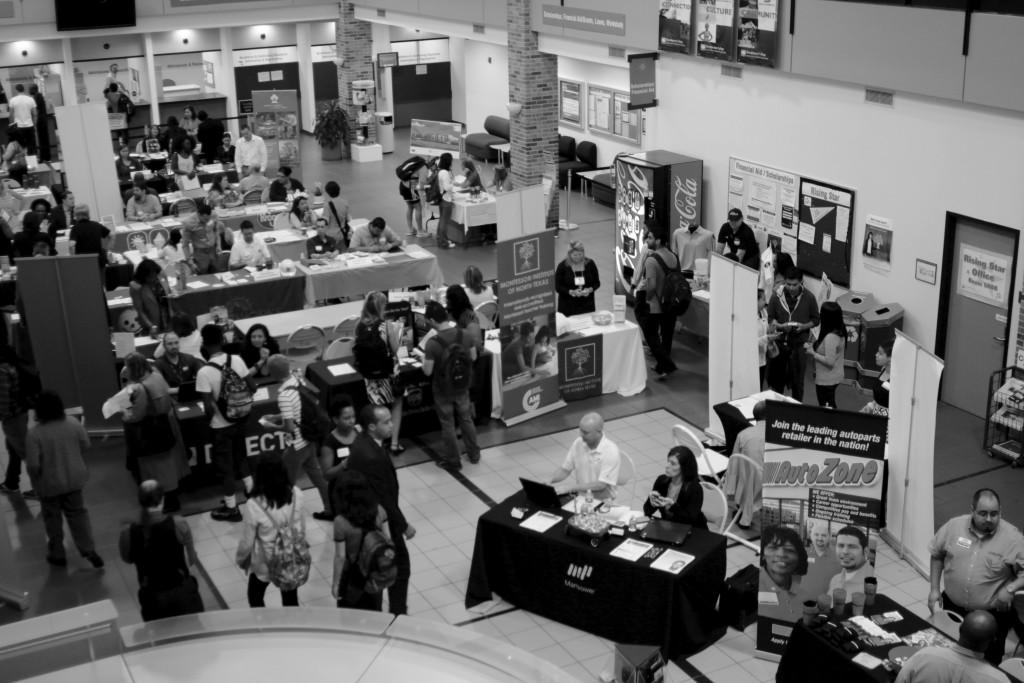 Job pamphlets, applications and business cards were in the hands of Brookhaven College students at this year's Career Fair. The fair, held April 9 in the S Building, included 62 tables of companies seeking new hires. This year, the career fair changed things up. First, booths were set up in several rows instead of the usual two long rows in the S Building.
Some people hosting booths said there were not as many students as they thought there would be. Other representatives said they liked how attentive the Brookhaven Career Center staff was.
"This isn't my first time doing the career fair here at Brookhaven," CMI Group employee Delisa Anderson said. "Usually we are on the other side [by the financial aid office], and the setup this year just makes it harder for us to conform." FreshPoint Dallas employee Tony Phommavongsa said his table did not get enough exposure. "I felt like the setup was too crowded," he said.
Brookhaven student Jovany Rodriguez picked up an application for the Texas Campaign for the Environment. "There weren't many jobs that interested me except for this one," Rodriguez said. "I like helping out the environment, so I am glad I was able to find at least something like this." Stephanie Duelos, student, held a handful of pamphlets and said she was interested in a job in childcare.
The Career Development Center updates job openings regularly and is located in Room S065. It is open Monday – Thursday from 8 a.m. – 7 p.m., and Friday 8 a.m. – 4:30 p.m.