Filmmakers share dreams
By Jessica Ayers
Staff Writer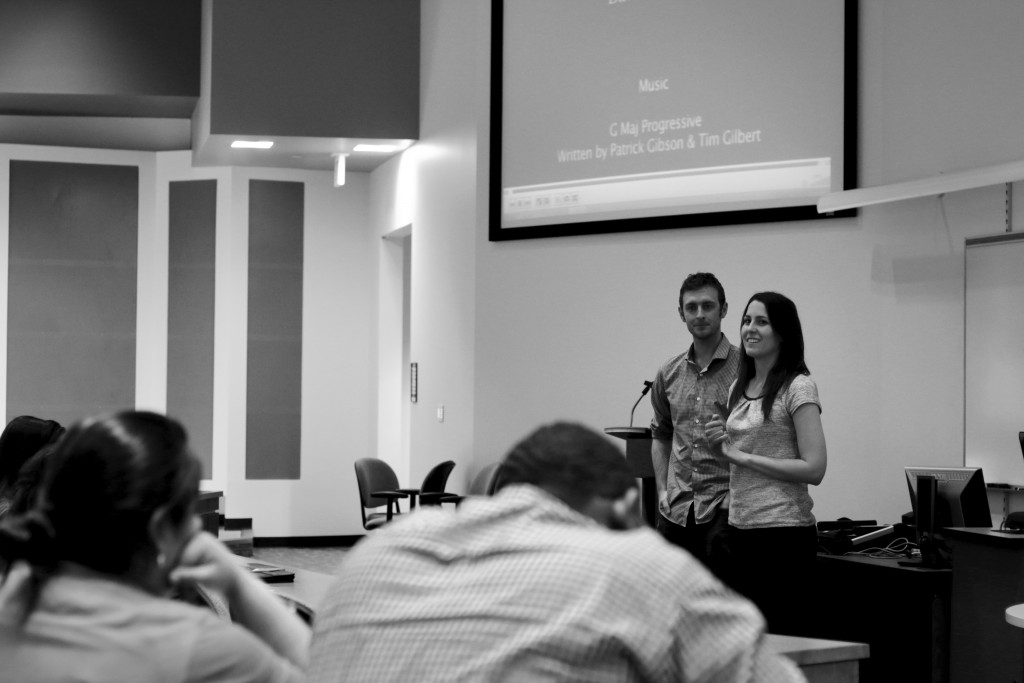 Brookhaven College students, faculty and staff assembled in an X Building lecture hall April 7, not for coursework, but for dream work. Participants watched the documentary "The Dream Share Project" and took part in a workshop hosted by the creators of the film.
Chip Hiden, one of the filmmakers, was unhappy at his mundane office job and felt there had to be more to life than work. "Everyone found themselves asking, 'How many coffee breaks can I take to stay sane?'" Hiden said. "It felt like we were just living for the weekend. And that just felt totally wrong and backward to me." Alexis Irvin, co-creator of the documentary and Hiden's girlfriend, echoed that sentiment.
From those feelings of discontent came the idea for the film. "Retire and then have fun? … I want a job that I love so much that I don't want to retire," Hiden said.
"We were both driven by the idea of doing whatever you can with the time you've been given to create something that lives beyond you," Hiden said. "There's no point in having a gilded coffin. You can have all the money in the world, but why not do something worthwhile?"
The movie outlined the process for discovering passions and turning them into a career. The workshop was designed to help students create ways to get started on paths of self-discovery.
Attendees engaged with the filmmakers by sharing their hopes and dreams for the future. Participants were encouraged to share ways to overcome obstacles.
The open dialogue was similar to a therapy session. Attendees helped each other talk through some of their concerns about chasing their dreams.
Laura Shirinian, student, said she came with a clear goal in mind. "I hope to be inspired," Shirinian said. The filmmakers issued a similar declaration. "The goal is for students to leave with a dream to test out and an action plan for getting started," Hiden said.
Throughout the film, an array of successful people told their stories of struggles and triumphs experienced while reaching their goals.
Hiden and Irvin suggested using college as a way to gain transferrable skills that are useful in achieving career goals. "So many of the valuable skills I learned actually happened outside of the classroom," Hiden said. He told students to take advantage of the many resources offered on campus. He said it is important to get involved in different clubs and organizations.
"Resources like that, you can't get outside of a college campus," Hiden said.
Since the first film screening in 2011, Hiden and Irvin have presented the movie at more than 200 colleges.
After the completion of the first documentary, the couple decided to continue to pursue filmmaking. They recently finished another documentary film titled "Blood, Sweat and Beer." The duo screened their new movie at film festivals.
"We want to be known for telling good stories that inspire, entertain and inform," Irvin said. She gave a chuckle and turned to Hiden: "Hey, I think I just came up with our slogan."
For more information on "The Dream Share Project" film or workshop, or to purchase a copy of the book, readers can visit www.thedreamshareproject.com.