Same-sex rally upholds rights
By Molly Mollotova & Maddox Price
Staff Writer & Chief Layout Editor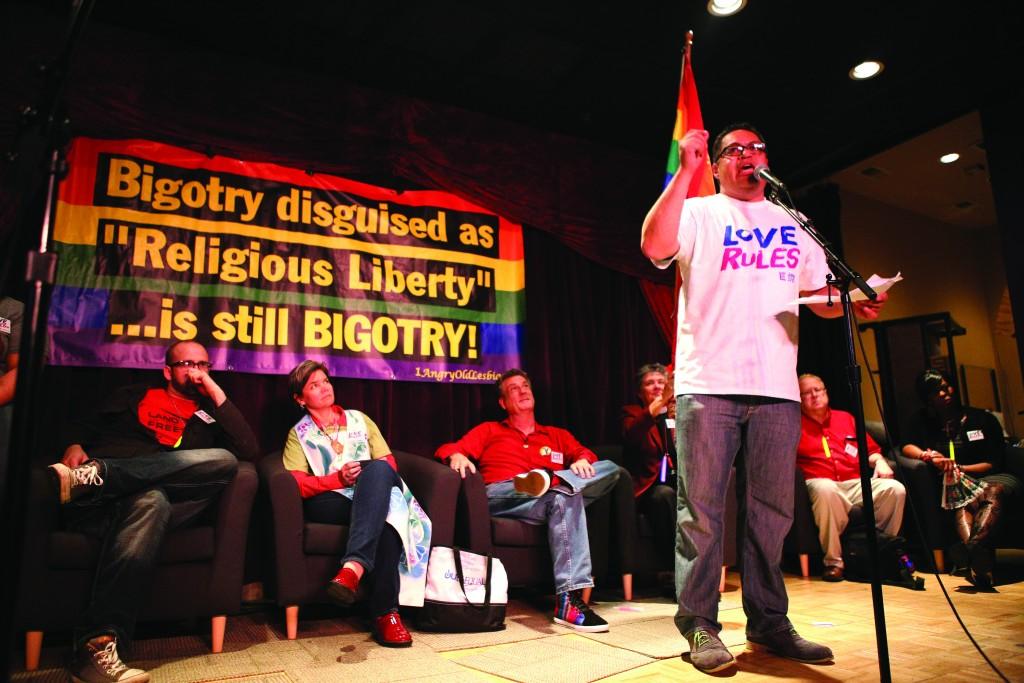 Even with impending rain on the horizon, community organizer of the American Civil Liberties Union of Texas Joe Swanson, the Oak Lawn Band and a handful of volunteers began to march down Oak Lawn Avenue and into the bars. Tunes by Lady Gaga and Katy Perry blared from the tiny marching band at each bar, followed by pleas from Swanson informing surprised bar patrons of the same-sex marriage argument hearings set for the following day and encouraging them to join the rally at Sue Ellen's April 27.
The Light the Way to Justice Rally and Vigil was originally planned as an outdoor event, but was moved indoors to Sue Ellen's due to the rain.
The group assembled in response to a Facebook event post created shortly after the U.S. Supreme Court announced that, on April 28, it would hear four same-sex marriage cases – one from each of the states of Kentucky, Michigan, Ohio and Tennessee.
According to The New York Times, the Supreme Court was "deeply divided" during the hearings. In the same article Adam Liptak said Justice Anthony M. Kennedy, whose vote is believed to be pivotal, expressed hesitation about changing a definition of marriage that has been around for "millennia," he was "emotional and emphatic when he made the case that same-sex couples should be permitted to marry."
Justice Antonin Scalia said the issue rests not in whether same-sex marriage should be allowed, but in who should make the decision – citizens and their elected representatives or the courts. He said the former should decide.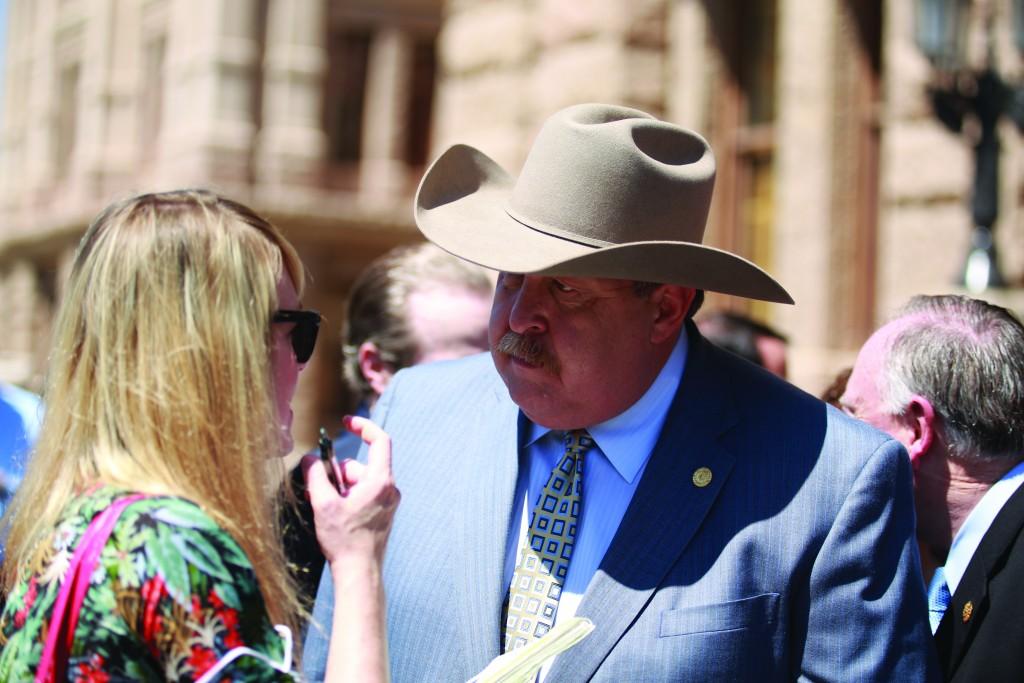 Ultimately, the cases in question boil down to two main issues. First, are bans on same-sex marriage constitutional? And second, if the bans are constitutional, do the states with bans have the constitutional right to refuse to recognize same-sex marriages performed in marriage equality states? If the Supreme Court rules the bans to be in violation of the Constitution, the ruling would allow same-sex couples to marry in all 50 states.
Brookhaven College professor Ahad Hayaud-Din said the Fourteenth Amendment protects the equal treatment of citizens across state lines. "We've had that issue come up with segregation, we've had that issue with abortion, and I just don't think the Supreme Court is going to be able to hold the tide on this issue much longer," he said. "I tell my students all the time, 'Your parents had Roe v. Wade, and in your lifetime, there will be a Supreme Court decision that will finally answer whether or not we're going to have same-sex marriage."
Plenty of state representatives are still fighting to restrict the definition of marriage in Texas to a union between one man and one woman.
One such representative, Rep. Cecil Bell Jr. (R-Magnolia) filed four House bills, all restricting same-sex marriage in one way or another: HB 623, HB 1745, HB 3602 and HB 4105. "I very much believe all of us have inalienable civil rights and class rights," Bell said. "These bills are intended to make certain that there's balance between preserving the civil rights of everyone while also not inadvertently defaulting into a class conversation."
Bell said: "If we're not cautious, what we'll find is that our religious rights and freedoms are swept away under the auspice of protecting or creating a protection where one has not previously existed."
Despite measures such as these, Swanson remained optimistic during the Light the Way to Justice Rally. "Come this time in June, you can possibly, if we do it right, expect to marry anyone you want to marry in Texas," he said.
The Light the Way to Justice Rally and Vigil was sponsored by more than 20 organizations, including the ACU of Texas, Equality Texas, the Log Cabin Republicans of Dallas and the Stonewall Democrats. The event was set to be a bar crawl of sorts, beginning at the Legacy of Love Monument at the corner of Oak Lawn Avenue and Cedar Springs Road in Dallas and concluding at Sue Ellen's bar. At Sue Ellen's, 12 speakers gave personal messages on the importance of marriage equality.
Inside the second-floor Vixen Lounge of Sue Ellen's, the small group had grown to a mass of approximately 200 people, including multiple media outlets, exhausting the capacity limit.
Host Rafael McDonnell, communications and advocacy manager for the Resource Center, introduced the speakers, including four local religious leaders, an afterellen.com journalist and Greenhill High School sophomore and Gay-Straight Alliance leader Josh Rudner. While each speaker had a personal connection to the issue of marriage equality, it was Rudner's story of realizing he was gay at the age of 11 and being terrified about how the news might affect his family and friends that seemed to strike a nerve with the silent audience.
Rudner said his apprehension to discuss his sexual identity with his loved ones is not an uncommon reaction for the lesbian, gay, bisexual and transgender community.
Speaker David Mack Henderson, president of Fairness Fort Worth, said: "All we seek is the same degree of government respect and equal opportunity as our neighbors."
Omar Narvaez of Lambda Legal delivered the keynote speech. He asked members of the rally to join him in a pledge abolishing social injustices and legislation, including HIV and transgender discrimination, and addressing the growing problem of LGBT homelessness. After each speech, the crowd cheered, clapped and raised signs in support.
Members of the crowd held up signs with purple lettering reading "marriage equality now" during the final choir performance of the evening. A wedding reception followed, complete with a three-tiered wedding cake decorated with rainbow-colored fondant flowers and another cake that read, "Love is Love."