X Building endures
By Kate Rhoads
Managing Editor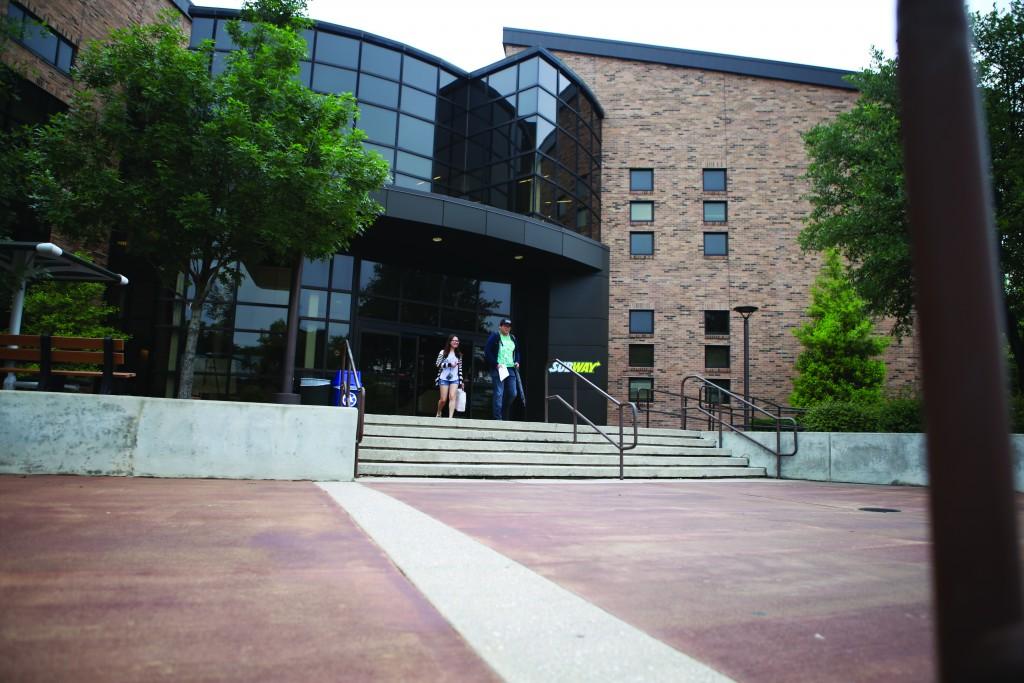 In the halls of X Building, students mill about on their way to class and study around textbook-covered tables. They conduct research in the Biology Resource Center and practice life-saving procedures in the EMS skills lab. X Building is back up and running following a flood caused by a water pipe rupture Jan. 27.
The offending pipe was located in the second floor ceiling of X Building, George Herring, vice president of business services, said. Part of the first floor was completely flooded, rendering many of the classrooms unusable. All of X Building was closed until the damage could be assessed. Unaffected parts of the building reopened for classes the next day, including the whole third floor.
"It was pretty amazing that by the time I got here, [my crew] already had the water turned off and they were grabbing squeegees and trying to get water out of the building," Garry Hodges, associate director of facilities maintenance services, said.
Blackmon Mooring, a cleaning and restoration service company, repaired walls, rebuilt cabinets and replaced sheetrock, insulation and ceiling grids and tiles.
As of press date, the damage totaled $752,000, Herring said in an email. Initial cleanup cost $81,000, restoration required $131,000, and equipment estimates sit at roughly $540,000.
Herring said Brookhaven College has paid its $100,000 deductible and is currently working with the insurance company to process the claim. The goal is to finalize the claim by the end of May.
Juanita Flint, dean of health and human services, said in an email the EMS area sustained the most damage.
Alex Stadthagen, associate dean of health and human services and EMS education director, said all EMS offices were destroyed and six out of 10 labs were unusable. Four to six out of 12 human patient simulators were also ruined, each priced at about $40,000.
Due to faculty and staff members' familiarity with accidents and floods, they were able to work around the damage, Flint said.
"That's part of what the occupation is all about," Stadthagen said. "Whatever happens, fix it and go on … do what you need to do with what you've got."
The six flooded EMS labs were condensed and relocated to the four undamaged labs, nursing labs, outside simulation zone, hotel room scenario-based lab area and even the hallway.
"There were days that were a little frustrating, understandably," Stadthagen said, "but overall, with the amount of shuffling around that we had to do, it really went pretty smooth."
Stadthagen said the EMS program is between 80 and 90 percent back to normal, although he is still calculating equipment replacement costs. The estimate in EMS equipment damage alone is currently about $480,000. This estimate does not include smart classroom setups such as computers and projectors, which will cost nearly $100,000 to replace.
According to a PowerPoint presentation by Claire Bambrough, interim dean of mathematics and science, the flood impacted 450 biology lab students and 23 lab sections, in addition to countless faculty and staff members and rooms within the division.
The lab coordinators were responsible for checking the biology and chemistry equipment immediately following the flood, Bambrough said.
Lab coordinators' increased workload was not only limited to checking equipment. Biology labs in flooded rooms were relocated to chemistry rooms on the third floor, where chemistry lab coordinators Catherine Fisher and Don Walsh "graciously gave up their space," Bambrough said. Whereas the lab coordinators were usually responsible for setting up one or two labs, the consolidation of the labs required a continual rearranging between biology and chemistry setups.
"It was constant set up, take down, set up, take down," Bambrough said.
Terri Canaris, microbiology lab coordinator, temporarily moved to the third floor, but the equipment she needed to grow her cultures was located in the second-floor prep room.
"She spent two weeks running up and down stairs from the autoclave and the incubator on the second floor up to the lab on the third floor," Bambrough said.
Within 15 days, the biology labs on the second floor required only a final cleaning before being released for use, according to an email from Bambrough to biology and chemistry faculty and staff.
Hodges said although painting was completed about mid-March, unfinished details will require more time. These tasks include installing carpet near the west entrance, which should be finished the first week of May, and dropping, replacing and moving data lines.
"It will be well into the summer before we will complete the process of replacing all the equipment," Herring said in an email.
Hodges said Blackmon Mooring stepped up and worked with him through the issues. "Overall, I think it was a pretty good experience, considering what we went through," he said.
"The whole thing was probably the biggest mess I've ever been involved in on my watch," he added with a laugh, "and hopefully the biggest one I'll ever have to deal with again."