Blue Bell woes strike state
Contamination casues iconic Texas ice cream brand to be pulled from shelves social media, business send support
By Jessica Ayers 
Staff Writer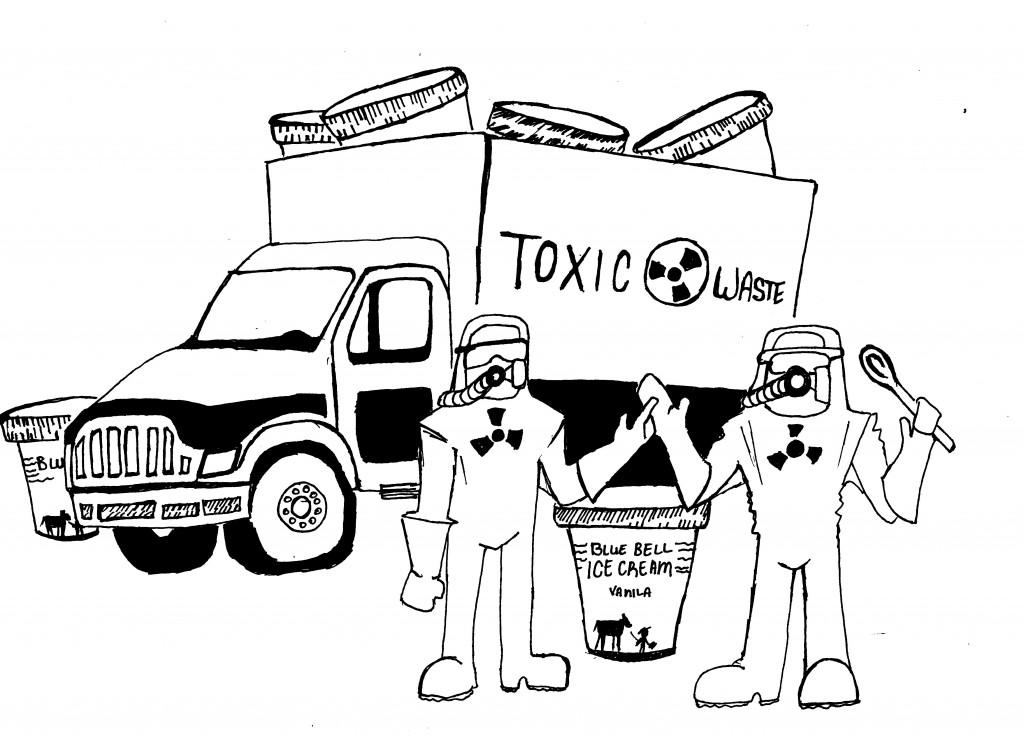 Life has not been the same since those gold-rimmed containers were ripped from the shelves of every store across America. Even though it was for my own safety, when the makers of Blue Bell ice cream decided to remove that creamy, homemade goodness from store shelves, they took not only my favorite ice cream, but also a little piece of my heart.
On April 20, Blue Bell Creameries decided to voluntarily recall all of its products. According to a press release on bluebell.com, the products "have the potential to be contaminated with Listeria monocytogenes, an organism which can cause serious and sometimes fatal infections in young children, frail or elderly people, and others with weakened immune systems."
I get it. I could die. But I'd be lying if I failed to admit a piece of me feels like it already has.
Ever since I can remember, Blue Bell has been a part of my life. Every birthday, holiday and special occasion included a scoop of the decadent treat. I participated in numerous field trips to the factory headquarters in Brenham, Texas, while in grade school. After a bad breakup, Blue Bell was my rebound. Unlike an ex, the delicious ice cream was both cool and comforting.
According to cnn.com, Blue Bell Creameries is "the third largest maker of ice cream in the United S tates." I w on't d ebate facts, but I will attest that nothing does the trick like a spoonful of Blue Bell ice cream.
Evelyn Candido-Cabeza, a student, echoed my sentiments. "I love Blue Bell, always have," she said. "I think it was good that they acted responsibly, but I hope they pick back up again."
Outcry of support from fellow Blue Bell lovers has been tremendous. Social media has allowed people affected by this tragedy to express love for and devotion to the Texas-based brand.
On Instagram, under the hashtag #bluebell, an assortment of photos can be found in reaction to the company's decision. One photo featured several empty cartons of the creamy delight in a trash can. The caption, interspersed with crying emojis and praying hands, read: "Saddest day EVER!!! … Please come back soon and better than ever! We'll be waiting for you Blue Bell!!!"
Though some could argue the theatrics of that statement, there is something to be said for a brand that has created a cult-like following. In fact, some people have even gone so far as to try to sell containers of the treat for an exorbitant price.
Andrea Lucia, CBS 11 news anchor, tweeted a screenshot of a post she found on Craigslist for a pint of Blue Bell "Krazy Kookie Dough" ice cream selling for $10,000. "A mere $10,000 for this #Bluebell pint. Buyer assumes all responsibility for … any Listeria contracted," Lucia tweeted.
The diehard support for Blue Bell has not been limited to social media posts. Gallery Furniture, a Texas-based furniture store chain, expressed their sentiments in even grander fashion.
According to WFAA's Facebook page, the company placed a full-page ad recognizing the ice cream brand. The ad included an illustration of Blue Bell's signature logo, a little girl walking a dairy cow, underneath the words "GOD BLESS."
Though many recognize the depth of such a loss, there is still an overwhelming majority of Americans who just don't get it. We call them Northerners.
Along with Tex-Mex, people from northern states have been perplexed by the idea that anyone could have such an affinity for an inanimate object. I've tried explaining in terms they would understand: Texas without Blue Bell is like New York City without public transportation – we're all screwed.
As Blue Bell lovers across America band together to show strength and compassion for a dessert so near and dear to our hearts, there is only one point to be made. Our favorite ice cream may not be on the shelves, but it will forever be in our hearts.
Together
#WeStandByBluebell.