Artist shapes ideas
Randy Guthmiller turns creative concept into handmade magazines
By Evan Henry
Music Editor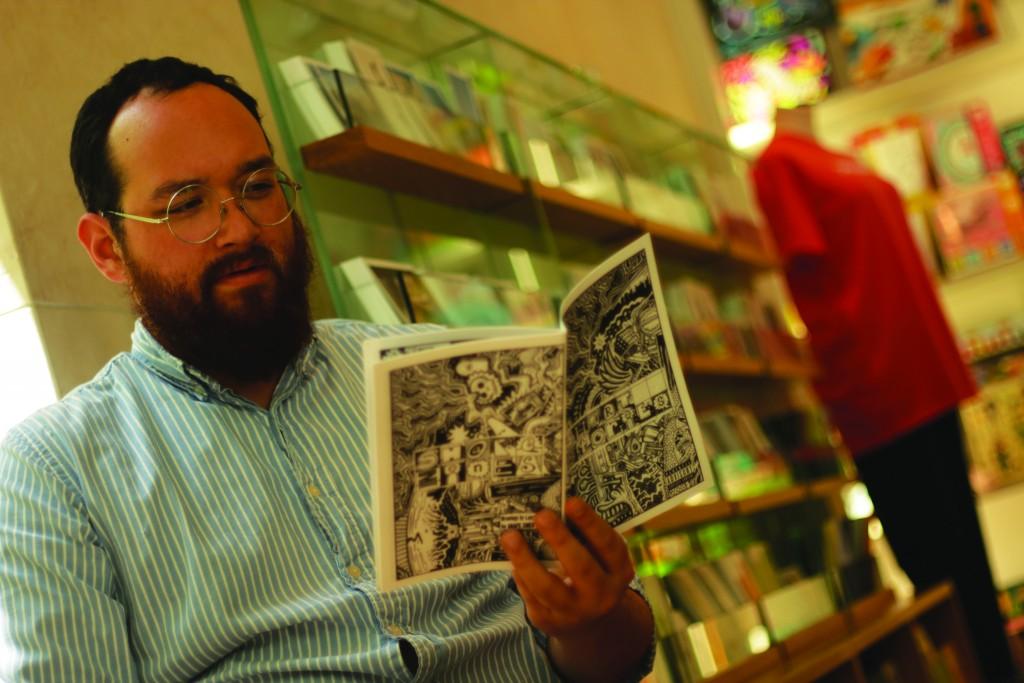 Randy Guthmiller is an artist and a self-proclaimed "zine-ster." Guthmiller creates new shapes and organizes them into "zines." Zines are handmade magazines or booklets often centered around a single concept or idea.
When he moved to Dallas from Amherst, Mass., in the summer of 2012, Guthmiller started producing zines as a way to meet people. "I approach someone and ask if they like shapes," he said. "It was – and still is – the perfect icebreaker."
Zines are inexpensive and cohesive. Guthmiller said it does not take much to produce them. A copier, paper, Sharpies and ideas are all one needs to make a zine. "SHAPES" is the name Guthmiller gave his zine, in which he publishes both his and other zinesters' work.
In celebration of zines and DIY culture in Dallas, Guthmiller has devised "Dallas Zine Party," a first-of-its-kind zine fair, according to blogs.dallasobserver.com. With the Dallas Zine Party, Guthmiller said he wants to strengthen zine culture by bringing readers and publishers together.
But before Guthmiller's big celebration in September, he said, he has steadily been building the "SHAPES" brand. On April 25 at the Vice Palace: Year One celebration, he sold copies of "SHAPES" to the audience.
In January, Guthmiller was asked to facilitate a zine-making workshop as part of a series titled "Let's Make Stuff" at the Nasher Sculpture Center in Downtown Dallas, where he works in the gift shop.
People young and old took part in the creative process, and the museum staff provided a copier, paper and colored pencils. Out of practically nothing, attendees left with their very own handmade zines. The event gave attendees inspiration to make zines of their own design.
"Zines are greater than myself," Guthmiller said. He has total control and can simply create without the pressure or force of anyone else's ideas. Earlier in 2015, Guthmiller exhibited unique, handmade, hand-pressed shapes at the historic Texas Theatre in Oak Cliff in a display he called "The Shape Room," according to thrwd.com.
Guthmiller has also taken "SHAPES" to the Neiman Marcus flagship store, Tarrant County College and the former WARE:WOLF:HAUS curated by Vice Palace founder Arthur Peña, all in preparation for something much greater.
"With zines, a little money goes a long way, all while building a community," Guthmiller said. Guthmiller said he still finds the physical more significant than ever, given the digital devolution we currently live in. Taking things at a human pace, slowing down and catching up spiritually allows people to see things for what they really are, he said.
Guthmiller said ebooks, Kindles and iPads are undermining the publication of larger productions. He calls it a "hipsterization," an outsider's take on the mainstream. "You see the object, which is tangible; there are no tricks with 'SHAPES,'" Guthmiller said.
His affinity for tangible publications keeps his digital use to a minimum. Although he has a smartphone and Internet to get the word out, he prefers face-to-face interaction. With it comes a sense of understanding and insight to the creative process, Guthmiller said.
The only thing Guthmiller said he truly regrets is not taking a semester abroad and traveling while in college. But zines are slowly making up for that lost trip. Guthmiller is taking Dallas zine culture to Chicago, San Francisco and beyond. "If you want something, just do it," Guthmiller said.
The Dallas Zine Party will take place in early September at The Wild Detectives bookstore in Bishop Arts, Guthmiller said in an interview on thrwd.com.
Readers can find more information on the event at dallaszineparty.com. Guthmiller said there will be zinesters, bands and tacos.