'Lots' to be fixed
By Brittany Vinson
Staff Writer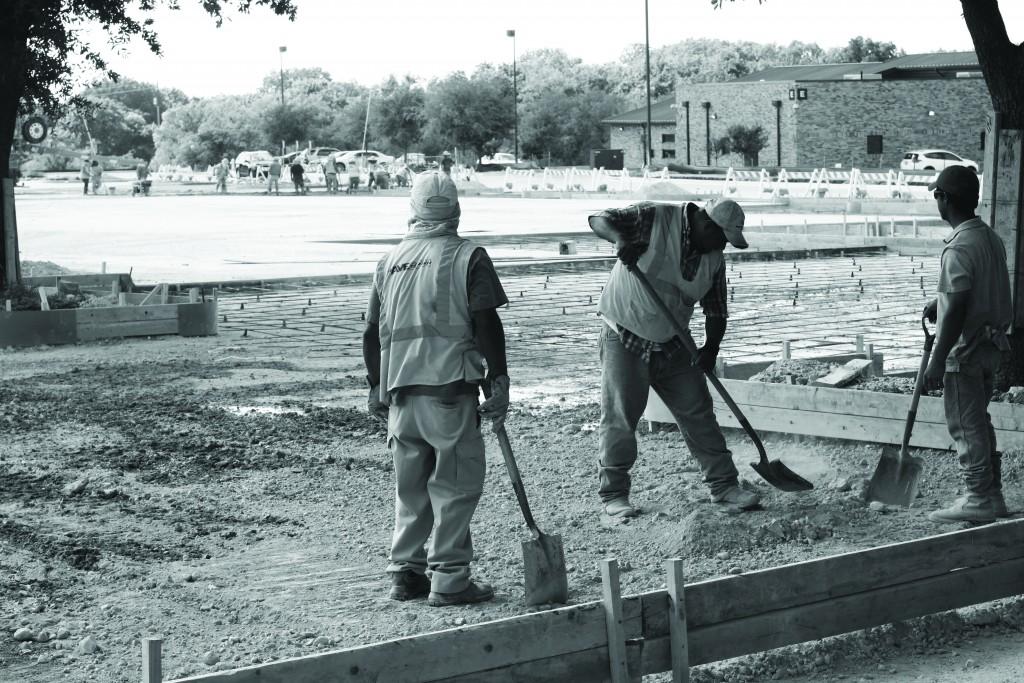 BHC plans for Sept. 21 completion date for parking lot construction
Brookhaven College students, faculty and staff were greeted on the first day of Fall 2015 with overturned asphalt, heavy machinery, barricades and a lack of parking spaces. The construc­tion caused drivers to use alter­nate routes while work continued on the P4 and P5 parking lots and part of Windmill Circle.
Both lots are usable, with irri­gation and landscaping still in progress, Vincent Price, assistant director of facilities, said in an email.
The work has an approved cost of $2,736,000 by Pavecon, the contractor hired to complete the project, according to boardbook. org, a public agenda website for the DCCCD.
Pavecon will replace the remaining asphalt with concrete on lots P4 and P5. This will reduce spending annually on re-striping, Price said.
Unusual rainfall during spring delayed the project. George
Herring, vice president of busi­ness services, said paving on the P4 lot was delayed by at least four weeks.
Originally, Windmill Circle, the Valley View Lane exit and the P4 lot were slotted to be complete by the end of June. However, heat ranging above 95 degrees and rain factored into the project's delay, which is why con­struction on lot P5 began before the completion of P4, Meredith Danforth, director of marketing and public information said.
Kirsten Jones, a returning stu­dent, said she has a 9 a.m. class, and it is difficult to find a place to park.
Many new students, such as Daisy Medrano, were not aware of the ongoing construction pro­cess.
Medrano, who has morning classes, said she has a difficult time finding a place to park even when she arrives on campus 30-40 minutes prior to class time.
Many students are concerned about being late to class, so they park in areas designated for fac­ulty and staff, English professor Hurshel Burton said.
"Everyone needs to deal with the temporary inconvenience, and teachers should be more patient," Burton said.
This "temporary inconve­nience" will offer "permanent improvements," according to an email from Danforth.
Although the majority of P4 is open, the northern side of the lot will remain closed while new drainage, irrigation and landscap­ing are installed, Danforth said. The P5 lot is expected to reopen no later than Sept. 21, she said.
Price said areas on the north side of the campus, around X, M, and Q Buildings, are likely next in line for improvements.
"There will be the thermal strip­ing of the P1 and P2 lots and the remaining section of Windmill Circle that is still asphalt," Danforth said. However, dates for those improvements have not been set.
For more information about the parking lot construction process, visit brookhavencollege.edu/about/Pages/construction.aspx.