By Sarah Gutierrez

Staff Writer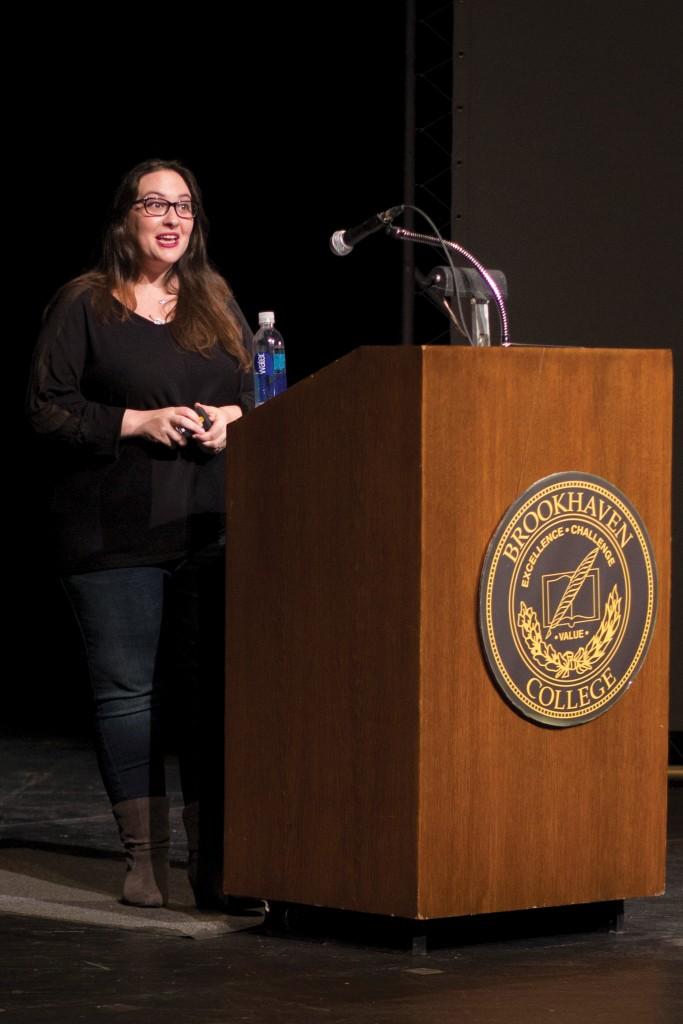 Slavery is a topic discussed in history books – one that many think of as a practice of the past. On the contrary, there are between 27 and 36 million people living in slavery today, according to The Walk Free Foundation.
The Brookhaven College Institute of Political Studies hosted an event Sept. 17 to discuss human trafficking and slavery in the modern age in conjunction with the Open Book Project, held in the Performance Hall. Ahad Hayaud-Din, department chair and professor of political science at Brookhaven, said the event was the most highly attended to date.
Dr. Jacqueline DeMeritt, associate professor in the department of political science at the University of North Texas, was the guest speaker. DeMeritt had spoken previously at Brookhaven about human rights.
The book of this year's Open Book Project is "A Crime So Monstrous," by E. Benjamin Skinner. The book recounts tales of contemporary slavery through the eyes of victims and human traffickers.
"I wanted to bring human trafficking home, to really make it clear that this is a local problem as well as a national and international one," DeMeritt said. "I also wanted to give it a local face, to make it a human rather than a statistical problem … with the goal of mobilizing the student base."
Carolina Wilkins, student, attended the event and said it is important to support reading and comprehension. "The Open Book Project is an amazing program that needs to continue," she said. "Raising awareness and [encouraging] people to read are essential things that are unfortunately being dismissed now days."
DeMeritt mentioned the states with the most confirmed cases of human trafficking in 2014 with Texas ranked second overall with Houston as the largest trafficking hub in the state. She discussed several cases from Texas, including one that occurred in Addison involving Tonya Stafford. Stafford and six other women were held in an office space which was operating as a massage parlor.
Wilkins said: "When I start talking to people about this subject … [people] give me weird looks and some even laugh. However, when I bring data to them and I tell them about the confirmed cases here in our backyards, they also become shocked."
Hayaud-Din said human trafficking can overwhelm some people. "It's emotionally and intellectually painful to look at people who are victims who can't help themselves and advocate for them," he said. "It's so far out of our comfort zone, and Americans live in a giant comfort zone. It's bigger than Dallas, bigger than Texas, bigger than America."
DeMeritt said: "[In] 2014, The National Human Trafficking Resources Center hotline received 21,431 calls and in those calls were 5,042 confirmed reports of human trafficking."
In his book, Skinner challenges readers to open their eyes to the reality of human trafficking, despite how uncomfortable a topic it may be. He also calls for readers to work to make things better.
"You need to be aware and maybe put down the video games and pay attention to some real issues in the world," Hayaud-Din said. "If you are motivated to do that, I think that young people today can be given the wisdom to guide them and to pay attention to some things."
For more information, students can refer to the following
resource centers:
Hearts Foundation

844-284-3278
Mosaic Family Services
214-823-4434
Traffick911
www.traffick911.com
817-575-9923
National Human Trafficking Resource Center
http://traffickingresourcecenter.org/
888-373-7888