Staffer responds to violence on high school football field
By Sam Doherty
Sports & Opinion Editor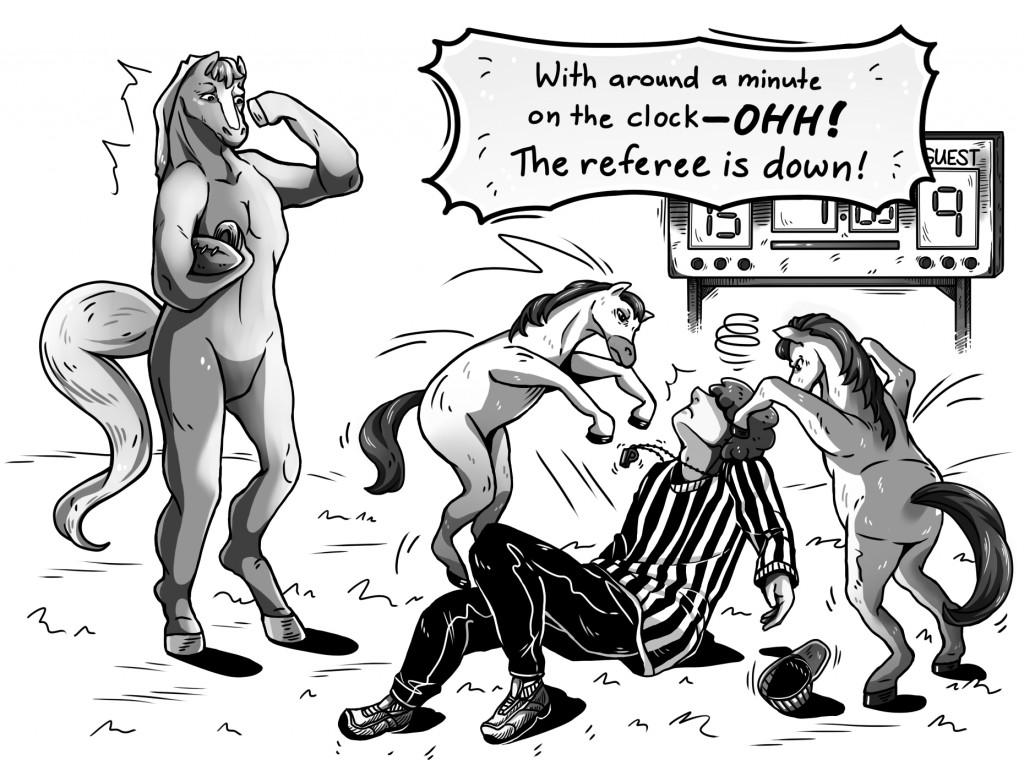 Two high school football players receive orders from coach to attack referee on field.
The bleachers were buzzing with school spirit as the Marble Falls High School football team settled into formation against the John Jay High School team Sept. 4 in San Antonio.
Both teams called themselves the Mustangs, but the boys from John Jay looked more like foals against their opponents. John Jay was down, 15-9, their backs at the edge of the red zone, with a minute left to spare.
Nothing gave the notion that this final play would be on the home page of sportsillustrated.com and on the lips of sports talk show hosts from Seattle to Miami the next day.
As soon as the ball was snapped, a John Jay safety made a beeline toward an unsuspecting game official, tackling him from behind. As the referee laid defenseless on the ground, another defensive back from John Jay ran toward the referee and speared him in the back with the crown of his helmet. The world knew what happened at broadband speed, and soon the referee, Robert Watts, and the two John Jay students, Michael Moreno and Victor Rojas, became household names.
According to The Associated Press, before Watts was unknowingly targeted, two other John Jay players were ejected on separate plays. The John Jay players said they felt wronged by missed calls and racial slurs by the refs, according to sportsillustrated.com.
On Sept. 18, Moreno and Rojas appeared on ABC's Good Morning America, where they said they were instructed by their coach to tackle the referee. "He told one of my Spanish friends: 'Speak English. This is America,'" Rojas said in reference to the game official. When asked if he heard this himself, he replied: "Yes sir, I heard it. And to an African-American on our team, he [called] him … the N-word."
The Northside Independent School District has been treating the incident as an assault on a school official, and an investigation is still pending. As of press date, the two John Jay students are suspended indefinitely by NISD. But they weren't the only ones suspended or held accountable by the NISD.
According to John Barr of espn.com, assistant coach Mack Breed, who was on the sidelines the night of the incident, told his school principal he directed the players to make the referee pay for his racial comments and slurs.
Breed has declined to comment publicly on what exactly he told his players that night, but according to cnn.com, Breed took responsibility on Sept. 24 in a letter of resignation, without outright admitting to the allegation.
According to an article by David Montgomery for the New York Times, the administrators who first suspended Breed before his resignation, said he allegedly told his players: "This guy needs to pay for cheating us." Moments later, Watts and jaws across San Antonio hit the ground.
Both students said they regretted their actions, but didn't take much responsibility for them, as both repeatedly said they were doing what they were told. "You put your trust in this grown-up who has been there since [your] freshman or sophomore year," Moreno said. "I [trusted] that he wants the best for me, and I just did what I was told."
As for Breed, Moreno said, "His emotions got mixed into it, and he told us to do what we did." Being a referee myself, I know firsthand the type of verbal abuse an official can go through during a game. Tensions run high when teams play. It's why we love the game. But what happened that night crossed a line, going from just a bad call to possible criminal charges being filed.
As of press date, the video replay of the event had nearly 11 million views on YouTube. "I had to play it back a couple of times just to believe what I saw," Dee Anderson, Tarrant County Sheriff and high school referee for over three decades, said. "We all understand that you get hit out there, but this is so violent and so premeditated that I believe it deserves some very stern consequences."
Thinking back to when I played football on my high school team, it was easy to get caught up in the heat of the moment. But there is no excuse for targeting and blindsiding a game official the way these two players did.
In professional sports, if a player even bumps into a referee with the intent of getting in their face because of a "bad call," they're usually immediately ejected from the game.
These kids, and especially the coach, should have known better. The question that remains is whether this is just an isolated mishap of bad behavior or another black mark upon the institution of high school sports.