By Sara Prendergast
Contributing Writer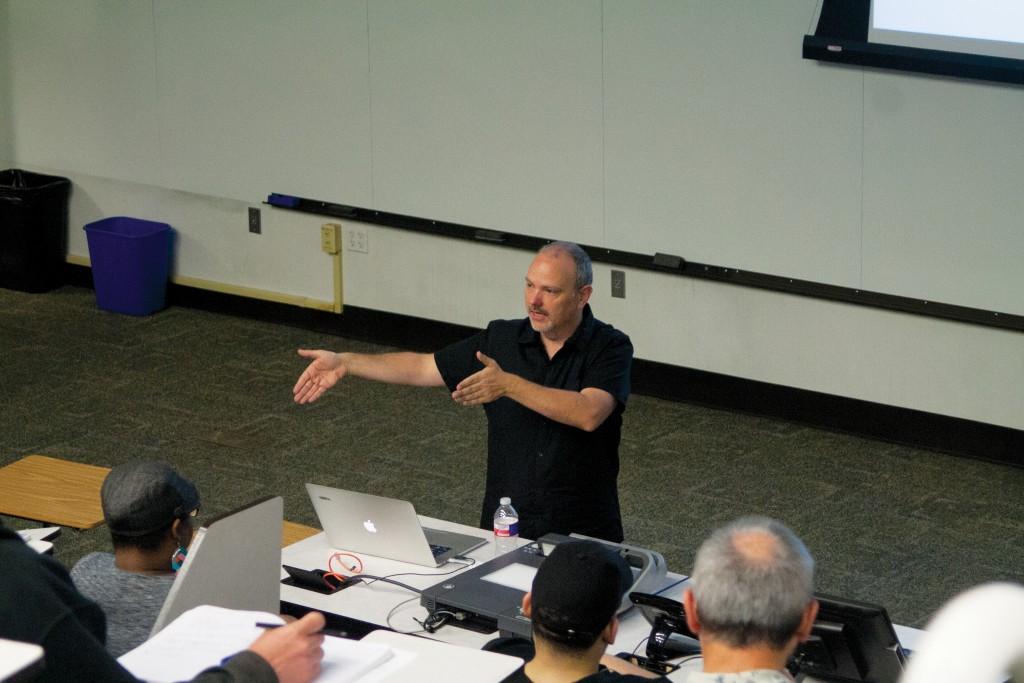 Brookhaven College alumnus Kevin Schumacher met with students, staff and faculty to discuss his success in user experience (UX) design on Sept. 17.
Schumacher said he received his associate degree in applied sciences in video communications from Brookhaven in 2002. He has worked with several multimedia companies, including The Walt Disney Company, where he currently works as a UX Magician.
He said the purpose of UX design is to increase customer satisfaction and loyalty through the utility, ease of use and pleasure provided by interaction with a product. The UX field is defined as one of problem solving, according to the alumnus. He said the process is often like throwing spaghetti at a wall and seeing what sticks.
"It is about finding the problems with new technology and fixing them before the world rejects it," Schumacher said. "You want to make sure you fail as often as possible before the rest of the world sees [your design.]"
A search for UX design on linkedin. com showed 222 job results in Dallas. Many of the careers are open to those with associate degrees.
The guest speaker said he encourages visual communication students to stay current in their chosen fields, no matter what those may be. He said when not working, he reads up on current technology in the news, blogs, forums and websites. He also said that he is always looking for ways to solve common, everyday problems.
"I was at the store with my wife," he said, "and explained that if a shelf were just a little higher, it would make the product easier to see and thus more profitable, to which my wife replied, 'Don't you ever stop working?'"
Understanding design programs is essential for visual communication students, according to Schumacher. "Photoshop and Illustrator are tools of the trade," he said. "Those are tools in the tool box, but the tool box is not the carpenter. The more tools you have, the more specific you can be to the task at hand." The designer said because technology and design are always changing, it is impossible to be a complete expert.
Whether students are interested in visual communication or UX design, Schumacher said one should go all in when working toward their passion. "Don't let anyone tell you that you can't do it," he said. "Just start."
Schumacher was invited to speak by Karie Williams, visual communications professor and VCOM Club advisor at Brookhaven.
The lecture was the first of many the video communications department plans to host this year. "It is important for students to understand what other designers can do with a degree in VCOM," Williams said.
"It is also important to tell the students that, yes, you attend a two-year college, but you have a great career ahead of you, and you may not need to transfer to a four-year school."
To learn more about VCOM, students can visit brookhavencollege. edu. Students interested in joining the VCOM Club can contact Williams at [email protected].