Professor juggles work, play
By Brigitte Zumaya
Chief Layout Editor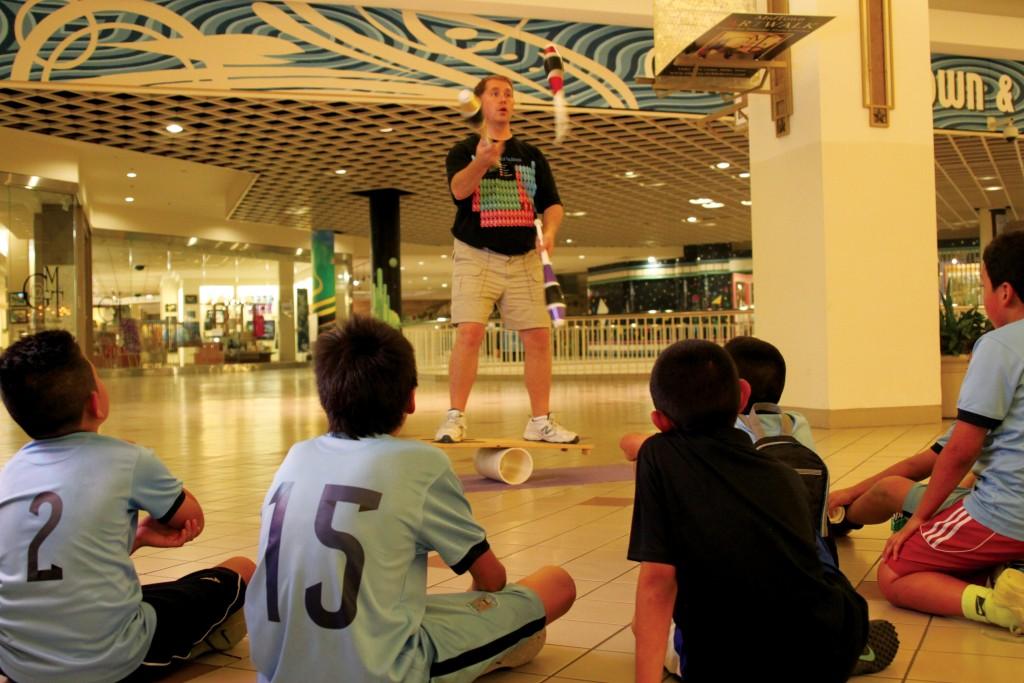 BHC chemistry professor recounts how a unique hobby influenced his academic journey and changed his life. 
When Alan Blakely was 12 years old, he saw the most amazing thing at a Boy Scouts of America summer camp. It had nothing to do with the typical Boy Scout activities such as hiking and camping. Blakely saw one of his troop guides juggle. His life would never be the same.
He pestered his guide to teach him how to juggle. When Blakely, now a Brookhaven College chemistry professor, returned from camp, he began juggling anything he could get his hands on. "It's visual and tactile and an auditory experience, so you get to watch the things going, you're feeling them, and you're hearing the rhythm of the whole pattern," Blakely said. Blakely was hooked, and said his mother supported his new hobby and purchased his first set of juggling bean bags.
Soon he began to crave consistent practice and now rarely goes anywhere without something to juggle. "I pretty much always have three bean bags with me." This dedication extended to his  academic pursuits as well.
After graduating high school, Blakely enrolled in Drew University in New Jersey, majoring in chemistry. He said by that point he had developed a solid five-ball juggling pattern and began experimenting with juggling other items. "This is where you say 'OK, give me three things and I will juggle them' … [and] end up with a teddy bear, spatula and a carving knife," Blakely said.
He continued to hone his personal and academic skills, and in 1993 he enrolled in a master's program at the University of California, Davis. Blakely was studying to be a research chemist with an emphasis in synthetic inorganic chemistry, but he said he felt something was missing.
Blakely turned to his hobby for clarity, and joined a local juggling club with a friend who had real circus experience under his belt. His friend suggested they show their talents to a circus and audition.
"I was miserable enough that I was seriously considering it," Blakely said. It took some time for him to work up the courage to audition. Blakely said he asked himself: "Am I willing to face the fear of significant change?" But as he was considering this radical career change, his friend was hired by Ringling Bros. and Barnum & Bailey Circus, and Blakely said he knew what he wanted to do.
"I kind of lost my opportunity to run away with the circus for the first time, so instead I finished my Ph.D. in education," Blakely said. He earned his Ph.D. in Science Education from Davis in 1997. "By far the best professional decision I ever made was changing that degree path from being a mediocre chemist to being reasonably brilliant as a teacher," Blakely said.
After graduation, Blakely was offered a job as an adjunct professor at American River College in Sacramento, California. "It's change, it's scary, but it's going to be fun," Blakely said. "Hang on for the ride." Over the next 15 years he taught at several different colleges, all while keeping up with his juggling. He began teaching at Brookhaven in 2012.
"Professor Blakely is very passionate about what he does and he will help his students achieve higher grades," Aina Abdul-Qader, a student, said. "While chemistry is a challenging subject at times, his positive, fun attitude keeps you focused."
At the end of each semester Blakely said he gives students a lesson on how to juggle after his review session for finals. When he is not teaching, Blakely said he performs with a local vaudeville group called Circus Freaks. The group performs acts that feature clowns, belly dancers, acrobats, musicians, snake charmers and, of course, jugglers.
Blakely performs feats of juggling under the names Renfield and Alan the Juggler. "[Renfield is] not quite right in the head and wanders around with [stuffed] pet rats that he juggles," Blakely said.
"Circus Alan is a bit louder version of me, getting progressively larger than life as audience and stage size dictate; kind of dapper in a vest with a colorful tie or cravat." Blakely's performances are usually around five to 20 minutes long. Some of the acts performed by the group require years of training to perform safely, including one act called "Seven Swords, One Girl."
"She swallows a sword, and we juggle knives around her," Blakely said. When asked about his mindset when performing such dangerous stunts, Blakely said: "It doesn't really bother me. I just have to focus on, 'don't clip the back of her head,' and 'catch what is thrown to me.'"
Circus Freaks sponsors a public practice event called The Clown Gym. This event takes place from 8 – 10 p.m. every Tuesday and Thursday at the Valley View Center. The Clown Gym is where the Circus Freaks will teach juggling and other circus skills to anyone. "If I can get you to practice 30 minutes a day every day for two weeks, you will have a stable juggling pattern," Blakely said.
The group also puts on a monthly dinner theater show that features various acts, called "Salmagundi," according to their website, circusfreaks.org. Despite Blakely's nearly 36 years of experience, accidents can occur. He has had minor cuts, pulled some muscles and even received a black eye, but those pale in comparison to one incident a few summers ago.
"I am busy on my 'rola bola' (a balance board resting on a sideways cylinder) going back and forth, barefoot, juggling knifes, and I do this flourish," Blakely said. "I miss the [knife] that is coming down and it lands on top of my foot."
It took a few moments for Blakely to notice his error. "Then bang … yep, that hurts and I go bouncing across the living room." Blakely said his living floor was stained with the blood that gushed from his foot.
Blakely said he was focused and forgot he was barefoot. Despite the messy mistake, he said he had a sudden realization after the ordeal. "It is really funny because it's all built on 'you're an idiot.' At no point did I make a smart decision in that process," Blakely said. "Failure isn't falling down. Failure is staying down."
Juggling is far more than a mere hobby for Blakely. It has ingrained itself into nearly every aspect of his life, and he said that will not change anytime soon. "I don't see myself ever stopping juggling, unless somebody takes my hands away," Blakely said.