Students witness rare phenomenon
By Atziry Garcia
Arts & Culture Editor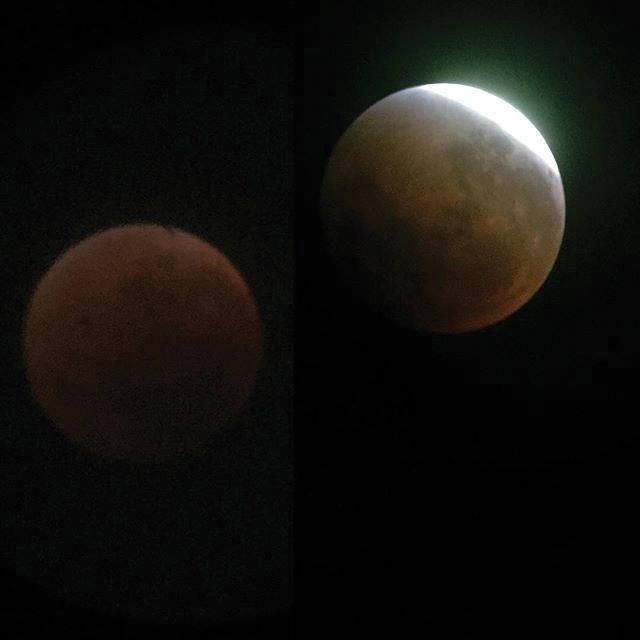 BHC students observe once in a generation "super blood moon."
The Brookhaven College astronomy department hosted a lunar eclipse watch in conjunction with the Texas Astronomical Society of Dallas to witness a once-in-a-generation event.
The event was held Sept. 27, between X and K Buildings. Around 10:30 p.m. Brookhaven astronomy and physics lab coordinator Charles Hafey announced that the clouds had finally cleared. The guests excitedly lined up behind numerous telescopes and binoculars provided by the Texas Astronomical Society of Dallas.
People wandered about, waiting for the clouds to clear and reveal the moon – one which would become blood red as it passed through Earth's shadow.
A "super blood moon" can be seen when a total lunar eclipse occurs as the moon is at its closest to Earth. The phenomenon has happened only five times since 1910 and will not happen again until 2033, according to space. com.
Pink Floyd's "Dark Side of The Moon" played as the stargazers set their eyes high on the moon. They watched the lunar eclipse, while noting the changes in brightness and color of the moon. Amir Nami, a student, said the moon looked red or orange to his naked eye.
The change in color from white to red-orange is commonly associated with total lunar eclipses, according to space.com. The color is created when the Earth's atmosphere bends sunlight on to the moon, creating what is commonly called a "blood moon."
Astronomy students took notes and drew the phases of the moon for their assignments, as the moon was minutes away from going into the Earth's umbra, the darkest part of Earth's shadow.
"Believe it or not, this is the moment that ends totality," Hafey said. "As the eclipse reached its peak and the moon began to its normal color." The moon watch carried on as most guests left, while the playlist moved from Elton John to Frank Sinatra to John Williams' Star Wars.
Hafey noticed guests leaving and suggested that as the Earth's shadow was cast away, a clearer super blood moon would be visible. According to nasa.gov, the blood red moon could be seen all across North America. This blood moon was the final in a series of four total lunar eclipses, also known as tetrads, that occurred about six-months from each other. The previous eclipses occurred on April 15, 2014, Oct. 8, 2014 and April 4, 2015.
According to Fred Espenak, a NASA eclipse expert, eight sets of tetrads are predicted to happen during the 21st century. "I would describe tetrads as a frequent occurrence in the pattern of lunar eclipses," Espenak said to NASA's Tony Phillips. This is not always the case, however, as Espenak added that no tetrads were recorded between the 17th and 20th centuries.
The next lunar eclipse will occur on March 23, 2016.